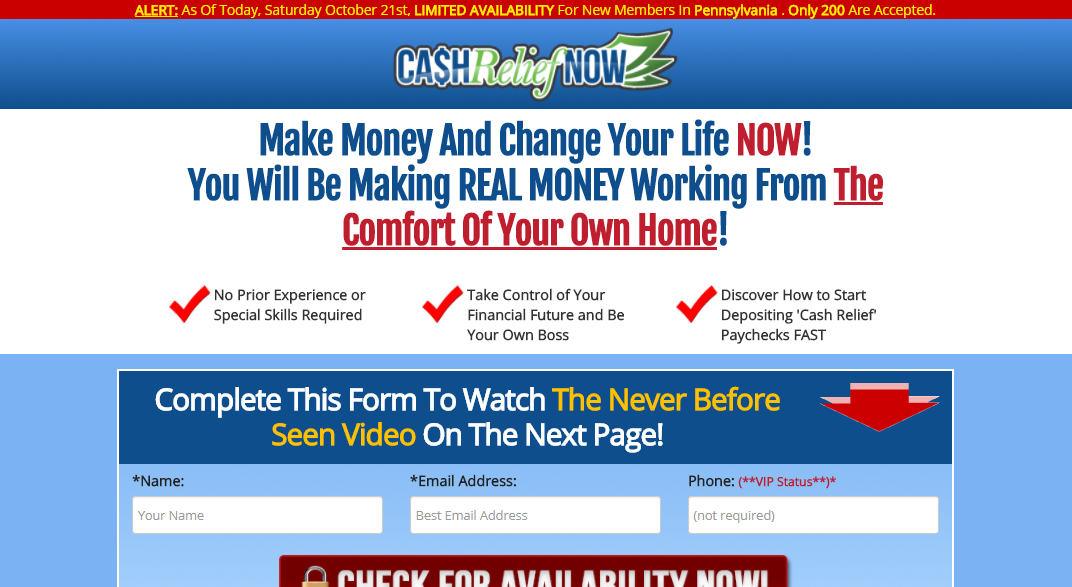 Welcome to my review of Cash Relief Now. If you are thinking about signing up for this program to make money online then you are definitely going to want to take a minute to read this first.
This place is NOT what it claims to be. Is Cash Relief Now a scam? The answer is yes. While it is possible to make money with the program they are trying to sell you here it is NOTHING like they tell you. And the entire sales pitch that they feed you is a bunch of Baloney. This program is taking advantage of hard working individuals looking to get by.
Cash Relief Now Review
There are probably different sales videos for this program, but the spokesperson for the one I watched claimed his name is William Johnson. He kind of sounded like he was from Texas and was very patriotic.
When I first started watching the video I had no idea what the heck he was talking about. He was claiming that if you make less than $150,000 you may be eligible for a brand-new cash relief program…. a "personal economic stimulus package" thanks to a loophole that one "rock and roll" entrepreneur has discovered in President Trump's latest economic recovery plan.
He claims that this millionaire named Mike discovered a loophole in this plan and is on a mission to "make America great again".
Basically what he leads you to believe in the video is that you are going to be able to take advantage of the economic recovery plan by starting your own online business and then getting money from the government as a way to stimulate the economy. And of course the program that he is trying to get you to buy into here is an online business training program.
What Is This Program?
Well I'll tell you what this program is not… and that is Cash Relief Now. Cash Relief Now is just a fake sales funnel that was created to promote other programs. The real program that they are trying to get you to buy into here is not mentioned once… but I was able to find a clue.
In the sales video I say this image…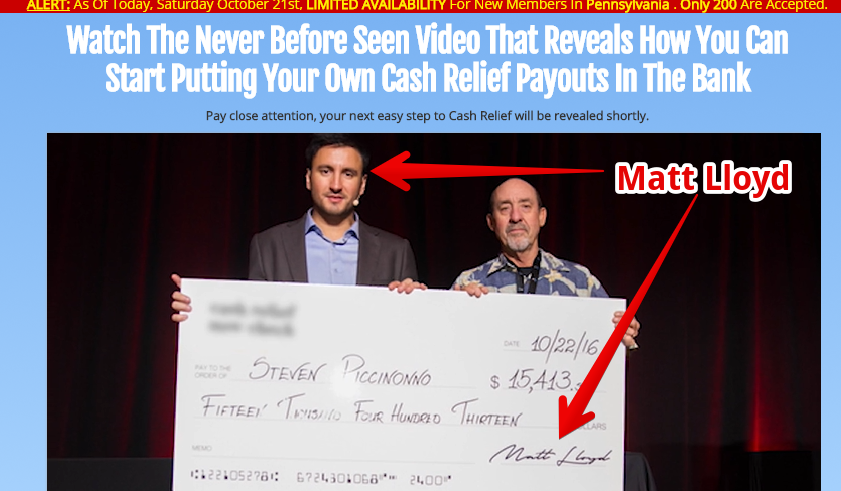 As you can see the guy's name is Matt Lloyd. And the reason this is important is because Matt Lloyd is the owner of MOBE (My Online Business Empire) which is an online business training program that is commonly promoted under different names like this.
This program has been around for a long time and has absolutely nothing to do with President Trump's new economic plan. The entire sales pitch about this was just a clever way to lure people into this thinking that they just found some amazing new system. But its not. Its just a clever sales funnel for an older program.
How You Make Money With This Program
Basically what this online business training program does is gives you the tools and training to promote MOBE to other people and make money doing so. You buy the program to make money online and then you make money online by getting other people to buy the program.
The training, pre-made sales funnels, and other tools that this program provides you with are designed to get you to go out and promote the same program. This is exactly what the guy behind Cash Relief Now is doing. He bought into MOBE and now he is promoting it under the alias Cash Relief Now.
There are other fake sales funnels promoting MOBE like this too, including Home Biz Now and Rookie Profit System.
Why This Isn't a Good Choice
The main problem I have with this program is the price. It might not start out costing all that much but if you do buy into it you better keep your wallet close by because you will be needing it. This program is what you call a "high ticket" program. This means that you can make big commissions selling it but it will also cost you an arm and a leg to buy it.
They get you to buy in at a low cost but if you want additional tools and training then you will need to buy into the upsells, which literally get up over $10,000. And the catch to all of this is that if you want to make big commissions selling the higher priced products that MOBE has then you will first have to buy it.
Conclusion on Cash Relief Now – Scam
Cash Relief Now is definitely a scam. What they tell you in order to try to get you to buy in is very misleading. The real program here, MOBE, is not a complete scam but it is somewhat scammy how it works. Basically it is a circle of getting new members to buy in, upselling them on the more expensive products, and getting them to go out and get others to buy in.
Most people will not be able to afford to get into this business because of how pricey it will get.
If you are looking for a more affordable and less risky way to make money online then I suggest taking a look at this program. Not only is it 100x more affordable, but it is also more realistic that the average Joe can make money with it. This is the same place I learned to make money online back in 2015, and now I do this for a living.
==> Here is the program I am talking about
Questions or comments? Leave them below in the comment section ?