The Click and Flip system (aka Click N' Flip) Is supposedly some incredible new way to make money online that was created by guy named Teo Vee. But is this really as amazing as you are led to believe? Can you really make tons of easy money just by "clicking and flipping"?
Or is it possible that this Click N Flip system is a big scam that is just going to be a waste of your time and money?
Since you are reading my review here, I'm guessing that you are suspicious this might be a scam, as you should be… After all, it definitely does seem too good to be true. And… Unfortunately it is too good to be true. The reality of this "clicking on the flip" system is much different from what you are told. If you buy into the system thinking that you can make super easy money just by clicking and flipping as you are told, then you are in for a big disappointment.
In this short review I will be exposing this for what it really is… Which can pretty much be summed up as a scam, but this is open to opinion.
Click and Flip System Review
When I first came across this system I was wondering what the heck was going on. I've been working online since 2015 and have seen just about everything when it comes to making money online… All the different methods, systems, "tricks", etc., But this whole "click and flip" thing wasn't really making sense to me.
But anyways… the system was created by a guy named Teo Vee who I am familiar with. I have reviewed His "make money online" products in the past and am familiar with the incredibly misleading way in which he promotes and sells these products. What you think you are getting and what you actually buy into when it comes to Teo Vee are two different things.
The Sales fits for this system starts out with him telling you that he uses some trick to make a consistent income with simple pictures. According to him, he uses some website that allows him to "click and flip" pictures of products online. But you "have to position it right" in order to make money, which he claims can be massive.
The story goes that he learned this "trick" from some "14-year-old French genius". Apparently he was really struggling to make money, having his car repossessed and being scammed again and again online when he then came across some 14-year-old French kid in church that was making money online. When he looked into how this kid was making money online, he describes it as the kid just dragging and dropping a picture onto some website, "clicking around", and then waiting five minutes for the picture to get clicks, in which he made $400 from in a few hours.
How He Explains It
When someone clicks on your picture, your site has the opportunity to make a sale. Your site then "flips" the picture and a big site then sends what is shown in the picture to the person who clicked on it. All you do is drag and drop the picture, make the connection and wait for clicks… According to what he tells you.
This sounds really strange and the majority of people who hear this probably don't know what is going on here. Teo Vee is misleading reviewers on purpose. He wants to confuse you and make this sound like some amazing new opportunity, when in reality it is not. This is what Teo Vee is good at… Deceiving people.
Below I'll explain how this really works…
The Most Misleading BS Ever
The method that Teo Vee is explaining here is known as "drop shipping", but of course it is very difficult to pick up on this if you are new to online marketing or have never been involved with drop shipping before. I for one, have drop shipped in the past so I know how it all works.
There were a few hints dropped in the video presentation to this business model, but all in all everything he said was incredibly misleading and not straightforward in any way.
One hint he gave was that "a big site automatically sends what's in the picture to the person who paid you"…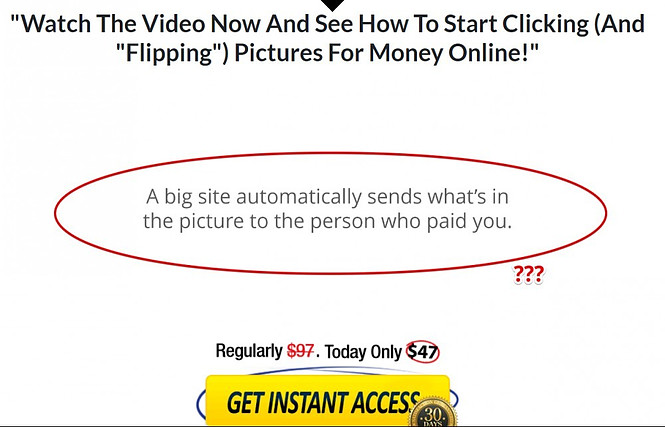 You see, drop shipping is when you set up your own e-commerce website but you have no inventory. When people purchase products on your website, you simply purchase those products from a supplier, such as AliExpress, and have them ship the product directly to the customer. This way you never have to deal with any inventory… You simply get paid in then purchase the product for the customer.
Of course you are selling at a markup price so you get to keep the difference.
Dropshipping can be a very lucrative online business model, but is not nearly as simple as you are led to believe. There is much more to it than just clicking around on a computer screen. If this is the approach you take then you will definitely fail. There is a lot of research that needs to be done so that you are selling the right products and it takes a lot of work advertising the products on your website to a good targeted group of people.
Teo Vee is a master of deception and is just trying to sell this product in a way that makes things seem way better than they really are.
The Cost… Doesn't Make Sense
Throughout the video presentation you are led to believe that the cost of this "click and flip" system is $47. However, when you to actually purchase it you will find that it is listed at $97. So what the heck is going on here?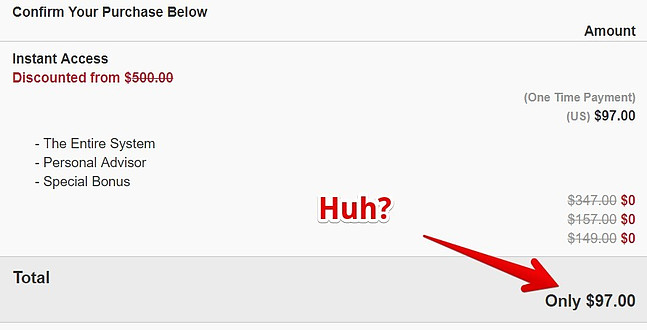 What You Are Buying Into
What you are actually buying into here is called My Ecom Club and is the creation of Teo Vee. This is basically and e-commerce training program that puts a lot of focus on making money via drop shipping with Shopify. So basically you will be learning how to set up simple e-commerce stores with Shopify in which you will load up with various products that you want to sell.
The goal is to advertise the products that you list on your Shopify site and get people to buy them. Then of course you go and purchase those products from the wholesale seller and get them to ship the products directly to the buyer.
Should You Trust My Ecom Club?
Obviously there's a lot of deception going on here. Teo Vee is not what you would consider a very trustworthy online marketer. He is a big fan of deception and misleading buyers. This whole "click and flip" sales pitch is not the first time I have come across this guy, as I mentioned earlier.
I actually first came across My Ecom Club after reviewing a incredibly misleading sales pitch called Free Biz Account, which was basically just a sales funnel for My Ecom Club, as this whole Click N Flip system is. Free Biz AccountWas the same type of deal… You are led to believe that you could be making super easy money online with very little work, then you were pushed to purchase My Ecom Club.
The Real Cost
The Real cost of My Ecom Club is much higher than you might expect. You see, inside this "club" there are different membership levels. You'll be pushed to purchase the Gold Membership which is going to cost over $1000 from what I hear. And of course I have not actually bought into this and do not know what all it includes, but from the looks of things this is not a program I would want to get involved with, nor would I recommend you getting involved with.
Just think about it for second… Why would you want to buy into a program like this when you are severely misled during the sales pitch. This guys trying to trick you into buying into this, so can you really trust him? I think not.
The training provided might be good, and maybe there is some chance that you will be will to make some money via e-commerce after going through the training, but this is not a risk I would take. This whole program seems to be focused more around sucking money out of customers rather than helping them make money.
My Recommendation
If you are a beginner looking to make money online then one program I can definitely recommend is Wealthy Affiliate, which is the same program I got started with when I first started looking for ways to make money online back in 2015. To make a long story short, I now make a living working online and am still a member… Which goes to show that it does work.
I'm not going to get into detail here, but if you want to learn more about Wealthy Affiliate, you can click below to read my full review.
==> Wealthy Affiliate Review Here
If you have any questions or comments, please leave them down below and I will get back to you as soon as I can 🙂