Clone My Sites is a program that claims to provide people with a system to make easy money online. But it is what they tell you really true? Can you really earn $1000 per day with this done-for-you system? Or is this all a scam that you need to avoid and stay clear from?
In this review I will be going over the reality of this system… Which isn't nearly as good as what they tell you. While it is possible to actually make money with this, it is not the magical amazing program that they lead you to believe it is.
Clone My Sites Review
Clone My Sites is supposed leak run by a guy named Jake, but who knows if that is true or not. This program is full of lies in deceptive information so it is hard to know what to believe and what not to believe. When I first want to go over in this review are some of the lies and trickery used to sucker people into buying in.
First of all, there is no "weird trick" that Jake will be showing you to start making money today. This is just a little bit of bait to lure you in and grab your attention. There is no secret or anything like that being shared here.
Next up, it's important to know that there are not limited positions like he tells you. At one point in the presentation he tells you that he is only looking for 15 more people to buy into his system and that we closing the doors tonight. This is all a bunch of BS because you can easily go back to the website in a day or two and the same thing will be said. This video has been playing on repeat for a while and none of this is true. It is intended to get people to buy in as soon as possible so that they do not take time to read reviews like mine here, which will be tongue up to avoid this crap.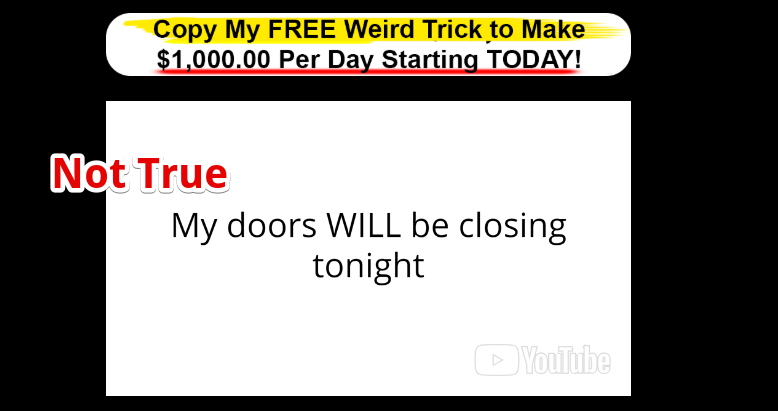 Below the video presentation there is a box with a keep talking about all these people making commissions with this system. This thing just plays on repeat. It may be motivating and it may get you excited but these earnings are more than likely completely fake.

Systems Like This Just Don't Work
I have reviewed many systems like this before that clone or copy websites so that others can make money. To put it simply… They do not work. Sure, you can make some money with this system but you will not make much if any. Some of the money copycat systems like this that I have reviewed include Copy My Cash Code and Copy My Cashflow.
The only people making real money from the sorts of programs are the people who created them… Who are suckering people in with the hopes and dreams of making super easy money online they are the ones getting rich off of this you will not be.
But yes… Like I said, you can make some money with the system. What the system will do after you buy in is have you promoted. There will be some training on how to do so you will go out and promote his system to earn commissions when others buy in. So you buy in to make money online and then go out and promote the same system in order to make money online.
If It Sounds Too Good To Be True Then It Probably Is
This is a good role of thumb to live by. There are plenty of scams out there especially when you're looking to make money online so you have to be careful what you get involved with. If something sounds too good to be true then it probably is, so you should either avoid it or proceed with extreme caution.
This program obviously sounds way too good to be true. Jake is telling you that he is literally cloning is system and giving it to you so that everything is done-for-you. He may see believe that you will have to do pretty much zero work and that you will be able to make $1000 a day. This is a bunch of BS… There is no one making $1000 a day doing this other than "Jake" himself.
Take a Look at The Disclosure!
Always, always, always look at the income disclosure that is at the bottom of the sales page, or at least that is where it usually is at. This is where they will tell you the truth. They can tell you all the BS and all the lies they want to in the video presentation but as long as they tell you the truth in the disclaimer they are good do you have. This is how these types of scams seem to operate within the law.
They can mislead you, deceive you, trick you, and use all sorts of scam tactics in their sales pitch, but as long as they say "none of that was true" or something along those lines then they are allowed to do this.
If you go down to the very bottom of the sales page for Clone My Sites you will see that they do this. As you can see in the screenshot below, they literally tell you "the typical purchaser does not make any money using this system", yet in the video presentation Jake was telling you all about how easy it is going to be for you to make $1000 a day with this.
Also notice how at the bottom of the page the email for support is at copymysites.com, yet this program is being promoted from clonemysites.com. This is because this program is just a rehashed version of the original.
Final Thoughts – Avoid
The source of programs just aren't worth anyone's time. If it were this easy to make money online that everyone would be doing it. I would certainly be buying into this program and I would have everyone that I know, including family members and friends, buy in as well. But… This sort of thing does not work.
Making money online is not a walk in the park. It takes real work in real time no matter what path you take. That is the reality I've come to know having been working online since 2015.
If you want my suggestion for a way to make money online that is beginner friendly than I would suggest taking a look at my #1 recommendation below. This is how I've been making money online since 2015 and I am currently making a living doing so… Which goes to prove that it works. You can click the button below to see what exactly I do, how it all works, and what I consider to be the best way for beginners to get started.
And of course leave all of your questions or comments below and I will get back to you as soon as I can 🙂