Thinking about joining the Computer Professionals program that claims you can make $379 per day online? Well don't! Why not? Because this is a scam program and in this review I'm going to prove it to you.
If you do join this you will only be led down the wrong path and end up wasting a bunch of time trying to make money online. The program is filled with lies and deceptive information that is used to lure people in.
Overview of The Computer Professionals Program
This program is supposedly created by a woman named the Sandy Allen. She was supposedly once a single mother living paycheck to paycheck and then discovered this amazing online system in which she is now making tons of very easy money online by "link posting".
Update: Apparently the same program is being pushed under another name now. This time "Nancy Tyler". Both are the same program.
The whole system revolves around this "link posting" stuff. What is link posting? What they tell you that companies are desperate for independent workers to post links for them from home and that you can easily do this to make money. These claims are loosely based on truth but very misleading. You can actually make money by posting links online, but it is nothing like she leads you to believe it is.
What Is "Link Posting"?
Well she leads you to believe that you basically can just post simple links everywhere and earn money by doing so. On the sales page for this program she tells you that you will be able to make an average of $15 per link that you post and that it only takes one to two minutes to post a link. Sounds pretty darn easy doesn't it? I mean if it were this easy wouldn't everyone be doing it? I certainly would be and I would have my entire family doing it too to make extra money.… But it is not so simple.
This "Link posting" stuff is loosely based on what is called affiliate marketing, which is actually how I make a living online. In affiliate marketing you promote products for companies online and via affiliate links. So you are actually" posting links", but there is much more to the process than just this. If you think you can make good money simply posting links alone, then you are sadly mistaken. Affiliate marketing is a great business model and you can make good money doing it, but it is not the super simple fairy-tale process that Sandy Allen leads you to believe it is.
Also, with affiliate marketing you only get paid when you helped make a sale. What you do is promote the products and when someone clicks on your affiliate link and continues to purchase the product, then you get paid a commission. There is absolutely no way to accurately protect how much you will earn per link and saying that you will earn $15 on average is just plain stupid.… And very misleading.
But anyway… If you want to learn how to get started affiliate marketing the right way then I suggest checking out the Wealthy Affiliate training program, which is where I got started back in 2015.
You Can't Trust This Place
Fake News
I came across this program after finding a fake news article about an American mom who makes $12,500 per month online. Whenever I come across something like this I always make sure to click on it and do a little investigating. You can see a screenshot of the fake news article that I took below. This is probably one of many different ways that they funnel you into this scam program.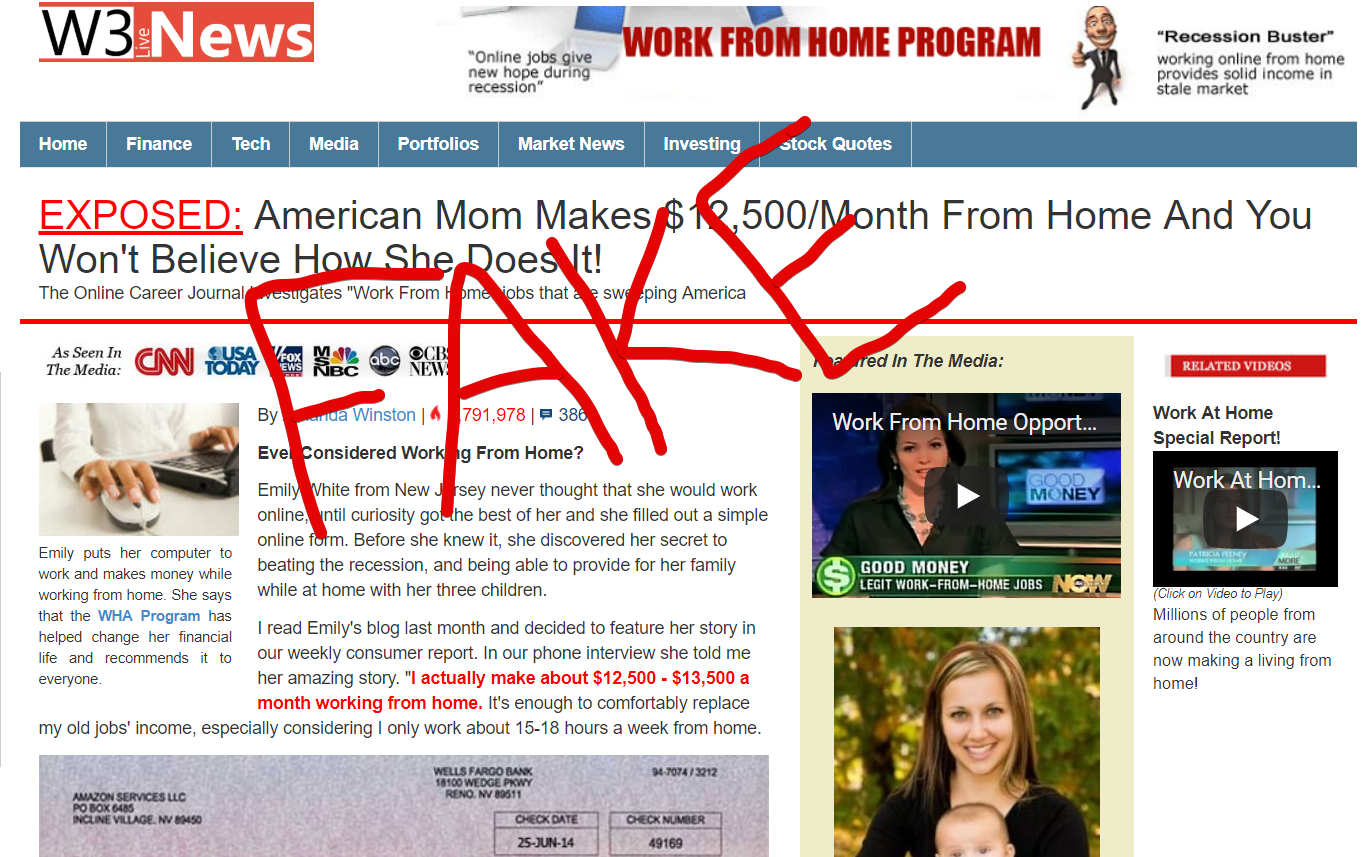 And that is not the only fake news. At the top of the sales page they also show a bunch of news station logos. This is misleading because it leads viewers to believe that this program has possibly been featured on the news, when it has not. This program has never been on the news and never will be. You can easily go to any of the different news sites and search for "Computer Professionals" but you will not find any relevant information.
Sandy Allen Is Fake
The claimed to be creator of this program, "Sandy Allen" is also fake. How do I know this? Well because I have come across programs like this before that use the same old background story and are the same in every aspect, except they change their name and the creator's name.
Below you can see a screenshot I took of "Sandy Allen" and then below that you can see a bunch of other screenshots I talk of many of the other identical scam programs.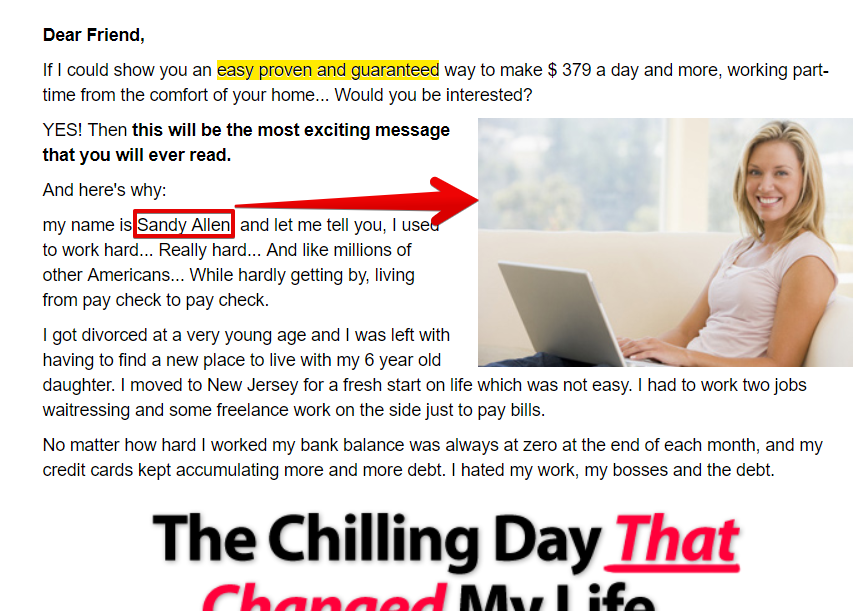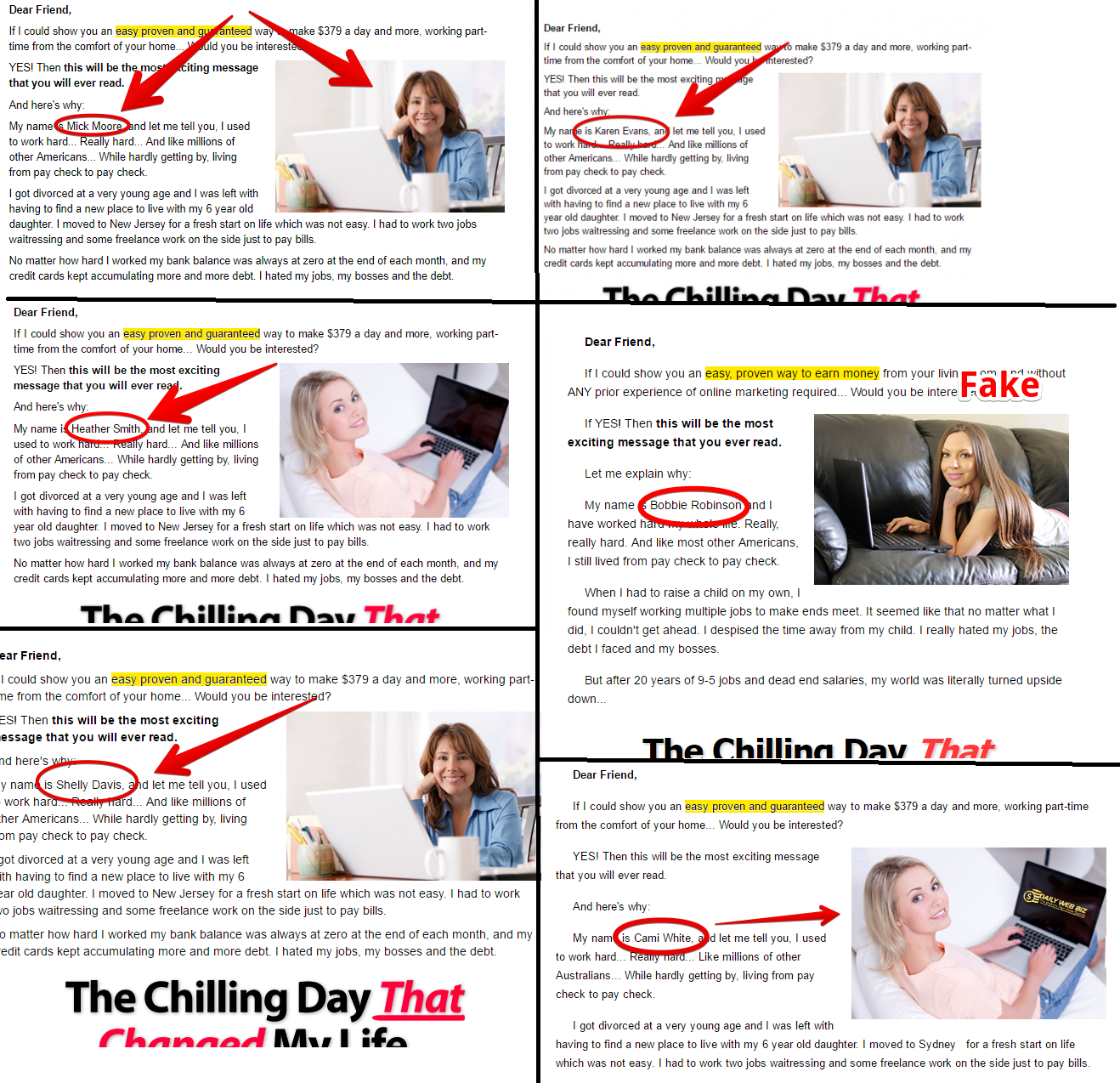 This is nothing more than a scam that has gone by dozens and dozens of different names over the years. It is constantly being re-branded under different names but the core program that is being promoted remains the same. Below you can see many of the other programs that I have reviewed, such as Home Internet Income, Accelerated Income, Entrepreneur Jobs Club, and more.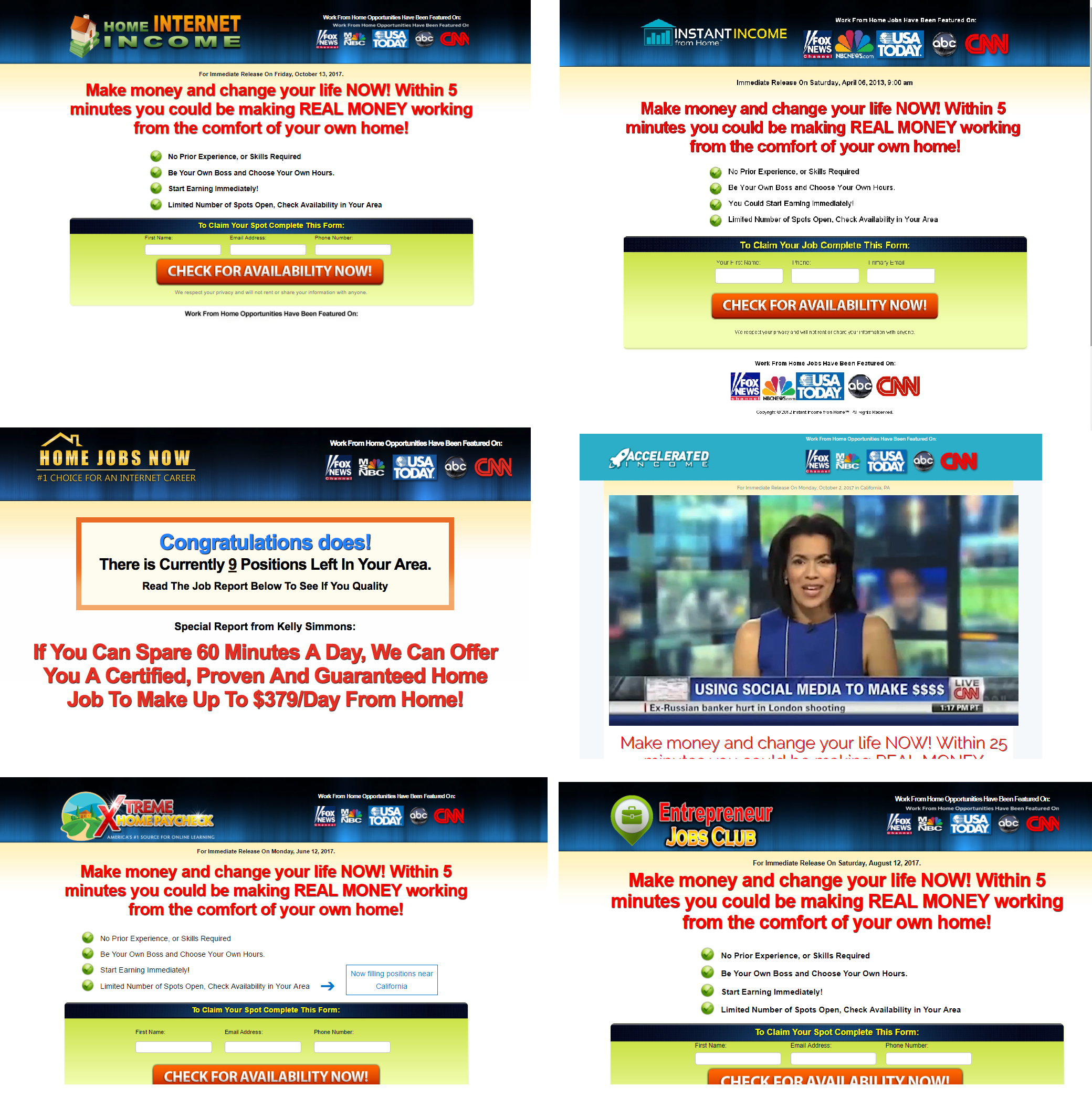 Why Does This Program Keep Changing Names?
The reason this program keeps changing names is because of the way it works. If you were to buy into this scam you would then be provided with training and a website so that you can sell this same stupid scam to other people. Basically what happens is people buy into it and then are able to create their own rebranded version of the program and promote the heck out of it.
So basically what happens is you get suckered into buying into this crap program by deceptive and very misleading information, and then you are pushed to go out and do the same thing.
Conclusion on Computer Professionals = Scam
There is no doubt about it… This place is a scam. They sucker people when by making claims of being able to make super easy money online which is very far from being realistic. Then they feed you a bunch more BS information and push you to promote the system if you do end up buying in.
I absolutely do not recommend this program to anyone. It will just be a waste of time and money. If you want to learn affiliate marketing the right way then here is what I recommend…