Cool Savings is an coupon site that anyone can join to save money on in-store and online purchases. If you are wondering is Cool Savings a scam then I'll get straight to the point…. no they are not a scam. They are a decent coupon site and you can legitimately save money with them.
I decided to write this review because I know people are often suspicious of online savings sites like this and are hesitant to use them. I'll be going over all you need to know…. how it works, how much you can save, etc.
Cool Savings Overview
Cool Savings (coolsavings.com) is most well known for their printable coupons, which is becoming a rarity these days. It seems that most savings sites offer much more online shopping coupons and deals than offline, but Cool Savings specializes in good ol' fashion printable in-store coupons, which is nice. They do have online coupons for online shoppers as well but mostly they provide printable ones.
Overall Cool Savings is a good site. Their site is easy to navigate in order to find the coupons you want and printing them off is simple. If you are good you can save some decent money here.
Also, another thing to note is that this place is free, its not like you have to pay a membership fee or anything like that.
How It Works
Its pretty simple. Once at coolsavings.com you can browse through their coupons to find what you are looking for. You can browse by the category of the coupon you are looking for or you can also choose to find local coupons based on your location.
Most of the coupons you will find are grocery items. Below I took a screenshot at some of the featured coupons that they had listed so you can get an idea of what to expect…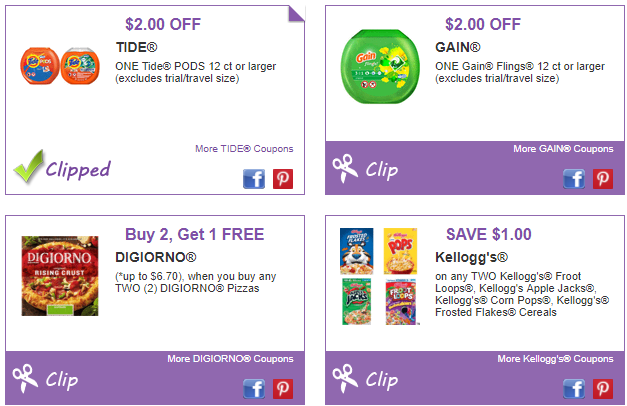 Whenever you go to Local Deals this is when you will find deals for all sorts of products. For example as I am writing this there are deals available on shoes, vacuum cleaners, theater tickets, restaurants and more.
How Much Can You Save?
The amount that you can save with coupons on Cool Savings will vary. When it comes to the local deals that they offer you these really vary. There is no telling what type of deals you will find here and what you will save.
But generally you can expect to save $0.50 – $2.00 on products. This will also vary and you will find some things that will only give you $0.25 savings and others that will give $3.00 savings, but generally speaking this seems to be the norm that you can expect.
There are also occasionally coupons that offer "buy 2 get 1 free" and deals of this kind, which sometimes work out to save you more.
Other Ways to Earn
Cool Savings also offers surveys and sweepstakes in which you can make money.
The surveys they offer are for conducting market research. These are nothing that will make you a lot of money. Generally you can expect to earn $0.50 to a couple of bucks taking these. And the sweepstakes you can earn some good money but of course your chances of actually winning are slim to none.
Alternatives
There are a lot of saving sites out there that you can save money shopping with. Two sites that I am a fan of, which I reviewed recently, are Extrabux & CouponCabin. Extrabux is probably what I would recommend out of these.
They are partnered with thousands of stores and offer mostly online coupons as well as cashback savings. If you are an avid online shopper then this is definitely something I would look into. They offer a many more coupons and deals than CoolSavings but if you are looking at just in-store coupons then not so much.
Conclusion on CoolSavings – Scam or Worth Your Time?
CoolSavings is not a scam at all. They are free to use and you can make/save money… whats not to like about that? Overall they are decent and something that you might want to look into more.
Also, you might want to look into iBotta. This is a cashback app where you can save money on in-store grocery purchases. It is free to use and is my favorite app of this kind.
Questions, comments, concerns? Leave them below in the comment section and I'll get back to you ?