Welcome to my review of Crypto Cash Pool.
If you are looking to possibly invest in this place with the goal of making money but are hesitant to do so then you are in the right place. I was extremely suspicious of it all to so I decided to take a deeper look into it all. You are definitely going to want to read this if you are wondering is Crypto CashPool a scam or not.
Crypto Cash Pool Review
Crypto Cash Pool says that it is a "donation exchange platform where members voluntarily give donations and receive donations".
Basically what you do is invest money in the system to join and then you make money by getting others to invest in the system.
How It Works
Well what I just said pretty much sums the whole thing up. There really isn't much to talk about here. You invest to join and then you make money by getting others to invest.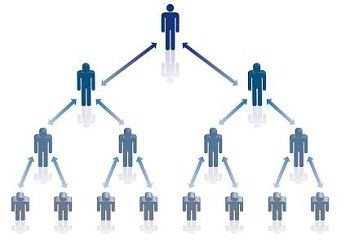 Their compensation structure goes by a 2 x 5 matrix. This means there are 5 levels to it and below each person there are 2 positions.
The illustration shown to the right has 3 levels, whereas Crypto Cash Pool has 5 total.
The amount you will make per level is as follows…
Level 1 – You donate 0.001 BTC to the affiliate above you and you receive 0.001 BTC from the 2 affiliates you recruited
Level 2 – Donate 0.002BTC and receive 0.002BTC from 4 recruited affiliates beneath you
Level 3 – Donate 0.006BTC and receive 0.006BTC from 8 recruited affiliates beneath you
Level 4 – Donate 0.029BTC and receive 0.029BTC from 16 recruited affiliates beneath you
Level 5 – Donate 0.25BTC and receive 0.25BTC from 32 recruited affiliates beneath you
Ponzi Scheme?
Technically this is not a Ponzi scheme because in a Ponzi the investors have no idea what is going on. They think that their investments are actually making money legitimately. Whereas with Crypto Cash Pool investors know exactly what is going on. They know that they are donating money (in the form of bitcoin) and receiving money from people recruited in.
This is what you would call a cash gifting scheme. People can actually get away with this stuff legally because you are allowed to give people cash gifts, or donations. However, it still is not a good idea and I'll go over why.
Why This Is Not a Smart Choice
Although this might not be completely illegal (you should still consult with a lawyer though) it is still not something that is worth getting involved with.
The entire operation relies on new investors coming in. Once the new investors stop the money dries up. There is no product being sold to keep the business going. And because of the pyramid-like structure of this the majority of investors are guaranteed to lose money.
Only a very small percentage of people will be able to profit from this.
A Few Concerns
One problem I have with this place is there is just about no information given on the owners, or the people behind it. And when I say "just about no information" I actually mean NO INFORMATION. You literally no nothing about the people that created this system and this is something that is very suspicious.
On top of this there are no refunds. They state right on the site that because you voluntarily donate your money you will not be allowed refunds. So if you invest it is a done deal. That is set in stone…. you will never see those bitoins again.
Conclusion on Crypto Cash Pool – Scam?
Whether it is a scam or not is an opinion. Personally I wouldn't call it a scam because they are very straightforward with you and tell you exactly how you will be making money, which is by recruiting in new investors. That said it is definitely not something I would get involved in. Not only are most people that get into this guaranteed to lose money but you also cannot really trust this place because they give you no information about them. You have no idea if they are credible and judging from this scheme they set up I would think that you probably cannot trust them very much.
When it comes to making money online there are a lot more scams and programs out there that are wastes of time than legit good opportunities that I can recommend. However if someone was holding a gun to my head and asked: what is the best program out there? This is it. I have been a member since 2015 and it took me from nothing at all to making a living online.
==> Recommended program I'm talking about here
Questions or comments? Leave them below and I'll get back to you ?