Since you are looking into CryptoWorld Network wondering if its possibly a scam or now I'm guessing that someone sent you their referral link trying to get you to join. Maybe they sent an email, maybe it was in a Facebook post… whatever the case it doesn't matter.
In this CryptoWorld Network review I'll be going over what exactly this place is, what it provides, the cost, why there are people promoting it and more. And by the way I am in no way affiliated with this program so this is a completely unbiased review.
CryptoWorld Network Review
Crypto World Network is a networking platform that is based around cryptocurrency. The purpose of it is to give people a space, kind of like Facebook, where they can talk back and forth, share ideas and information, let people know about good investments, strategies, opportunities, etc.
There are different membership levels available within CryptoWorld Network and of course the more expensive membership you buy the more you get. With the higher priced ones you are able to create your own groups that others can join and you can even choose to charge people for joining if you would like.
This place is also a mlm (multi-level marketing) opportunity which means that you can sell these memberships to other people and also earn money when they sell to other people and so on.
What You Get
Well as I said, this place is based around networking. As a member you get to engage with other people who are in the crypto space and have paid to be a member, which I agree is actually a good thing because it eliminates people who aren't serious at all.
On the platform there will be many different areas and focuses. You will be able to find education on the blockchain technology, information on making money with ICO's, mining, altcoins, and plenty of other things.
As I mentioned earlier, members are able to create their own groups here so there is no telling what you will find. Joe could make a group that is dedicated to daytrading, where you would be able to stay up-to-date on different opportunities that arise.
There are different subscription levels that you can purchase including Networker, Pro, and VIP.
Networker – $49/yr
Most basic package
Gives access to the network
Pro – $499/yr
Get access to the pro network
Get ability to start your own group (Ex: can start a group around daytrading, pullback trading, long term investing, etc.)
VIP – $999/yr
Get access to the VIP network
Get to create your own business page on CryptoWorld Network. Which you can then promote to bring people in.
They also sell Adpacks for $49/mo which give you the ability to place ads on the site. Its kind of like Facebook in this way and the ads will be shown off to the side of the different pages on the site.
A word of warning though: You will likely find lots of scam advertisments with all the new crypto scams floating around.
Compensation Plan
As I said, this is also a mlm opportunity and you can make money promoting and selling the memberships.
They call their compensation plan InstaCrypt. I guess they call it this because you can earn bitcoin on a daily basis with it. But anyways… I'll be going over some of the main features of this comp plan.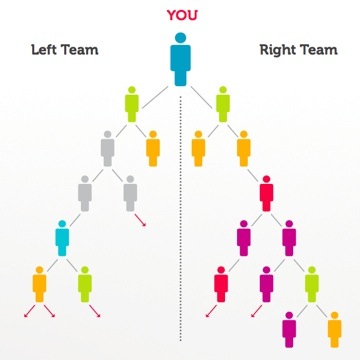 Binary Payouts
The binary payouts are at the core of the comp plan. With a binary structure like this you have 2 positions beneath each person. So below you there are 2 positions and then those branch out the further down you get. I put a diagram over to the right so you can see how this works.
Everyone has a left and a right team. And with the compensation plan here you will get paid between 10-20% of the sales volume on the weaker team.
The amount you get paid ranges depending on the amount of sales that you make. And remember… these sales that I'm talking about are the memberships for CryptoWorld Network.
Matching Bonus
You will also be able to earn a 50% matching bonus that goes down to 5 generations deep.
So you will get paid off of people making money selling CryptoWorld Network subscriptions that were recruited in below you (gen 1), and people making money that were recruited in below them (gen 2) and so on.
One Thing to Be Aware Of
One thing that I think it is important to mention is that there are going to be a lot of people promoting CryptoWorld Network just to make money with the compensation plan. This is one of the problems with this business model.
It would be great if everyone that joined were joining because they love cryptocurrencies and are interested in learning but the reality is that this is not how it will work out. Because of the pyramid-like mlm business model that this has it is going to attract people that are just looking to make money recruiting in others to join.
Conclusion on CryptoWorld Network – Good Opportunity or Scam?
Well I do not think that CryptoWorld Network is a scam like The Crypto Genius & BTC Global Team…. but I also will not be joining at this time. I will wait and see how this business grows in the future. The reason I will not be joining is because I see a lot of potential for this business to go downhill.
There is potential for this to turn into just another big promotion site instead of being a site that provides good quality information and training on cryptocurrencies. Like I said… I know there are already a fair number of people out there promoting this opportunity yet they don't really use it in the way they promote it.
Anyways… If you have experience with this place I would appreciate you leaving a short review in the comment section below.
And if you are looking for a program that I recommend for making money online then it doesn't get any better than this program. I have been a member since 2015 and make a living online now…. which goes to show that it actually works.
And also if you have any questions or comments be sure to leave them in the comment section below as well.