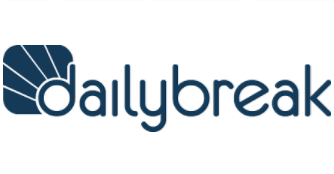 DailyBreak (at dailybreak.com) claims to reward you for watching stupid videos, reading about celebrity gossip, playing silly games, and other things that you wouldn't think you would be able to earn from. But is this place really legitimate? I mean after all, it does sound a bit fishy to me? Is DailyBreak a scam possibly that is just going to be a waste of your time?
I came across this site the other day and it caught my interest right away. I knew I had to look into it more and write this review on it to make sure people know what they are getting themselves into.
DailyBreak Review
Believe it or not, DailyBreak is actually a legitimate site and you really can earn from taking "breaks". This place has been around for quite a while and although there are a fair number of complaints about them they are legit.
They don't explain how they are able to pay you to read, play games, and watch videos, but my guess is that they are providing advertising for the authors of these articles and creators of the games. They are probably getting paid by these people to get normal people like you and I to see their content. And as an incentive to get people like you and I to participate in this all they offer points, which can later be redeemed for gift cards and other rewards.
Here is a short 1 minute video that explains a bit about how this place works…
(I do not own this video and it is for educational purposes only)

I have never come across a rewards site quite like this one but some other sites that you might like, which are somewhat similar, include Swagbucks, Inbox Dollars, and Spare5.
How It Works
The first thing that you have to do is sign up of course, which is free to do. After that you will be able to take "breaks" and earn points.
There are different categories of these breaks. There is news, entertainment, lifestyle, and family. In each of these categories you will find short articles, trivia games and things like this. Just to give you an example here are some of the breaks from the news section…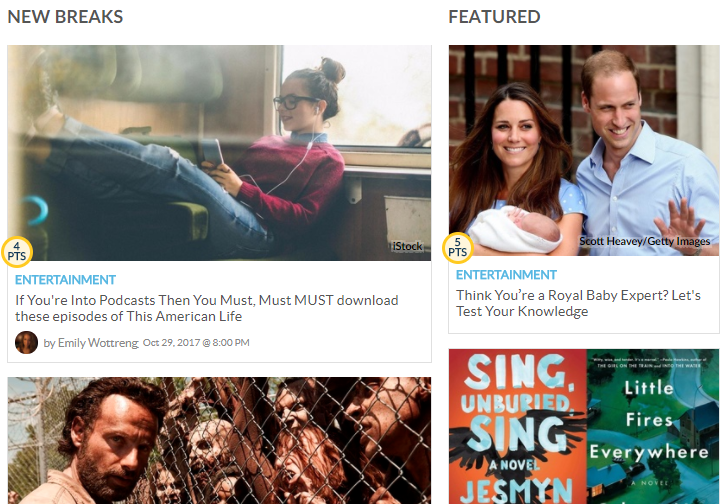 All you have to do is complete a break to earn points, simple as that.
The amount of points you will earn per break depends on your level. When you start out you can expect to earn around 3-5 points per break, but as you move up in level you will be able to earn more and even earn bonus points. Moving up in level comes from things like simply being active, leaving comments, getting answers right on quizzes, etc.
The amount of breaks you can participate in will also depend on your level. When you start out you will be limited to 10 breaks per day, which really limits your potential earnings. But as you move up you can increase this amount.
The Rewards
You can redeem your points for gift cards, magazine subscriptions and sweepstakes.
There are many popular gift cards available, such as Amazon for example, so there is really no reason to complain here. And when it comes to sweepstakes you can enter to win a bunch of stuff. Things like computers, TV's, iPads, $500 gift cards, and more can potentially be won here.
Their rewards are broken down into tiers. There is the Lunch Breaker tier from 500 – 10,000 points, the Weekend Breaker tier from 13,000 – 30,000 points, and the Spring Breaker tier from 45,000 points on. You can see what types of prizes are on each tier below…

The Downside
The downside is that a point isn't worth much at all. According to seasoned members of DailyBreak, the amount of points needed to redeem for gift cards has went up a lot.
They seem to change the point value every so often but right now it takes 10,000 points for a $5 Amazon gift card. So when you start out and you are only earning around 5 points per "break" then you can imagine how long it will take to be able to actually redeem your points for something of value.
Conclusion on DailyBreak – Worth Your Time?
It all depends on what you are looking for. This definitely doesn't pay much at all for the time you put in, but then again… maybe you would be doing this sort of stuff regardless. If you are looking for a brainless way to earn some extra pocket change then this is a potentially good choice, but if you are looking for a way to earn anything significant for the time you put in then this is definitely not for you.
Something else that you might be interested in that I would suggest taking a look at is this program. I have been a member since 2015 and make a living online with it online. What is nice about it is that I can work whenever I want, which is what many people like about DailyBreak.
==> Program I'm talking about here
Questions or comments? Leave them below in the comment section and I'll get back to you soon ?