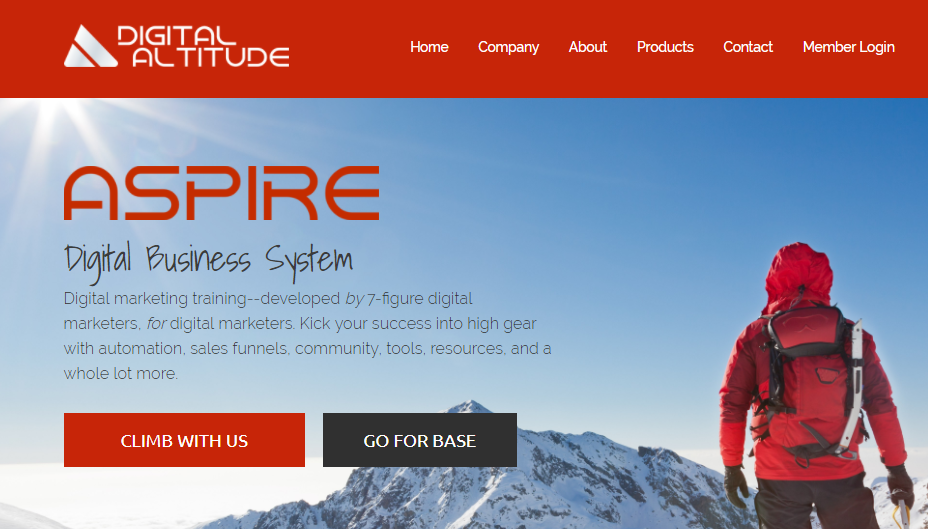 Aspire is a digital business program that by a company called Digital Altitude that is promoted like crazy all over the internet. Many of those promoting this program make massive claims of being able to make it rich if you buy in… but can you really trust what you here? And with all the recruitment going on is Aspire a pyramid scheme that is going to get shut down in a matter of time?
I am very familiar with the Aspire program because I review online money making programs all the time and there are a lot of people promoting this place. In this review I'll be going over a bit about what this program is and then I'll be going over the compensation plan and explaining whether or not its a pyramid scheme.
Aspire Overview
As mentioned, Aspire is one of Digital Altitudes online business programs. It is the first of many and is what you will see being promoted most online by sites like Lifestyle Lady & Profit Countdown because it is the cheapest and the easiest to get people to sign up for. But after Aspire there are other Digital Altitude programs that are much higher priced including Base, Rise, Ascend, Peak, and Apex.
Apsire, along with all the other programs, provides training, tools and other resources for online business. It is very possible to apply what you are provided with at Aspire to any online business to help generate leads and make money, but it seems that most people that join just go out and promote Aspire to others… and there is a reason for this.
The reason that it seems pretty much everyone goes out and promotes Aspire is because they push you to do so once you are a member. There is training that they provide you with that is specific to promoting this program to others. And they will also give you pre-made sales funnels, lead capture pages, etc… all of which are for promoting Aspire.
On top of that they have a very lucrative compensation plan that I will be going over next…. and on top of that.. this is a mlm business opportunity which means that you can make money from the sales that are generated from your recruits, and their recruits, and so on. So once you are in the door and sign up for an Aspire membership you will be assigned a "coach" which is basically just someone who is going to try to upsell you and to get you to promote the program.
The MLM Compensation Plan
Aspire is very similar to the program MOBE, if you have ever heard of them. But aspire is more so a mlm than MOBE. With Aspire you can earn down more levels of recruitment.
It is possible to earn commissions from the sales down to 3 levels beneath you. The members that you personally recruit in make up level 1, the members that they recruit in make up level 2, and the members that level 2 recruits in make up level 3.
But you won't be able to earn from all 3 levels from the start. There are actually 3 memberships within the Aspire program and you will have to upgrade to the most expensive one to get full access to this compensation plan. These memberships are as follows…
Walker

$37/mo
Earn 40% commissions on the 1st level

Hiker

$67/mo
Earn 40% commissions on the 1st level and 10% commissions on the 2nd level

Climber

$127/mo
Earn 40% commission on the 1st level, 10% commissions on the 2nd level, and 5% commission on the 3rd level
What Will Happen If You Join
When you join at the lowest level of Aspire Walker for $37/mo you won't be able to make much. You will only be able to earn from those recruited in at the 1st level, which are those that you directly recruit in. If you want any chance of making good money you will have to upgrade to the highest membership of Climber for $127/mo.
No only is it set up to get people to purchase their way up the mlm structure, but from what I've heard you will be pushed to do so.
And when you get to the highest Climber membership you aren't done yet. There are all the other programs that Digital Altitude offers including Base, Rise, Ascend, Peak, and Apex. These are all basically the same exact thing as Aspire just they have more advanced training, tools, and they are way more expensive, which means you can earn much higher commissions selling them.
What No On Tells You
The thing that no one that promotes this program is going to tell you is that most people fail, as with just about any mlm. You see when it comes to mlm's like this those at the top with many recruits and big downlines are the ones making the good money. And of course because of the pyramid-like structure of mlm's, most people are going to be at the bottom where the struggle is real.
This is just the reality of it and it will always be this way. Some of the money that those at the bottom could be making gets taken away to pay off those above them.
Just to give you an idea of what we are looking at here, below is a screenshot of the average affiliate earnings over a years time…
Conclusion on Aspire – Pyramid Scheme or Not?
It definitely appears as a pyramid scheme from the outside but there is no real way of telling for sure without knowing more. In order to really tell I would have to know how many members are actually using Aspire without promoting it VS the number of people that are buying in just to promote to others.
Without this information I can't give a concrete answer. But one thing is for sure… there are definitely a lot of people buying into Aspire and promoting it as a "hey buy this program and you can make a lot of money getting others to buy this program" type of deal.
If you are looking to buy into Aspire yourself I can't recommend it. Why? Well because I find their business practices somewhat unethical, most people just don't end up making good money with it, and it can get extremely costly.
If you are looking for a more legitimate and affordable program that the average Joe can realistically make money with then I suggest taking a look at this program.
I started with this program back in 2015 and am still a member to this day. Its also notable that I make a living online now and pretty much all of my success can be attributed to what this program has taught me.
==> My No. 1 Recommended Program Here
Questions, comments, concerns? Leave them below in the comment section below and I'll get back to you soon ?