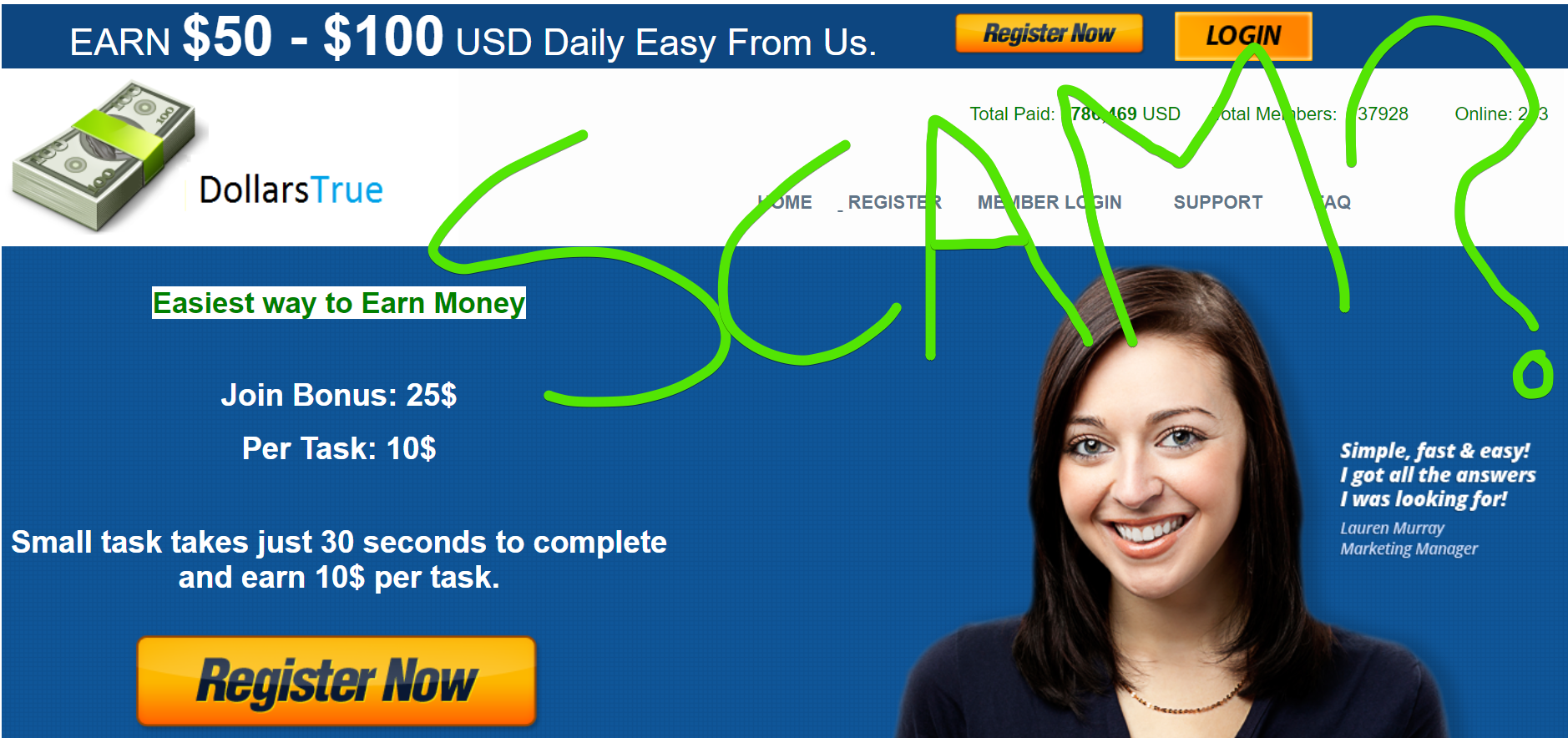 Dollars True (dollarstrue.com) claims that they pay $10 for completing the simplest of tasks which only take 30 seconds to do. Compared to other somewhat similar sites that pay you to complete tasks this amount is extremely high. Because of this I was suspicious upon landing on this site and decided to dig a little deeper into things to see if they are even legitimate. And since you are reading this review I'm guessing you are also suspicious of the claims made.
Is Dollars True a scam? The short answer is yes and in this review I'll be going over why I say this.
Dollars True Review
Dollars True is pretty much the same thing as Fix Monthly Income, Dollar Tell, and Regular Dollars. They claim to pay you to perform small tasks but if you join you will find out that there is only 1 task to be completed and this is to refer other people. The only way to get paid here is by referring others to join.
On top of that it is highly unlikely that you will actually get paid once you read the extremely high cash out minimum. I'll be going over all of this.
A Look Inside
So even though I was fairly certain that it was a scam I decided to register and see whats going on inside the members dashboard. After joining and logging in, I found that there are not really any tasks for you to complete. The only "task" that you can do to earn money is to refer other people to join.
By referring other members you can supposedly make $10 for everyone that joins through you. You get your own referral link which you can post around online and when people click on it and join, you get credit.
The minimum cash out amount is $300. So for some reason they are making you reach an account balance of $300 before you can get your money. I guess this isn't really too high if you are able to earn $10 per referral, but I still get suspicious of places like this that have very high cash out amounts. Usually it means they are scams… which you will see this is…
How They Make Money.. Doesn't Make Sense
Ok so for them to be able to pay you $10 for each referral they have to be making money right? The money has to come from somewhere. It can't just come out of thin air.
This is what they tell you…. They say that they get paid from advertisers. When you refer others to DollarsTrue you help them make more money because you help generate more traffic and advertisers make more. This sounds good and all but there is one small problem. I take that back.. one HUGE problem…. there are NO ADVERTISEMENTS!
How are they advertising on their site if there are no advertisements? I check and my adblocker wasn't blocking anything on the site nor did I see anything. This makes absolutely no sense and the strange thing is that this is the same exact thing that Fix Monthly Income and the other nearly identical sites tell you.
What Is Really Going On Here?
This site is more than likely in the business of selling email addresses and personal information. They capture your email when you register and you also have to enter your name. These are then usually sold to spammers online that are trying to get people to buy into things or to scam you in one way or another. So if you registered and then start to receive a bunch of spam emails, you know what is going on.
Other than that I don't see what else the point of this site could be.
Even If This Was Real It Wouldn't Work Out
Even if they did really pay $10 for referring people you would never make much money from something like this. They provide no training on how to actually refer others to join. Marketing an opportunity is no small task. On the site they tell you to post your referral link on forums, social media, etc… but this won't work out great. Unless you have a massive social media following or something this isn't going to get you many referrals.
How do I know this? Well because I've been involved in online marketing since 2015 and if it were this easy then everyone would be doing it and making tons of money in the process.
Conclusion on Dollars True – Scam
Dollars True is a poorly put together scam site that lures people in with the hopes of making extremely easy money online. There is no way they can afford to pay people how they say, their entire business model makes no sense. They say they get paid from advertisers yet I see no proof of this. This site is nothing more than a scam and waste of time.
Lesson learned: If something sounds too good to be true then it probably is.
If you are looking for a way to make money online that actually works and is legitimate I would suggest taking a look at how I make a living online. I've been working online since 2015 and make good money doing this.
And of course if you have any questions or comments leave them below and I'll get back to you soon 🙂