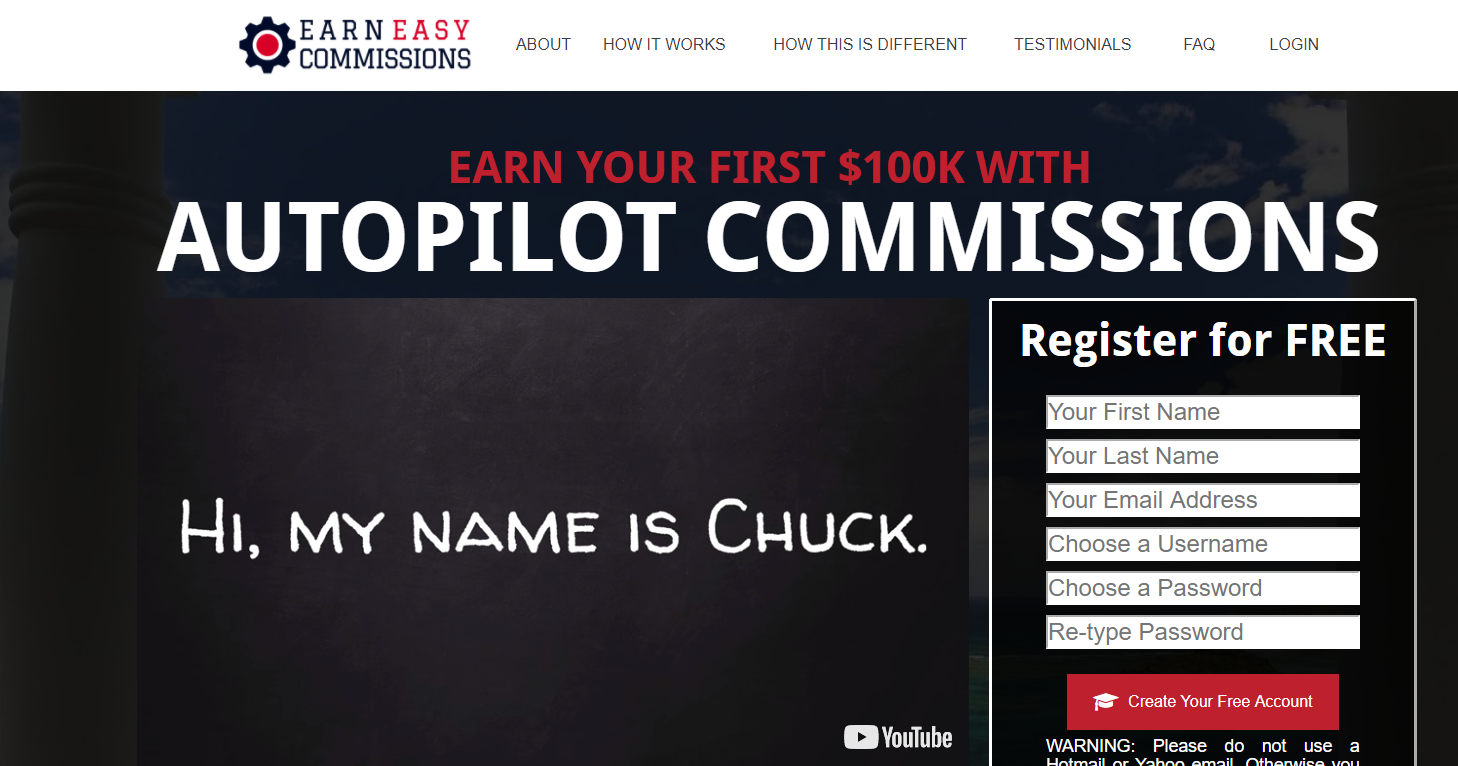 Earn Easy Commissions is a program created by "Chuck" that claims to be easy, done for you, and can make you autopilot commissions. Chuck claims that complete beginners can make $100,000 online with this is the only program out there that everything is done for you. But is all this talk really true? Can it possibly be this great and really be free like he tells you? Or is this just another scam that you should avoid?
The truth is that Chuck isn't telling you the whole story. This system can be "free" in a way but if you don't spend any money and keep the free account then you more than likely will make a thing. You're going to have to spend money to make money here and you will see why throughout the rest of this review.
Earn Easy Commissions Review
If you make it through the sales video and enter your information to create a free account you will find that the guys name is Chuck Nguyen, who has been in the online marketing world for a while.
He claims that this "Automated Selling System" is a new way of doing business where there is no more teaching people. Instead of teaching people how to create their own online business he is just supposedly going to hand you his. But of course I have heard this same claim 100 times before with other scams like Copy My Cashflow, Copy My Email System, Copy My Cash Code, so whats to say that this one is actually going to be legitimate and work? As of now it sounds like another big old scam.
So in a nutshell here is what you are led to believe: that the system is completely free, completely done for you, and that you can earn $100,000 was it pretty easily. Sound too good to be true? Of course it does… Which I'm guessing is why you are reading my review right now because you are suspicious of the claims made. And it's a good thing you are reading this because the program is not what it seems.
A Basic Overview of This System
Okay so you may be wondering how the heck you're going to make money with this system. Well to summarize it, you are going to be selling the same system to other people. You are going to promote the system and get others to join just as you did (or almost did). So do you remember that page you landed on with the sales video that told you how easy everything was, how this is all free, and how beginners can make $100,000? Yeah you will be permitting the system in trying to get people to see the same video where they will then register for free and get sucked into the system.
Free to Use? Not Really
You are able to create a free account at Earn Easy Commissions and you will be able to make some money but this is more of just a way to get people to join in. If you do join as a free member you are not going to want to stay if remember. Why? Well because they have two other memberships that you can make a lot more money with in that you will be pushed to join as. You will find this out once you sign up and make your way to the dashboard of the system…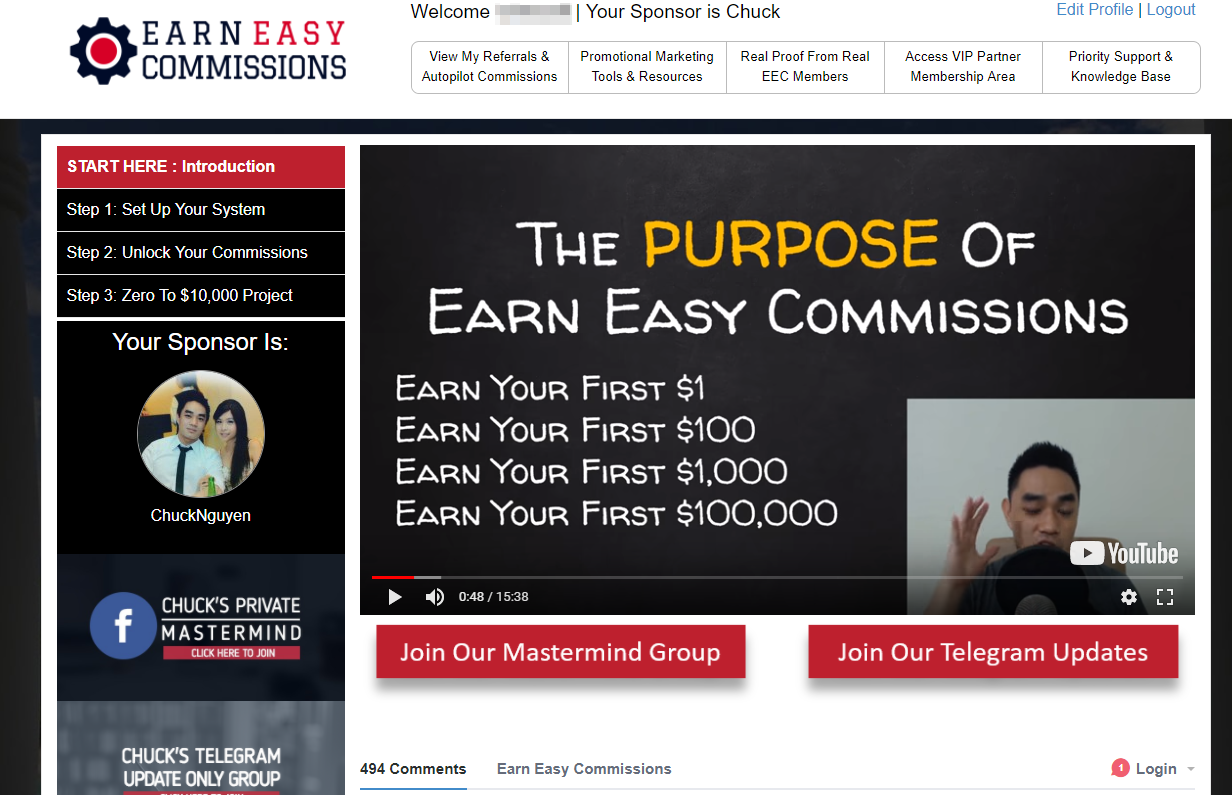 These memberships include…
Free

Doesn't cost anything of course
Will be able to make $1 when you get someone to join and $100 if they become a VIP member

Pro

Will have to buy into GetResponse and Click Magick
Here you will be able to earn 33% commissions from people you bring in that sign up for GetResponse & Click Magic, plus you will earn $100 for every VIP member that joins beneath you

VIP

Have to purchase everything, including the VIP membership for $750 or $100/mo for 12 months
Will earn $1.20 for people you get to join, 33% commissions on the GetResponse and Click Magick memberships, $500 for everyone you get to join as a VIP members, and $100 from people that join as a VIP member in your downline
So as you can see with the Pro membership you will have to pay for a GetResponse account and a Click Magick account. When you do this the person that you joined through will earn commissions. GetResponse is an autoresponder service that you will use to send out automated emails to your email list trying to get other people to join. Click Magick is an analytics service that will track your links and help you optimize your campaigns.
It will cost you a minimum of $15/mo for a GetResponse membership and a minimum of $12/mo for a Click Magick membership.
And then for the VIP membership you're going to have to pay $750 or $100 a month over a period of 12 months.
Why I Dislike Systems Like This
The way I see it the systems, which there are a lot of out there, or just big money pits that provide little to no value. Just think about it for a second… You are buying into the system to make money online and then the goal for making money online is to promote the same darn system to other people. Where is the value in this?
And while having all this "done for you" stuff may sound great, it is not. When you're given stuff like this that is already done for you you do not learn how to do it. I know you might not want to learn how to do these things but if you want to be able to make income online sustainably then you're going to need to know how to do this kind of stuff yourself. The easy way is not always the better way and people need to start realizing this.
And besides that systems like this never work as good as they say they do. Just think about it… Right now you are reading my review instead of joining this system. If you do join and promote the system to other people they are going to be suspicious of it as well and reading reviews like mine. Not as many people join these kinds of things as you might think and they are harder to make money with them they lead you to believe.
Conclusion on Earn Easy Commissions – Scam or Not?
While I wouldn't call this a scam this is definitely something that I do not recommend nor do I like. The system lures newcomers in with false claims of being completely done for you and completely free when neither are true. While pretty much everything is done for you you will have to do some work to promote this to other people and while there is a free membership you aren't going to be able to make $100,000 with it… Not even close to that.
This is your typical "get rich quick and easy" type of system that people looking for the easy route are going to buy into. Unfortunately most of these people are going to end up discouraged and disappointed because of the systems never work out as good as they say, which is why they come and go like the seasons.
Anyway. In closing, I hope you found this review helpful. I do not recommend this program but of course it is our money in your life so you can do what you want. Just know what you're getting yourself into beforehand.