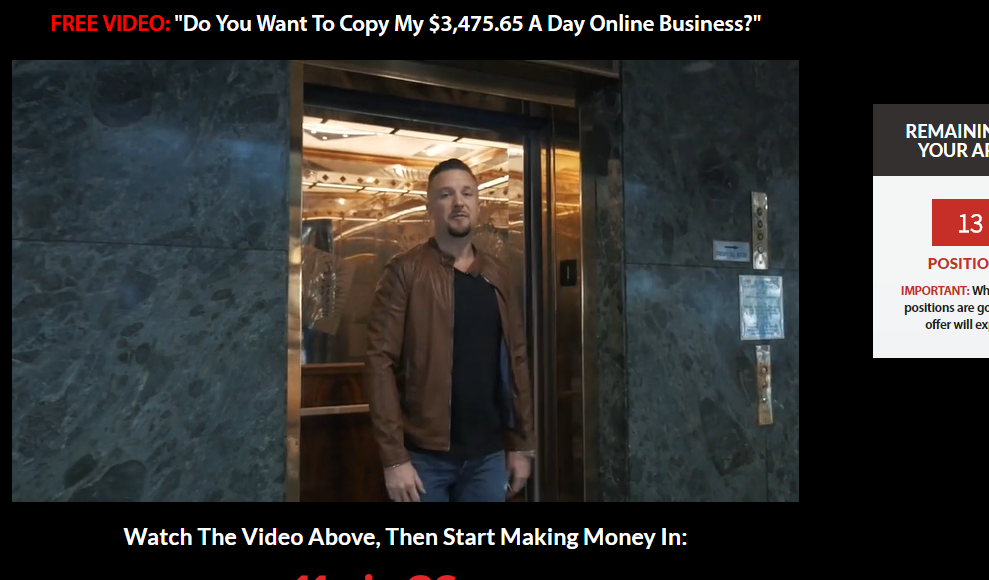 End Financial Stress Now is a website created by Dave Sharpe that claims it can help you ethically make thousands of dollars per day from home. But is this possibly true? Or is End Financial Stress Now a scam, which it kind of seems to be?
When it comes to the online world you can never be too careful. The "make money online" sector is plagued with scams so doing a bit of extra research is understandable. In this review I'll be going over the real program that the End Financial Stress Now website is trying to get you to buy into and everything you need to know about it.
End Financial Stress Now Overview
End Financial Stress Now is just a website that was created by Dave Sharpe to promote his program called Duplicate Dave. There is no actual program called End Financial Stress Now, which you might know depending on how much of the sales video you watched.
Dave Sharpe has been in the online marketing industry for a while and is most well known for his role with the Empower Network, which was a massive online pyramid scheme type program that has pretty much completely collapsed at this point.
His Duplicate Dave program is similar to Empower Network in some ways but it is not as bad. Basically it is an online marketing program that provides tools & training for people to make money online promoting products that are not theirs.
He tells you that it only requires 30 minutes or less per day to be successful with this but this is an understatement.
What You Get With This Program
You get training, tools, and other resources for making money online. This includes training in affiliate marketing, lead generation, email marketing, traffic generation and many more aspects of online business.
You will also be provided with many "done-for-you" features such as pre-made sales funnels, email templates etc. These are designed for you to "Duplicate" Dave. You will be getting access to what he uses. You will even get access to his phone sales team which will help close sales for you.
How It Works
Although it is very possible to apply what you learn here to any online business, this program's main focus is on getting members to promote Duplicate Dave.
There are a lot of programs out there like this… they get you to buy in with dreams of making money online and then once you are inside they push you to sell the same system. Aspire, MOBE, Speed Wealth System… there are a lot.
The pre-made sales funnels, lead pages, and the phone sales team…. this is all set up for you to promote Duplicate Dave to other people. You will be able to refer others to join this program and you will make commissions when they buy in.
The Problem With This
One of the biggest problems that exists with opportunities like this is over-saturation of the market. Systems like this flood the market with people doing the same thing, using the same sales funnels, sending out the same emails, etc.
When programs like this are new they are ok but in the long run they are guaranteed to lose momentum because of the inevitability of over-saturation.
The Hidden Cost
When you buy in it isn't going to cost much at all, so you might not be very hesitant to join. But what you should know is that it is going to cost you a lot more than you think if you want to make good money.
There are 4 different memberships available. There is the Bronze, which is the cheapest and then there is Silver, Gold, and Diamond, which cost in the thousands of dollars range… yes you heard me right.
This is what you call a "high ticket" program, meaning the products cost a lot of money. You first get in the door by buying an affordable product but this won't be enough. If you want additional training and tools you will need to buy the upsells and also you will need to buy them if you want to sell them and make money doing so.
Conclusion on End Financial Stress Now – Scam?
Ok, so let me summarize all of this mess: End Financial Stress Now is nothing more than a funnel website that is set up to get you to buy into Dave Sharpe's Duplicate Dave program. I do not consider this a scam although some of the information given is very misleading, such as how he says you can be successful working just 30 minutes per day. This is a statement that might come true 1% of the time but for the vast majority of people, especially those with no experience, this isn't going to work out.
This Duplicate Dave system is carefully designed to get people to buy in and buy upsells as they begin to promote the same system to other people. While you can make money with this, and I'm sure some people make a lot, I'm not going to recommend it, especially if you are a beginner.
When it comes to making money online there are a lot more scams out there than legit opportunities that I can recommend. However…. gun to my head, what is the best program out there? This is it. I have been a member since 2015 and it took me from nothing at all to making a living online.
==> Recommended program I'm talking about here
Questions or comments? Leave them below and I'll get back to you ?