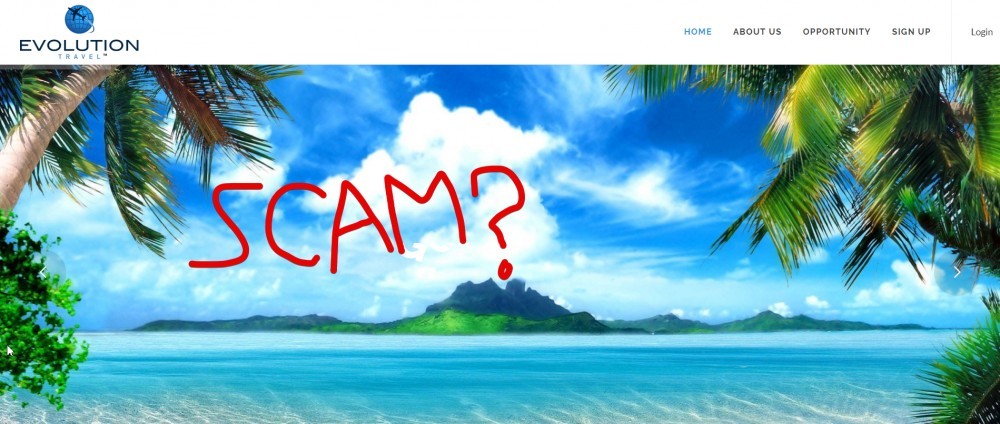 Evolution Travel may offer some good prices on travel deals, but is this place worth getting involved with? Or is Evolution Travel a scam that you should be avoiding?
Since you are reading my review here and wondering if this place is a scam or not, I am guessing that you are probably contacted by one of Evolution Travel's "travel agents". They probably first talked about the amazing deals you can get on travel and shortly after, or maybe even before hand, tried to get you to join the business as a travel agent as well. Why am I guessing this? Well… Because that is what most travel agents seem to do. That is how they operate.
In this review I will be going over what you need to know about this place before moving forward. If you are thinking about joining as a travel agent you are definitely going to want to read this over and think again. The opportunity is often not nearly as amazing as other travel agents will lead you to believe it is and you will see why.
Evolution Travel Review
If you go on the official website and read about this place, you will see that they claim their success comes from both travel sales and their referral program.
The travel sales are a given… The travel agents that work for this company sell travel packages and this is where much of Evolution Travel's business comes from. But what is this referral program that they're talking about?
The referral program is where the home based travel business comes into play. Anyone can join Evolution Travel as a PTA (professional travel agent) and refer others to Evolution Travel, either as a normal customer or as a PTA, and earn commissions doing so.
The company was founded in 2015 so it is fairly new. That said, there partnered with Archer Travel Service which has been around since 1952.
The Products/Service Offered
Like Expedia, Travelocity, etc., Evolution Travel offers deals on travel packages. There partnered with a variety of different travel companies such as Carnival Cruises, Royal Caribbean Cruises, United Vacations, Sandals, Disney And a lot of other places to bring about the good deals.
And that is pretty much it… The travel deals should be the main promotion here but unfortunately many PTAs focus on promoting the business opportunity due to the incentive that Evolution Travel gives to recruit other PTAs in.
The Business Opportunity
So as a PTA you will be able to make money by selling travel deals as well as recruiting and other PTAs. The cost to become a PTA is $69.95 per month for the administrative fee along with a small one-time charge which varies (It is listed as $30 as I am writing this review).
Evolution Travel is what you call it a MLM, or multilevel marketing, company which means that they have multiple ranks within their business structure and PTAs can earn commissions from those beneath them.
MLM's have pyramid -like structures that are formed via recruitment. They are narrow at the top in branch out further at the bottom as more people are recruited into the business.
The different ranks here at Evolution Travel include the following. You can also see that I listed the requirements for each rank below. In order to move up the ranks, which allows you to earn more money from the compensation plan, it is all about recruiting in more PTAs.…
Ranks
Consultant
Executive Consultant

Need to recruit in 3 other PTA's

Bronze Consultant

Need to recruit in 6 other PTA's

Silver Consultant

Need to recruit in 9 other PTA's

Gold Consultant

Need to recruit in 15 other PTA's
Need at least 3 Silver Consultants in three separate legs of your downline

Platinum Consultant

Need to have at least 400 active PTA's in your downline (don't have to be personally recruited)
No more than 1/3 of active PTA's can be on any one lineage
Travel Commissions
As a PTA you are obviously going to be able to earn commissions on travel deals that you sell. On commissionable travel, you get 80% commissions from deals that you personally booked and 10% gets passed up to your sponsor. So in total Evolution Travel it's paying out 90% in commissions here from travel that qualifies as commissionable.
Residual Commissions
Of course you are also going to you access to residual commissions that you will earn from PTAs in your downline. This is typical of any MLM business opportunity.
Leadership Bonuses
As an incentive to recruit more people in and climb the ranks, they give out Leadership Bonuses that are paid monthly to gold and platinum ranked consultants.
Company Shares
As a gold level consultant you will get 20,000 shares of the company. If you move up to the platinum level you will get another 20,000 shares.
The entire focus of this MLM compensation plan is on recruiting and more PTAs. The more you recruit in, the higher number of active packages you have in your downline, the higher monthly bonuses you will earn among other revenue streams…
Pyramid Scheme?
The FTC states that pyramid schemes are business opportunities that rely too much on recruitment. They focus overwhelmingly on recruitment rather than sales to the general public. This is what separates a legitimate MLM opportunity from a pyramid scheme.
So is Evolution Travel a pyramid scheme?
This is where it gets tricky because it all depends on how much a business relies on recruitment. You are able to have a pyramid like MLM structure that relies on recruitment, but in order to operate legally you can't relying recruitment too much. This is why you see many MLM companies requiring that there distributors or consultants earn 50% or more of their money from public sales rather than recruitment.
The problem that I see with Evolution Travel is that they don't really put much focus at all on selling travel packages to the general public. The compensation plan is entirely focused on recruiting in other PTAs. This is a major problem and a definite sign of a pyramid scheme. There is not really much incentive for existing PTAs to go out and sell travel deals to the general public… It is more lucrative to just recruit in other PTAs and move up the ranks, thus earning more from the compensation plan.
I Don't Know If It Is Worth It
Personally I see future problems with this company. I don't think they can continue to operate the way that they are and are likely going to come under fire from governments around the world. This opinion is based on what I see from their compensation plan along with the fact that other very similar travel MLM companies, such as World Ventures, have been considered pyramid schemes (I'm talking about in Norway).
That said… Even if this place isn't a pyramid scheme and is going to be around for many years to come, I still don't know if it is worth joining.
The problem with MLM opportunities like this is that they are much more difficult to make money with than they seem. Of course when other PTAs are trying to recruit you in they are only going to tell you the good stuff, such as the income potential, but the reality is that with MLM's like this it is more difficult to make money.
The reason MLM's or more difficult to make money with it is because of their pyramid -like structure. In short, those at the top or rewarded in those at the bottom have potential profits taken away from them, which are siphoned up to those at the top. This creates a lot of incentive for members to climb the ranks via recruitment to get to the top, but the reality is that there will always be many more people at the bottom of a pyramid -like structure than at the top… Which is why MLM's have such high turnover rates.
This is what you won't hear from someone trying to recruit you in. Of course they are trying to get you in their downline so that they can make money off of you.
Final Thoughts – Scam?
Well first off… I don't really see much point in using Evolution Travel's travel services. You can get just as good of deals on sites like Expedia and you can get these good deals from the comfort of your own home without talking to an annoying travel agent.
If you do want to use Evolution Travel's travel portal to get a discount then go for it, but there really isn't much point in doing this.
The MLM business opportunity is the real opportunity here and it doesn't seem to be that good of one to me. I do not care for MLM's in general due to their difficulty and focus on recruitment, and I definitely don't care for this particular MLM opportunity because I feel that it leans too far to the pyramid scheme side of things.
If you want to join Evolution Travel then go for it. It is your decision… But this is just not something that I personally recommend. If you are still considering joining just know that in order to be successful with this you're going to have to be continuously recruiting in new PTAs. High turnover rates should be expected so you're going to have to recruit left and right.
If you were interested in this business opportunity and are having your doubts, but are still looking for an opportunity that is home-based, you may want to take a look at how I make a living working online. You can click the button below to learn more as well as how you can do the same…
Questions or comments? Please leave them below and I'll get back to you as soon as I can 🙂