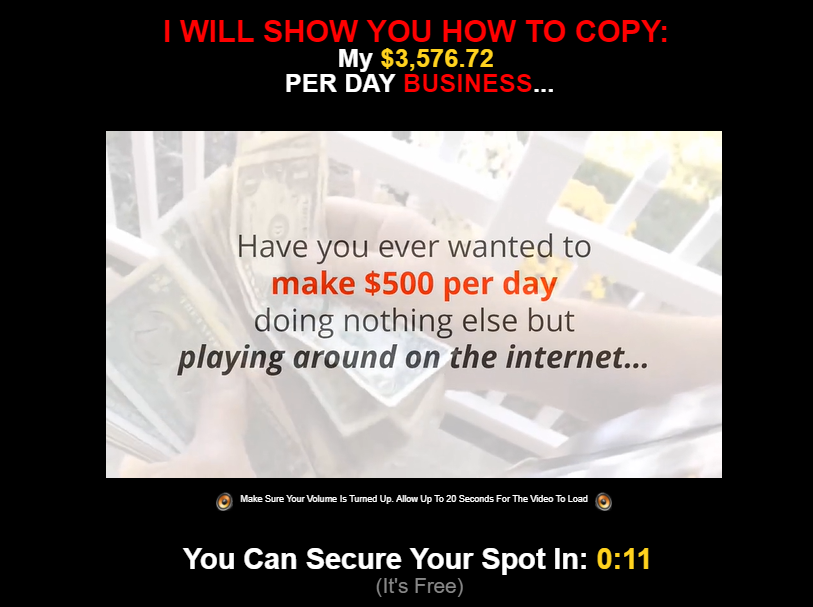 Facebook Cash System is a new online money making system that I came across the other day that really seems like a scam. It claims that ordinary people can make hundreds and even thousands of dollars online just by posting on Facebook. But is this really true? Or is Facebook Cash System a scam as it seems to be?
I'll jump straight to the point here and tell you that YES, Facebook Cash System is a scam. And in this review I'll be going over why it is a scam and why you should stay far far away from it. If you buy into it you will only end up with less money than when you started.
Facebook Cash System Review

Facebook Cash System was supposedly created by a guy named Johnathon Crisper. It is a scam that is very similar to another I reviewed recently called The JobQuitter System. It is full of hype, lies, misleading information, and of course…no proof. Bear with me for a second as I go over the comical story that this guy tells in the promo video I watched.
This guy claims to have been an ordinary person with no experience in making money online whatsoever. Then one day he somehow got to sit in on a secret meeting with Mark Zuckerberg, Bill Gates and some other billionaires.
He claims that the meeting was to talk about a weakness in their systems. So Johnathon listened to them talk about this "weakness" and heard how they were exploiting it to make tons of money. So of course Johnathon then created this awesome automated system that exploits this weakness for people and can bring in hundreds to thousands of dollars per day.
And of course he is giving this system away to 100 lucky people.
This is what he tells you. Its no wonder you took the time to look more into this and see if its a scam. It has all the common characteristics of a scam.. that is for sure.
How It Works
And just as expected… there is absolutely no information provided on how this system actually works. He tells you that there is some weakness that it exploits but gives absolutely no information on this whatsoever.
He really hypes up how amazing Facebook is and how much money you can make on it, which is true, but there is just nothing regarding what you are actually buying into here. You have no idea how this works and what you are getting.
Basically he leads you to believe that you will be posting some things on Facebook for 10-30 minutes each day and raking in tons of money in the process.
The Lies
You definitely cannot trust a thing you hear from this system. Anyone could make up the story that Johnathan claims to be true. There is no proof of any of this being legitimate.
And besides that this buy also lies on many levels. First off, the $500 for watching the video is a load of BS. He suckers people into watching the entire series of videos and signing up only to find out this…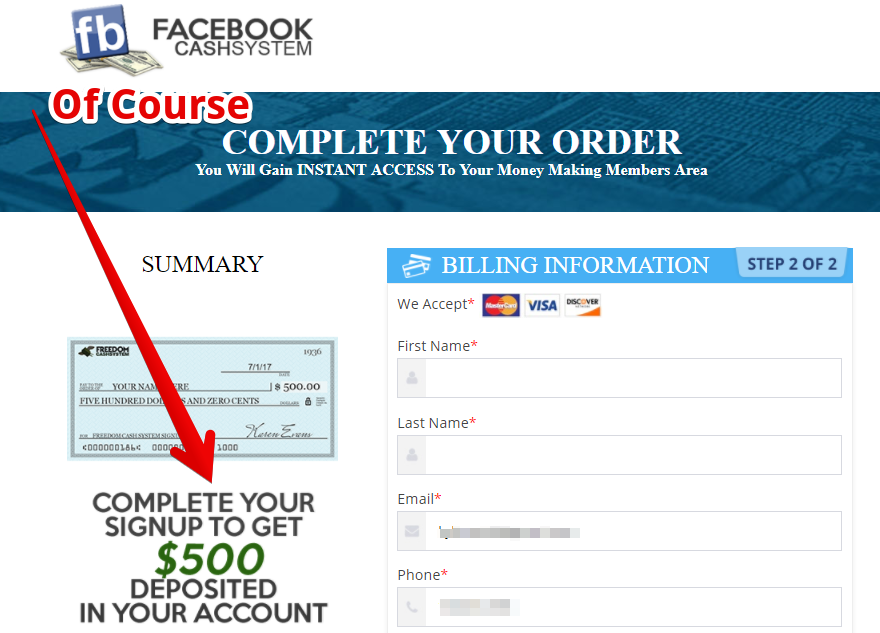 You of course have to buy the program first to get the $500. Which I can tell you that you will not be getting even when you do buy it. This "free money" tactic is common for scams and is often used to get people to sign up, watch a video, or even buy the program.
There are also other lies that he tells, such as all the fake pictures of his cars, house, and family. All the pictures he shows are stock photos and can be purchased by anyone to use online as they wish.
The Reality Here
The reality is that there is not super easy, completely automated, turn-key, system out there to make money online. Scams of often takes this route because they know that it sounds extremely enticing and that many people believe the internet to be filled with unlimited possibility.
The online world does have lots of possibilities and there are lots of ways to make money legitimately but everything takes real work.
I make a living online and have been making money online since 2015. I can tell you from experience that there is definitely nothing even close to this out there. If there was, I would be using it for sure.
Conclusion & What I Recommend
Facebook Cash System is without a doubt a scam. There is no proof that anything this guy says is true or that even this Johnathon Crisper even exists. Programs like this prey upon those looking to make money and just give them the opposite outcome they are looking for…. which is ending up with less money than when they started out.
If you are looking for a legitimate and affordable way to make money online then it gets no better than this program here. I joined in 2015 when I just started out. I was a complete beginner at the time and now I make a living online, which goes to show that it actually works.
Its a good, honest program that provides the tools and training without all the BS and hype.
==> Learn more about this program here
Questions, comments, concerns? Leave them below and I'll try to get back to you soon ?