FixMonthlyIncome.com claims that you can easily earn money online by referring friends to their program. But is this legit? Every time I hear "easy money" online I get a little suspicious… and rightly so. With all the scams online you can never be too careful. But anyways, is Fix Monthly Income a scam or could this possibly be the opportunity you have been waiting for.
I looked into this program and in this review I'll be going over a few things that you definitely should know. While you can make money here it is not the amazing opportunity that you may think it is.
Fix Monthly Income Review
Fix Monthly Income claims to pay members for getting people to click their referral link. They are free to sign up with and they tell you that literally all you have to do is get people to click your link in order to make money.
At $5 a click this would be a pretty darn good money maker……. IF it were legitimate. But its not, and I'll be going over why this is the case shortly.
How They Say You Make Money
They make it sound as simple as possible. All you have to do is share your link and get people to click it. And you will be able to earn $5 just for someone clicking it. You don't need that person to sign up or do anything. A simple click of the link will earn you $5.
They make it sound as easy as possible and tell you to start out by posting on social websites like Facebook, Twitter, etc.
But this makes no sense at all.
Why This Makes No Sense
In order for them to pay you money they have to be making money in some way right? And what they tell you is that they make money by advertising. They say that when you share your link and help drive traffic to the website fixmonthlyincome.com they make more money from more people seeing their ads.
This is all fine and dandy. It makes sense in theory and I know this is a legitimate way to make money but there is NO proof of this actually being the case. In fact there are NO ADVERTISEMENTS on the website. So this does not add up to being true.
If there are no advertisements on the site then there is no way that they can be making money in this way.
How They Really Make Money
More than likely what they are doing is selling personal information to scammers online. When you join the site you have to enter your name, email, etc. This information will probably be sold so don't be surprised if you start receiving a bunch of spam emails if you have already signed up here.
I see sites similar to this all the time. Many of them are lottery type sites like OMG Sweeps that have you enter your information for a chance to win money. These are fake and their only purpose is to get your info.
Can You Make Money Referring People?
So they are obviously lying about how they make money but nonetheless they are still making money, just not as they tell you. So can you still make money by referring people to the site?
The answer is probably not. First off, they have a $300 cash out minimum. Most people will probably give up before ever reaching this amount. You will need to refer 60 people to get this much and that is a lot if you are just going to post on social media like they tell you to.
Because this site is full of lies and is completely untrustworthy, it is likely that they will not pay members even when they do reach the threshold. I was able to find complaints about them not paying on sites like Ripoff Report as you can see below…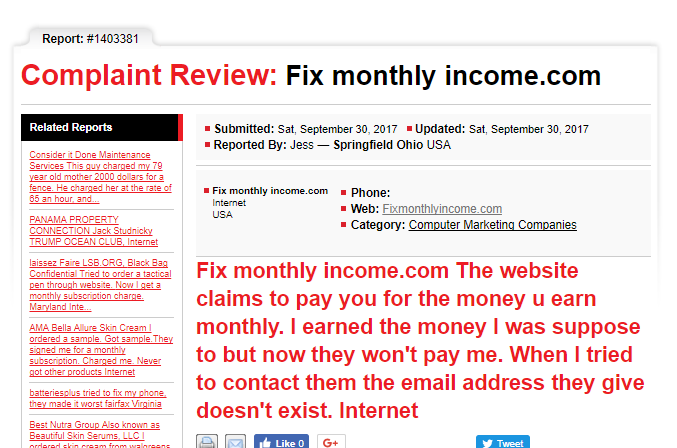 Conclusion on Fix Monthly Income – Scam?
As far as I see this place is definitely a scam. There is no doubt that they lie to you because what they say just doesn't make any sense. They tell you that they make money from advertising on their site yet there are no advertisements on their site.
This is not a legitimate money making opportunity unfortunately.
When it comes to making money online there are a lot more scams out there than legit opportunities that I can recommend. However…. gun to my head, what is the best program out there? This is it. I have been a member since 2015 and it took me from nothing at all to making a living online.
==> Recommended program I'm talking about here
Questions or comments? Leave them below and I'll get back to you ?