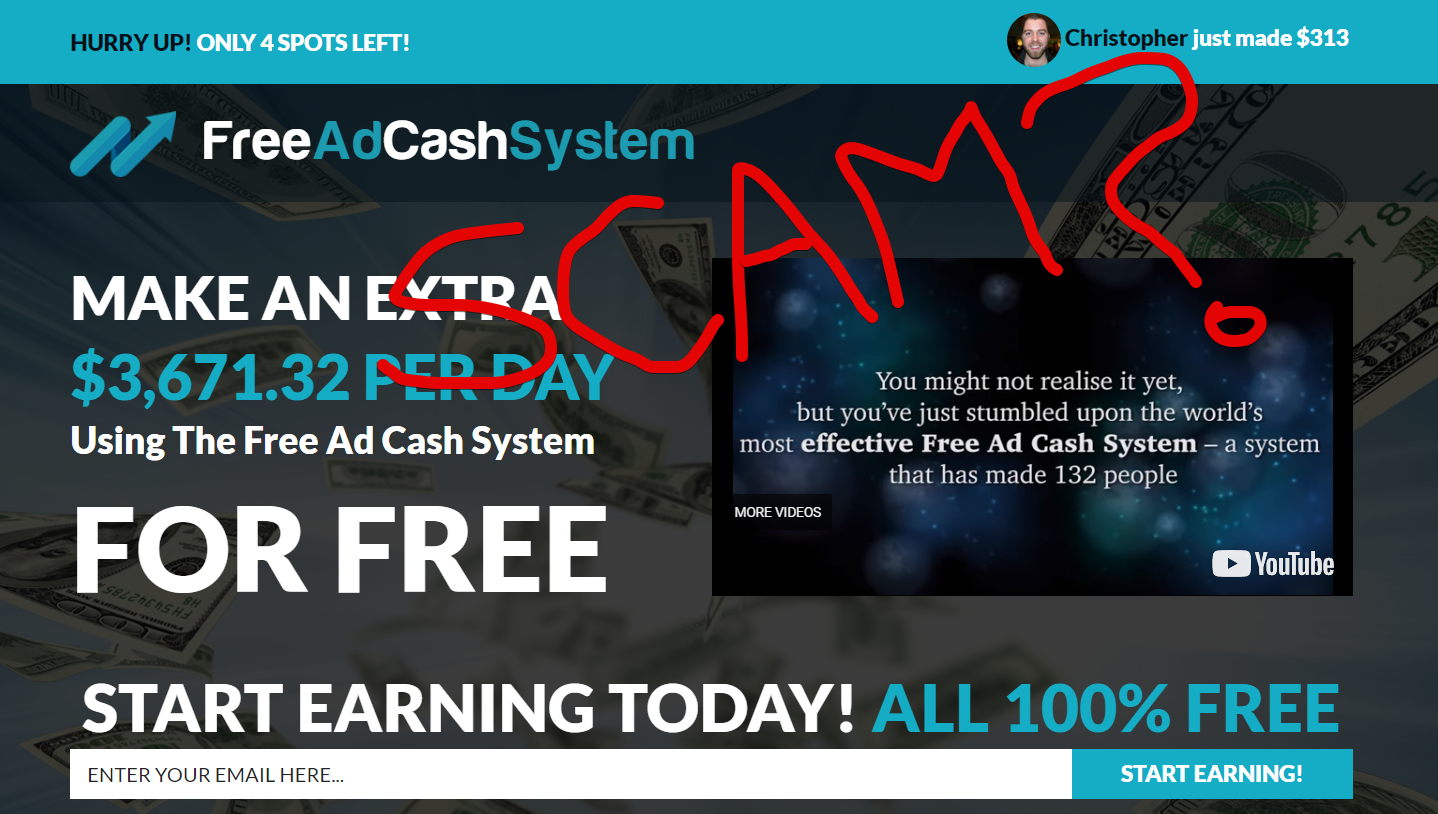 Free Ad Cash System claims that you can make an extra $3,671.32 per day very easily. If you landed on this site they also tell you that there are limited positions and that you are lucky to get this life-changing opportunity. But is this all a lie? Is Free Ad Cash System a scam system that is just going to leave you with less money than when you start out?
If you came across this money making opportunity and are suspicious of the bold claims made I don't blame you. Every thing about it seems like a scam and because of this I decided to take a deeper look into it. What I found is good proof that this is indeed a scam. So if you were thinking about trying it out you are going to want to think again.
Free Ad Cash System Review
The Free Ad Cash System sales page makes some seriously bold claims. It has all the common characteristics I would expect to see in your typical get rich quick scam. They tell you everything that people want to hear…. that you can make a ton of money very easily with very little work.
The system was created by a man named Simon Green who claims to have made $22 million with this system and all of that came with just a few clicks of a mouse. Sounds incredible right?
Well the problem is that things aren't adding up.. and they lie to you. There are things that I can prove are lies as well as things that just don't make sense about this system that I'll be going over, both of which point to it being a nasty scam.
How The System Works
Let me first talk about how this system works, how it makes you money.
Apparently it does what is called "ad flipping". Now I don't know everything there is, but I have been making money online for years now and consider myself fairly knowledgeable with all the different methods out there yet I have never heard of ad flipping other than from another scam I reviewed in the past (Bitcoin Advertising).
So what the heck is this ad flipping stuff?
Well to be honest I have no idea. In the promo video Simon talks about buying and selling ads but doesn't give any details. At one point in the video he logs into the system so he can show you "the system in action" but then he just shows how it found some advertisements and tells you that it flips them, then proceeds to show all the money he has made.
There is no information given on how this ad flipping actually works and even searching on Google you can't find any good info on this. The reason is because this is a made up money making method that makes no sense.
Providing very vague information on how things work is a tell-tale sign of a scam. Usually they leave you hanging where you have to buy into it to see how it works.
Next up I'm going to show you all the fake information I found on the site which goes to show that you cannot trust what they tell you.
Tons of Fake Information
Fake Testimonials
They show you several different testimonial videos from people who have supposedly tried out the system and made tons of money with it. This guy below claims he never thought it was possible to make a dime online but then with this easy system he made over $3,000 in one day.
The problem is that this is all a complete lie. This guy is a paid actor that you can hire on Fiverr to make videos like this for you. I knew this as soon as I saw the video because I have seen his testimonials in many other scam products I have reviewed such as Bitcoin Millionaire Club & Get Paid 1K Per Day.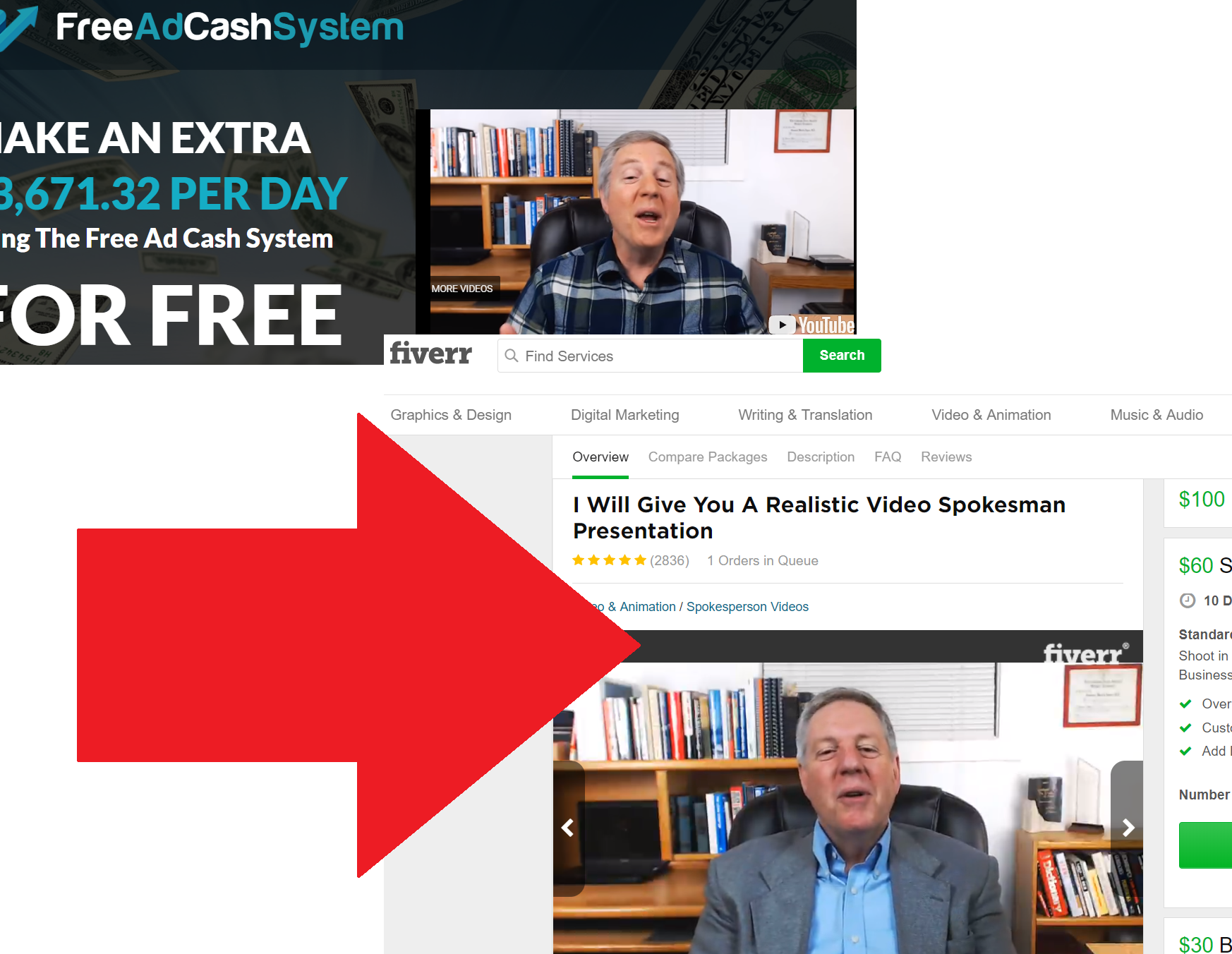 All the other testimonials they show you are fake as well. I think showing you proof that one is a fake is good enough though.
Fake Limited Availability
Simon tells you that he is only letting 5 people try out this system today and then at the top of the page it will tell you "only 4 spots left!" or maybe it gives you a different number.

This is also not true at all. You could leave the page and come back in a month from now and it would be saying the same thing…. that he is only taking in 5 people today and that there are less than 5 spots left.
This is a classic scam tactic that is used to make people sign up as fast as possible so they don't take the time to read over reviews like the one I'm writing now.
Fake Income Claims
As you can see in the screenshot above, they claim that some guy named David just made $541 with this system. They are constantly showing you new people and claiming they have made large sums of money. But…. this is all fake as well.
I did a reverse Google image search of "David" and found that his picture is used all over the internet on many different sites. What this means is that it is more than likely a stock photo that anyone can buy and use online for anything….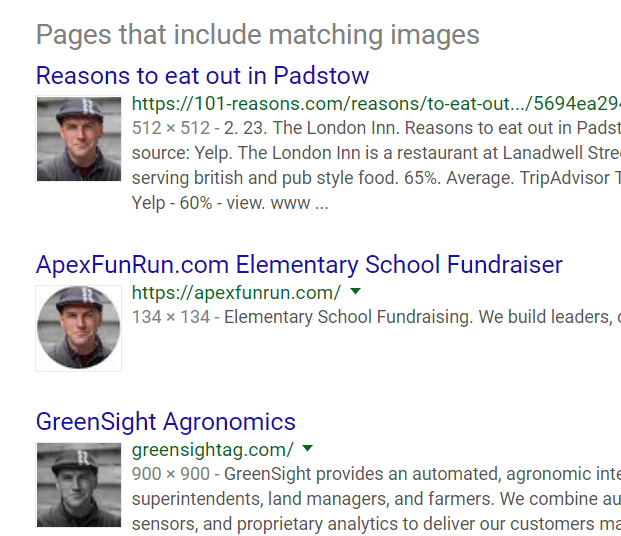 I've Seen This Before
Yes I've seen pretty much all of this before. This is pretty much your typical get rich quick scheme. They promise easy, fast money… and lots of it. They even guarantee that you will make money.
They use fake income claims, fake testimonials, fake limited spots open, and the guy behind this "Simon Green" is more than likely fake.
I did a bit of research on him and couldn't find anything other than from other similar reviews of this scam. This is something else that is typical of a scam. The real people behind it hide their faces because they know what they are doing to people is wrong.
How This System Really Works
Well how it really works is the people behind it make all the money by scamming people and those that buy in are left with nothing.
The system itself is free but what you are first going to have to do is fund your ad flipping trading account. This requires a minimum of $250 and they will refer you to one of their unregulated scam brokers to deposit this. This place will be located outside of the US where they can easily get away with scams like this.
They might make you think that you are making money and show in your account that you are but when you go to withdrawal you will find that you can't and that all the money you put in is now gone, never to be seen again.
Conclusion = Avoid
Avoid this place at all costs. Everything about it points to it being a filthy scam. There is nothing that I see about Free Ad Cash System that seems legitimate at all.
You can do what you want. If you want to test it out and see for yourself then go for it but although I have not personally tried it out I can pretty much guarantee its a scam.
What you might want to take a look at instead is how I make money online. It has nothing to do with "ad flipping" or any of this garbage. You can read my make money online guide where I go over  how I make money + how others can get started doing the same. Read it here.
Be sure to leave any questions and comments you might have below. I'll get back to you soon on them 🙂