Freedom Funnel Systems claims to be a free funnel system that anyone can use to make quite a bit of income online. It claims to be completely automated once you set it up and seems to be really awesome. But is it really? Most online marketing products seem amazing when they are advertised but many of them failed to perform. Is this a scam somehow?
In this Freedom Funnel Systems review I will be going over how the system really works and what you need to know. It can be confusing if you have never seen a funnel system like this before and you might not really know what you're getting into.
I actually came across this system after our clicking on a link in an email that sent me to this video…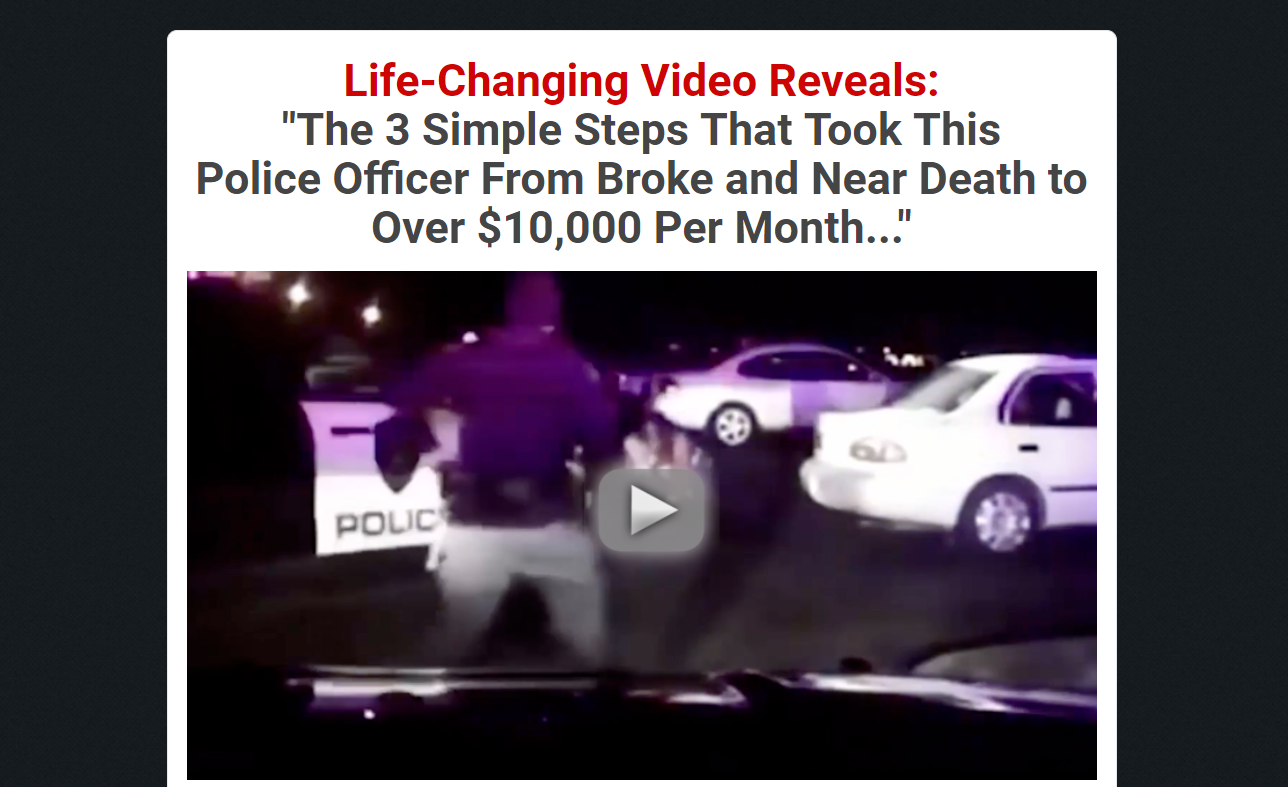 This video was presented by Pat Patterson and told a pretty horrific story of how he used to be a police officer and nearly died. Apparently at one point he was beaten and attacked by a pit bull. He thought he was going to die and could only hear police sirens in the background. He knew help was coming but was not there yet.
It's crazy because this whole story is all part of the sales pitch to lure people into Freedom Funnel Systems. He relates this to people watching the video by basically asking if you are helpless and know that help is coming, but just don't know one. And then of course he proceeds to tell you that this Freedom Funnel Systems is the help you have been waiting for.
Yeah I know… It's a pretty ridiculous sales pitch. Whether the story about Pat Patterson being a police officer or not is true doesn't really matter to me. If it is true and he really was attacked like that then thank God he is all right, but the point of this review is on Freedom Funnel Systems itself. The attention grabbing videos that lure you in don't matter much… There are probably plenty of them out there and their only real purpose is to get you to look at the system.
What Is Freedom Funnel Systems?
Freedom Funnel Systems is a system created by Pat Patterson and Jon Mroz. Jon seems to be the main guy behind it and claims he spent thousands upon thousands of dollars creating it. And of course it is all free now for you and other people to get. You can get access to the same income streams and funnel system that is making Jon over $30,000 per month.
Crazy right? What's the catch?
While the catch is that it is not free and you will have to pay to use the system in its entirety, but I'll get into this later. First I want to go over how the system works and give you a high level overview.
Overview
Freedom Funnel Systems is a funnel system that gets people to sign up for different offers that can make you money. So basically what you will be doing is driving traffic to the Freedom Funnel Systems sales page, the same one that you saw, and then those people will be presented with the same offers that you are presented with.
The Freedom Funnel Systems funnel itself is free but the offers that you and others will have to join or not free.
So you join and first sign up for these offers, then you promote the Freedom Funnel Systems as a moneymaking opportunity to other people, they join and sign up for these offers as well which in turn makes you money.
The Different Parts of This Funnel
Step #1 – Express My Cash Freebies
The first part of this funnel is to sign up for Express My Cash Freebies. This is a program that promotes a free trial offers for all sorts of big businesses, such as Netflix, GameFly, etc. and pays people to refer others to sign up for free trials. So what you can do here is join and then refer others in, getting paid when they sign up for a free trial.
Express My Cash Freebies gets paid from the companies that are behind the offers that is promoting and they pay you some of this money when you get others to sign up for these free trial offers.
Step #2 – MLSP
My Lead System PRO is in online marketing service that gives you the ability to create lead capture pages, provides you with an autoresponder, training on traffic generation, and other things.
If you don't know, a lead capture page is the page that you drive traffic to in order to get someone to enter their email address, and an autoresponder is software that allows you to send out automated emails to thousands of people at once so that you can follow up with them if they haven't already bought into the offer your promoting.
MLSP also has an affiliate program where you can get paid to get other people to buy this service as well. So when you promote Freedom Funnel Systems and that person buys into MSLP just as you are going to, you will get paid a commission.
Step #3 – Pure Leverage
Pure Leverage it is very similar to MSLP. They provide lead capture services, and autoresponder, and training so that you can get others to join in and make money doing so. I honestly don't really know what the point is of also signing up for this service because it's pretty much the same darn thing. I'm assuming it is just to add another stream of income because you will also be able to make money when people buy into this when you are promoting Freedom Funnel Systems as well.
Bonus Step to Get Traffic – Traffic Authority
Of course you're going to need traffic to make this funnel system work. Your first going to have to drive traffic to Freedom Funnel Systems before you make money from any of these income stream. So how do you do this? Do you advertise on Facebook? Do you share your link on social media? Do you get people to visit your site via Google?
While what they refer you to is what is called Traffic Authority, which is a traffic generation service where you can buy your traffic and send it to the page you want. And of course you will also be able to earn commissions when others you have referred to the funnel system buy their traffic here.
The Cost
Express My Cash Freebies is the only one that is free. You do not have to pay for this service and you can make money getting others to join trial offers. The way it works is that you first have to join trial offers before you are able to get paid by referring others to do the same.
But everything else cost money so if you want to use this sales funnel system in its entirety you're going to have to take out your wallet. The costs of being able to make money with the other income streams are as follows…
MLSP – $49.97/mo or $149.97/mo
Pure Leverage – $24.97/mo + $19.95/mo to become an affiliate
Traffic Authority – $220 for 170-190 clicks (minimum)
The most expensive is going to be Traffic Authority which offers a bunch of different traffic packages. The lowest-cost one is $220 and the highest cost one is $8397…

Is This System Worth Joining?
Well the big question here is whether or not you will make money with this. It's not a question of whether you can or not, all of these income streams that they are funneling people into will pay you, but is this really as easy as it seems?
The answer is no… It is not as easy as it seems. I have seen many funnel systems that are virtually the same type of thing is this, such as Digital Genius Lab & Funnel X Project which I recently reviewed, and none of them seem to last very long. They seem to come and go with the seasons and the only reason that I can think of for this is that they just do not work all that great.
I mean just think about it… You didn't join right away did you? You were suspicious of this which led you to doing some extra research and eventually to reading my review here. If you do join the system and end up promoting it many of the people that you promoted to are going to be suspicious and do the same thing or just outright avoid it without even looking into it any further.
Conclusion on Freedom Funnel Systems
Freedom Funnel Systems it is not really a scam but it's also not really something that I like the look of very much. Basically what you're doing is luring people in with the hopes and dreams of making money online and then the funnel system is getting them to buy into these multiple streams of income, which they will then be able to make money with when they refer others to the system. It's just an endless cycle of buying into things all for the sake of getting others to buy into them to make money.
I don't know… I'm just not a fan of this kind of thing and I don't really think it's a very sustainable business model. But you can buy and if you want, I'm not telling you not to buy in. I will tell you that I'm definitely not going to though.