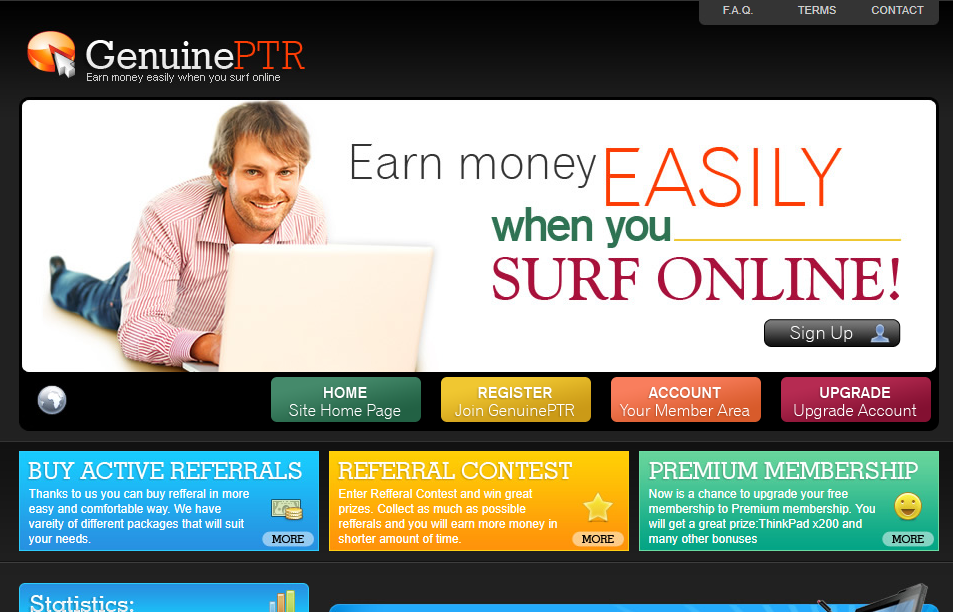 GenuinePTR claims to be an easy way to make money online. All you have to do is read emails. But is this really true? Is this place as good as it sounds? It seems there is always a catch to programs like this so you can never be too sure.
I know there are a lot of people that are questioning how good this site really is. For this reason I decided to take the time to write this GenuinePTR review so that people know what they are really getting into.
GenuinePTR Review
PTR stands for Paid To Read, which is what they claims they do. They say that they pay you to read emails that they send. This may sound strange but there are legit places that will do this. Its a form of advertisement. Advertisers pay places to get people to click and read their email ads and they pay people like you and I small amounts to do this.
On top of this GenuinePTR is also a PTC or Paid To Click site where you can earn money by clicking on ads that they have on their site. Its the same concept here…. advertisers pay them to place the ads on their site and they pay people like you and I to click them.
They also have a referral program where you can earn money by referring other members to GenuinePTR.
A Look Inside
They have 2 memberships: a free membership and a paid premium membership. If you have the free membership you won't be able to do much. They literally have a handful of PTC ads and that's all I see. And as you can see below the ads are all for other similar sites…
One thing that I found very strange is that one of the ads they had on their site was for GenuinePTR…. They literally had an ad on their site for their site. What sense does that make???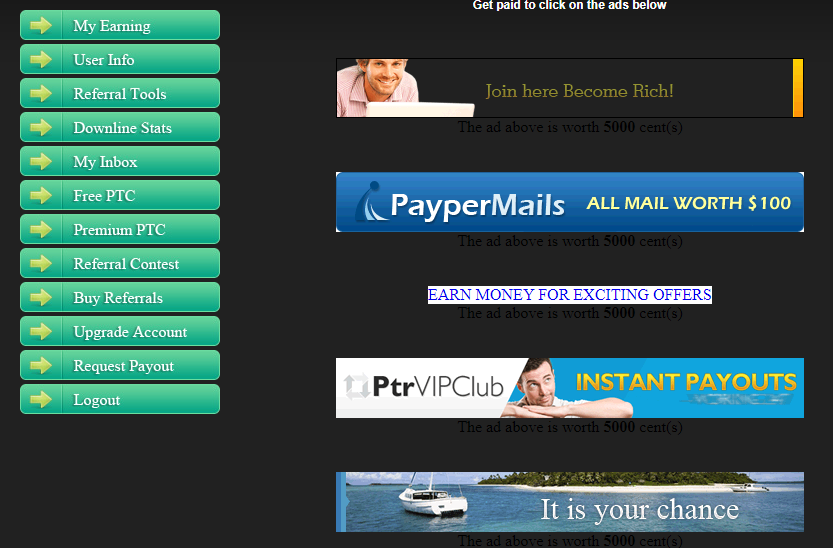 Other than these ads there is a lot of information on referring others. This seems to be the main focus of the site… getting other people to join.
Upgrading to Premium
Well there isn't much I can tell you about this because I didn't upgrade. And there is good reason for this.
The reason I didn't upgrade is because this place makes no sense. They were telling me that if I upgraded to premium I would get a free ThinkPad laptop for $149 and I would be able to make $200 for reading an email and $100 for clicking on an ad.
Are you kidding me? This makes no type of sense whatsoever.
What you have to realize here is that advertisers are paying for the ads on this site and they are paying members some of that money to click on the ads (this is how a legit ptc site works). So if they were really paying members $100 just to click on an ad then the advertisers must be paying a killing to advertise here. And I'm talking like well over 100X as much as advertising on Bing Ads and other legitimate platforms.
This would never happen because ptc sites are horrible for advertising. They provide cheap and untargeted traffic that doesn't convert well.
Red Flag After Red Flag
This site just has too many red flags to trust. They lure people in with the hopes of making tons of easy money online but their business just makes no sense. The money they claim to be paying has to come from somewhere and there is no way that advertisers would be paying as much as they would have to be.
On top of this there were only a handful of PTC ads on the site which is strange. Usually PTC sites have plenty of ads to click on.
Conclusion on Genuine PTC – Should You Join?
There is no way I would recommend that anyone join this site. You will only be disappointed because you won't even make a fraction of what they tell you. Judging from their lack of credibility and all the red flags present, I would actually be surprised if you even get paid at all from this site.
There are legit PTC/PTR sites out there. Some that I have reviewed include NeoBux & Wad Ojooo. But what you have to know about ptc sites that are legit is that they pay extremely little (less than 1 cent per click) and this is because they, as I said, provide very cheap advertising so they can't afford to pay more.
When it comes to making money online PTC sites seem to pretty much be the biggest waste of time ever. I would even recommend paid survey sites like Swagbucks & PaidViewPoint over them. And this is really saying something since paid survey sites are also pretty notorious for paying very little.
If you want to make real money online I suggest taking a look at this program. I have been a member since 2015 and make a heck of a lot more with it than any PTC site, paid survey site, etc.
Questions or comments? Leave them below and I'll get back to you ?