There is a program going around called Get Paid 1K Per Day that I feel the need to review because there is a lot of misinformation being spewed out there and people that get involved with this will more than likely be disappointed. What I'm saying is that this program isn't as great and amazing as it claims to be.
Is Get Paid 1K Per Day a scam? Well that pretty much depends on your definition of a scam. If you consider programs that use trickery and deception to suck every penny from people that they can get…. then yes this is a scam.
Get Paid 1K Per Day Review
This program was supposedly created by this guy named James Noah, which is the spokesperson that you might have heard talking in the sales video. He claims to have made websites that make massive amounts of money and of course with this program he will be giving you these websites for free.
He makes some pretty bold claims in his sales pitch that have all the characteristics of a good old fashion online scam. Of course he tells you that you can make tons of money. He claims that you very well might have a $1,000 day within your very first day using this system. And of course it only requires 10 minutes of work per day….
But of course there is always a catch to things like this. You probably got that gut feeling when you were watching the sales video that this program sounds too good to be true. Its good to listen to your gut sometimes and this is one of those times where it pays off.
What Get Paid 1K Per Day Really Is
I'll get straight to the point here. This program is what most people would call a hosting scam. While this "James Noah" guy is giving websites away for free that can supposedly make you a ton of money… of course you are going to have to pay for website hosting to keep the site up and running.
So James Noah refers you to a hosting place called CloudURL, which is a website hosting service.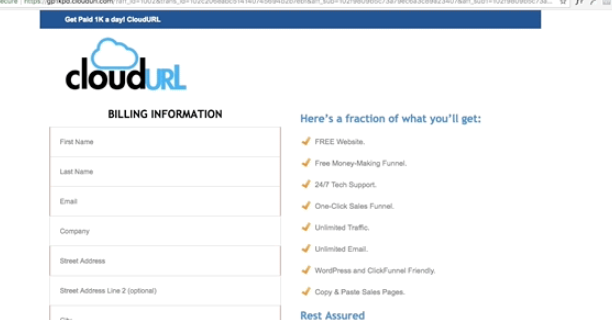 The reason he is doing this is because he is an affiliate of CloudURL and he will get paid when he gets people to sign up as well as when they make their monthly or yearly payments.
On top of this the "Get Paid 1K Per Day" program is really just part of a sales funnel that is to get you to buy into MOBE, or My Online Business Empire.
MOBE is a digital marketing program where you can make lots of money. They provide training, tools, etc.. BUT….. its insanely expensive.
Basically MOBE is a high ticket program (costing up to over $10k) that teaches you how to make money selling the same program to other people. So you buy into it to make money online and then you make money online by getting other people to buy into it. You can make big commissions selling the extremely expensive digital course products but you will also have to purchase them.
Will You Really Make $1K Per Day?
The answer is probably not. And the only reason I'm saying "probably" is because I know some people do make a lot of money with MOBE but I also know that most people fail with this system.
And never mind the testimonials from people in the sales video talking about how much money they are making with this system and how great it is. As soon as I saw these I knew there were fake as can be. The reason is because I have seen these same paid actors in other testimonial videos for other scams I've exposed like 12 Day Millionaire and My Online ATM.
Do you remember this guy?…. You should because he was one of the paid actors… The picture you see below is from his profile on Fiverr, which is a digital marketplace where anyone can pay actors like this to make fake testimonial videos for them. It is very common in the online world when it comes to scam promotions.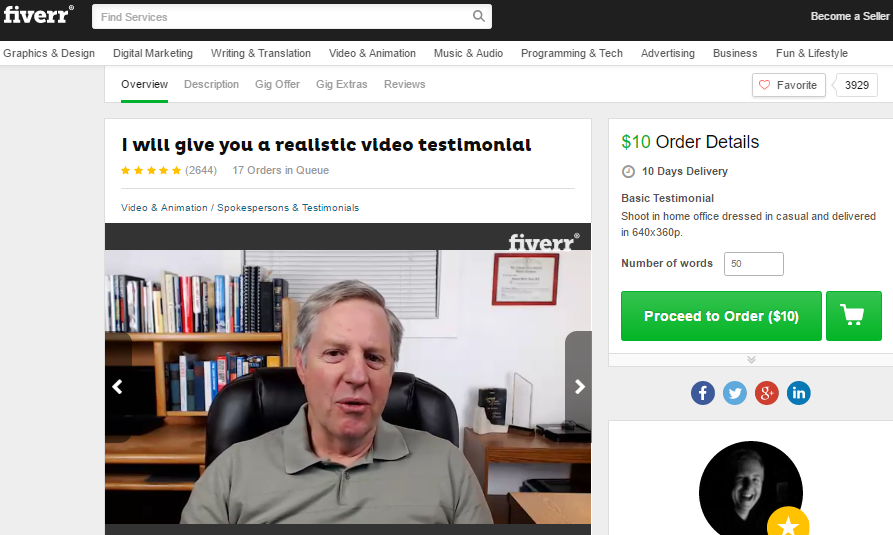 So the bottom line here is that you cannot trust this place. It is full of lies and the claim that you will be able to make $1,000 per day is completely unbacked and the only proof includes fake video testimonials where actors were paid to talk about it.
Conclusion on GetPaid1KPerDay.com – Scam
When it comes to scams like this they come at a dime a dozen. They are literally coming out almost on a daily basis and it can be difficult for me to keep up with at times.
Get Paid 1K Per Day is your pretty typical scams so if you see another program similar to this out there then there is a good chance it is also a scam. So just be aware of this. The bottom line is that there is no system out there that is "easy". Making money online takes real work.
If you are looking for a legitimate way to make money online in your free time then I would suggest taking a look at this program. I have been a member since 2015 and make good money with it.
Questions or comments? Leave them below and I'll get back to you soon ?