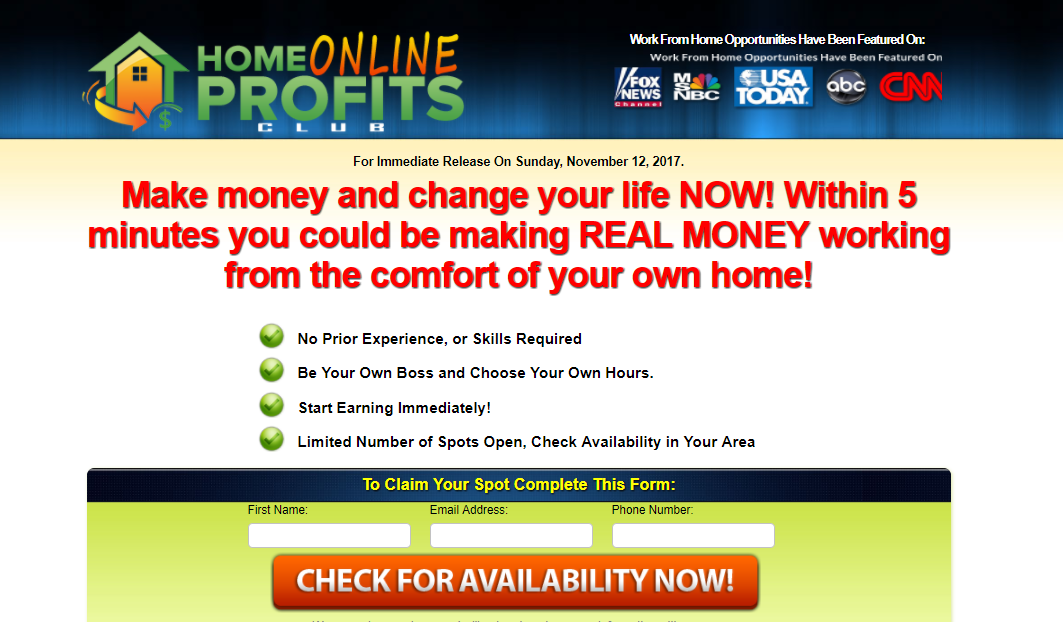 Welcome to my review of Home Online Profits Club. If you came across this program and are suspicious of the claims it makes… maybe you are wondering is Home Online Profits Club a scam, is it legit, whatever the case, you are in the right place.
In this review I'll be going over a few important things that everyone should know about this place. And SPOILER ALERT: Things are not what they seem. This program is not the amazing opportunity to make money online that it claims to be.
Home Online Profits Club Review
Home Online Profits Club is a program that claims to basically be your ticket to financial freedom. It is claimed to have been created by a woman named Linda Wilson, who was once a struggling single mother working from paycheck to paycheck and now makes hundreds of dollars per day working online.
The program is based around what they call "link posting", which is not what it appears to be. I will be going over the reality of "link posting" shortly but first I think its important to point out a few lies that they tell you about this program.
The Lies
#1 Has Never Been On The News

Well its not really a straight lie because they don't specifically say that Home Online Profits Club has been in the news, but they do make people believe that it has. They news broadcast video they play is actually a real news broadcast about work from home jobs but it has absolutely nothing to do with this. And the news logo's that they put on the sales page that you can see above mean nothing. Anyone can put logos like this up on a website.
The reality is that this program has never been on the news and never will be.
#2 – Linda Wilson Is Fake
The claimed creator of this program does not exist, she is a fake. Lind Wilson was just made up to help sell this program. If you take a look below this same image and background story has been used before in other programs with different names…
Here is a screenshot of Lisa Wilson and here background from Home Online Profits Club…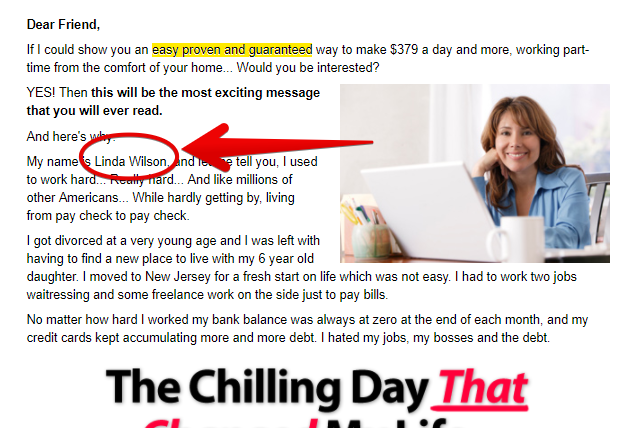 And here is the same picture and backstory from another program called Accelerated Income just this lady's name is said to be Susan Whitman…
And this all actually brings me to my next point, which is that this is an old program that keeps getting re-hashed under different names. Some of the other names it has went under are Xtreme Home Paycheck and Entrepreneur Jobs Club, which you can see pretty much look identical…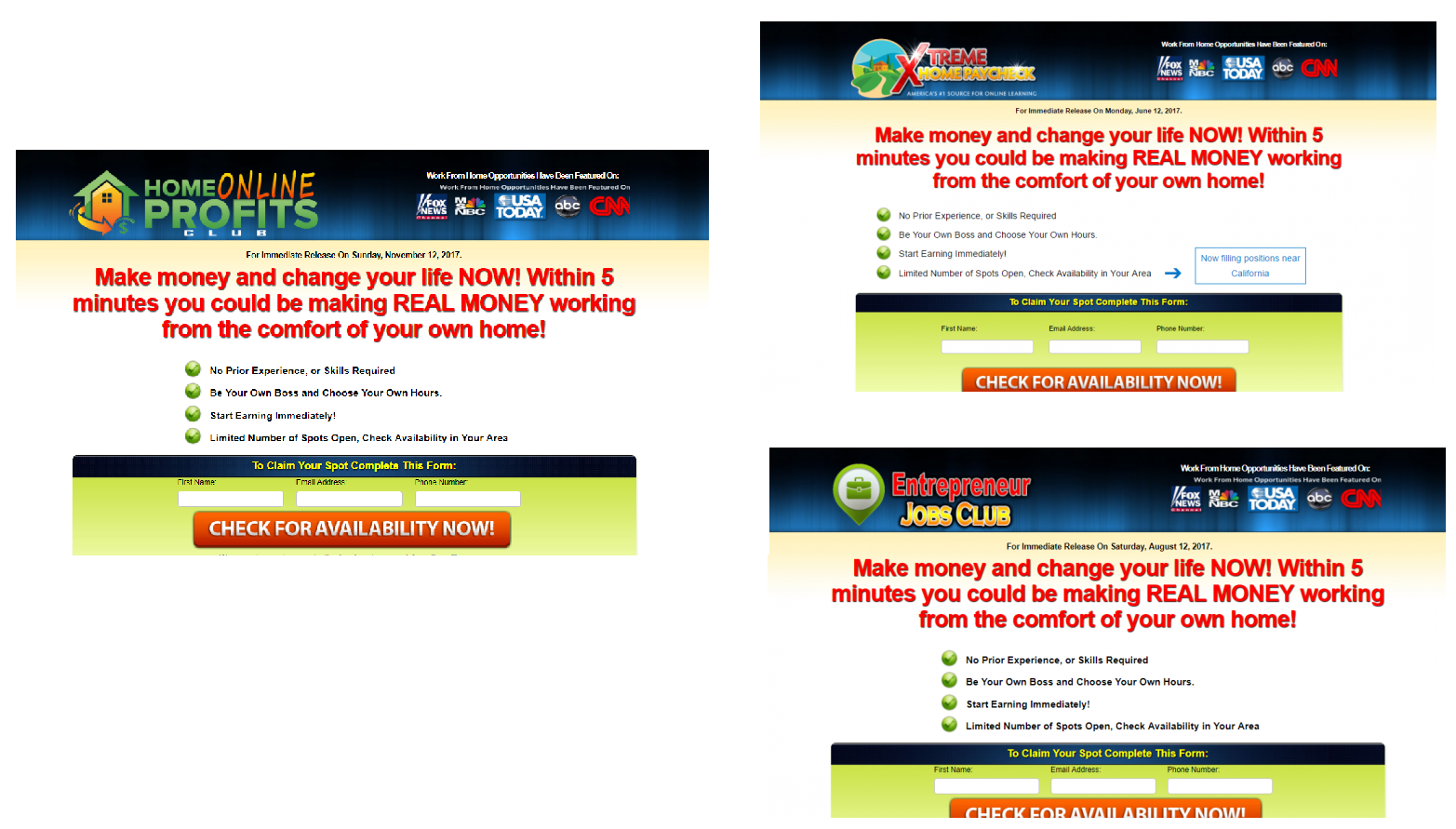 The Reality Of This Program
The reality is that nothing is even close to being as easy as they make it seem. They make it sound like you just post some links and make easy money. They even tell you that you will earn an average of $15 per link that you post which will only take about 2 minutes to do. This is very misleading.
This "link posting" that they are talking about is actually called affiliate marketing and I happen to make a living with affiliate marketing so I have lots of experience.
With affiliate marketing you get paid to help make sales. Basically what you do is refer people to buy products through affiliate links and get paid commissions when someone purchases the product you are promoting. Amazon, Walmart, Netfix, GoDaddy, Apple, etc all pay people to do this but most people don't know about it.
It is a legitimate way to make money online but this Home Online Profits Club will do you no justice. It will not work out as you think.
The reality is that this line of work is not a walk in the part as this program makes it sound. If it were that easy everyone would be doing it. It takes hard work.
If you buy into Home Online Profits Club you are just going to end up discourage and disappointed. You will receive basic training that is outdated which you could have easily found for free and you will get a cookie cutter website that is worth about $1.
The entire approach that this program has will never work. You can't just spam links everywhere and expect to make money as this place makes you believe you can. Things just don't work like that.
What I Suggest
As I said I make a living affiliate marketing online. And if there is one place I would recommend for beginners looking to get started THE RIGHT WAY in this business it is Wealthy Affiliate.
Wealthy Affiliate is an online business training program that provides training and tools to make money in affiliate marketing. I joined in 2015 knowing nothing and now I make a living doing this stuff…. which pretty much says it all.
Simply put.. it works. And the training, support, and tools are all as good as it gets.
But anyway… if you are interested I already wrote a full review you can read here.
And by the way its designed for beginners too which is nice because you don't need any experience.
==> Wealthy Affiliate Review Here
Questions or comments? Leave them below and I'll get back to you soon 🙂