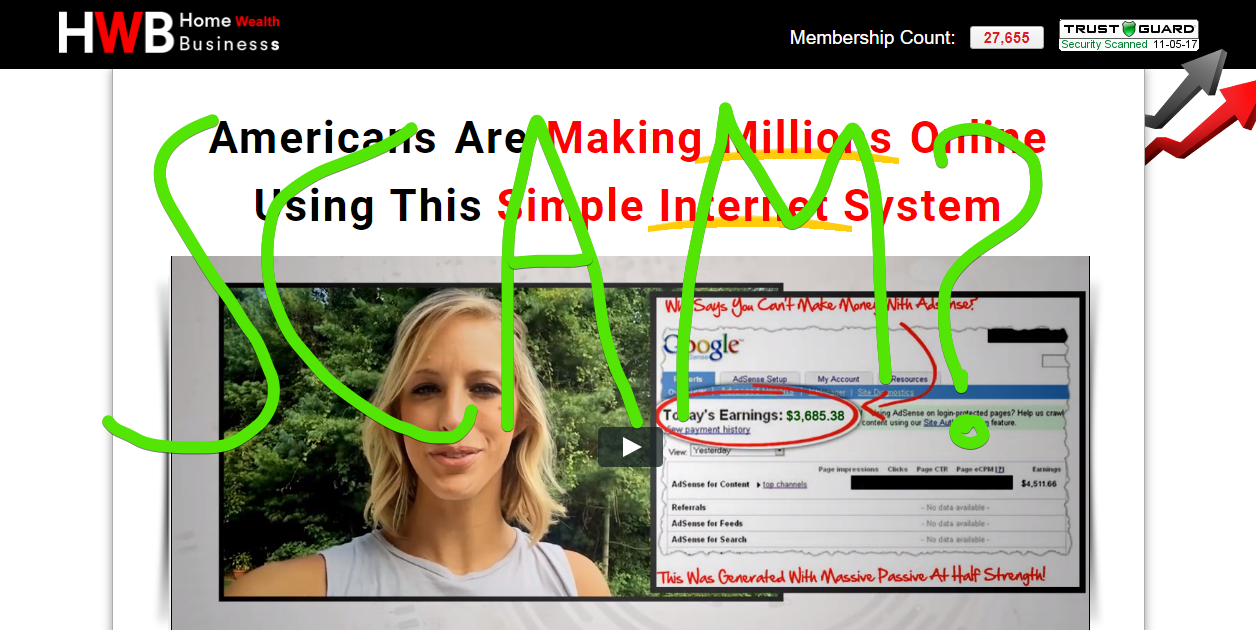 Home Wealth Business claims to be a "simple internet system" that Americans are making millions with. But can you really trust these bold claims? Or is Home Wealth Business a scam like it seems it very well could be?
If you are suspicious of this program then you are in the right place. I came across it recently and felt the same way. So I took a deeper look into it and I can assure you that it is NOT what it claims to be. If you were thinking about buying into it you are going to want to take a minute to read this over first.
Home Wealth Business Review
When I first came to the sales page of Home Wealth Business I felt like I was having deja vu. It seemed like I had seen this program before yet I didn't recognize the name. I started going back through programs I had reviewed in the past and it turns out this program is just a re-hash of another one that came out not that long ago called Internet Wealth Biz.
In fact, they use the same exact sales video and everything. Here is a screenshot with the same lady in both videos…

Just because the same program is being promoted under different names doesn't necessarily mean that it is a scam but it sure does make it seem more suspicious.
On top of this all the hype surrounding this program is really over the top and definitely makes it seem like its a scam. They tell you that you have hit the jackpot…. there are testimonials that appear to be from actors that claim to be making thousands of dollars per day…. and of course the system is super simple to use.
Everything about this system is what everyone wants to hear. Of course you want a super easy system that just pumps money into your bank account. Unfortunately systems like this do not work. I have been working online since 2015 and this is the reality I have come to know. There just isn't any way around hard work, whether it be making money online or offline.
You Can't Trust This Place… Here Is Why
The testimonials from alleged members that they show you don't even make any sense. Someone that is new to all of this might not pick up on it but I did from my experience with making money online.
The blonde lady that I showed you above claims to be making thousands per day. And in her testimonial they show you a screenshot of her Google Adsense earnings, which is money she has been making from advertisements online. This doesn't make sense because in the rest of the video they talk about earning affiliate commissions, which is not the same.
I mean these video testimonials are obviously fake but I just wanted to give a little more proof that they are.
Another big reason why you cannot trust this place is because its "brother" Internet Wealth Biz, which as I said is the old name it went by, pretty much tells you that it is a scam.
In the income disclosure for Internet Wealth Biz they literally tell you that "the typical purchaser does not make any money using this system" as you can see here…
In this new program Home Wealth Business they have gotten rid of this income disclosure and replaced it with a less bold one that says "no income claims are implied, made, or guaranteed" but it doesn't really matter because we know that these are both the same.
When it comes to online scams like this they can tell you anything that they want to and as long as they tell you in the income disclosure that you won't make any money, or you might not make any money… then this type of thing is legal.
Conclusion on Home Wealth Business – Scam
There is no doubt in my mind that this place is a scam. Sure, I have not actually tried it out but it fits the scam description perfectly from what I have come to know from my experience in this industry. My guess is that if you buy into this program you will be pushed to buy more upsell programs, all of which will be old, outdated, and just won't work.
When it comes to making money online there are a lot more scams and wastes of time programs out there than legit good opportunities that I can recommend. However…. gun to my head, what is the best program out there? This is it. I have been a member since 2015 and it took me from nothing at all to making a living online.
==> Recommended program I'm talking about here
Questions or comments? Leave them below and I'll get back to you ?