Maybe you are looking to buy Zcash for investment purposes. Maybe you are looking to buy some to actually use it… whatever the reason, it doesn't matter. In this short post I'll be walking you through how to buy Zcash. Its a little bit more complicated of a process then buying bitcoin, ethereum, and litecoin, but its still pretty easy to do.
I'll give you a brief summary of the process and how you can do this first: First you will have to buy bitcoin if you don't already have some. Then you will transfer that bitcoin to an exchange. And lastly you will exchange the bitcoin for Zcash. Its a 3 step process that may sound hard but its nothing that anyone can't do.
Step 1: Buy Bitcoin
There is more than one way to go about buying bitcoin but what I would suggest is buying through Coinbase. Coinbase is a US based exchange where you can buy bitcoin with a credit/debit card which makes things easy. They also have a good insurance policy in case something would happen which is nice.
To buy through Coinbase you will first have to create an account at Coinbase.com. After doing that you will want to go into the Settings and then go to Linked Accounts and click on Link a New Account

This is where you can link a credit/debit card or you can even link your bank account if you want to. You can also wire money over to Coinbase from your bank if you would like.
If you want to buy bitcoin instantly then you are going to want use a credit/debit card. The fees are less if you use your bank account but it will take a couple days, whereas using a credit/debit card you will have bitcoin instantly in your account.
Anyways… After getting your payment method set up and verifying it, you will be able to buy. So you will want to got to Buy/Sell and enter the amount of USD you want to spend of the amount of bitcoin you want to buy.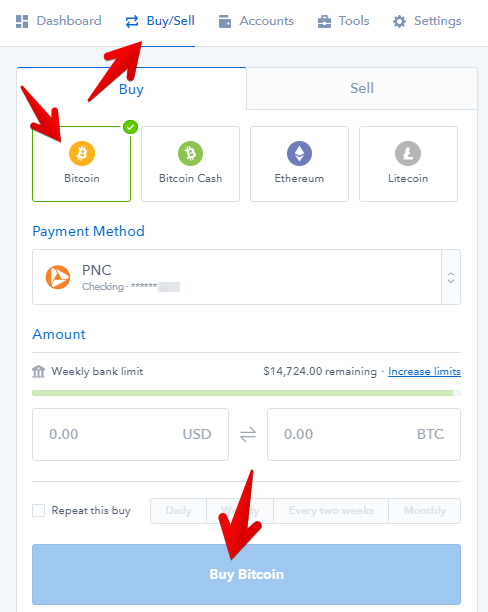 Step 2: Transfer Bitcoin to an Exchange
There are a bunch of different cryptocurrency exchanges you can use here but I'll be showing you with Bittrex, because they are what I use and they are one of the better and trusted exchanges out there.
So before you go any further you are going to have to create an account at Bittrex.com. I know this is a bit of a hassle but this is the last account you will have to create and its just part of the process.
After creating your account click on Wallets up in the top menu. Then search for BTC (which is the symbol for bitcoin) in the search box. Then click on the + symbol to the left…

When you click on that + symbol a box will pop up with your public bitcoin wallet address as you can see here…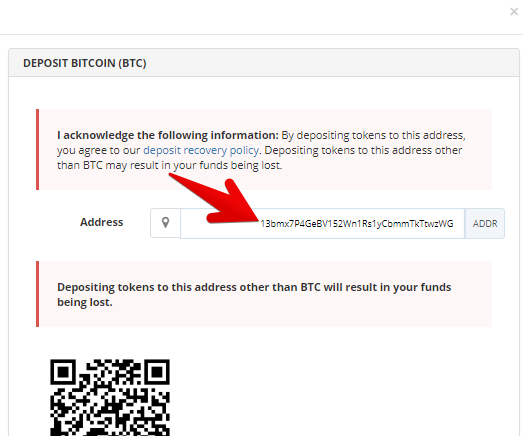 You are going to want to copy that address and then you will have to head back on over to Coinbase. Now you need to go into Accounts and click on Send under your bitcoin account. Once you do this another box will pop up and you will be able to enter the address you just copied from Bittrex as the destination address for where to send the bitcoin.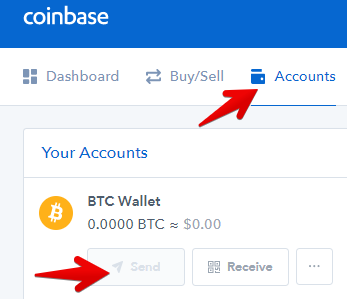 Make sure that you enter the address correctly because if you mess it up your bitcoins will be lost and there is no way to recover them.
Step 3: Exchange Bitcoin for Zcash
Ok so now you are at the final step. You now have sent your bitcoin over to Bittrex and are ready to exchange them for Zcash. The transaction may take a bit of time to go through so don't panic if it hasn't yet. Just wait.
Once it is in your wallet Bittrex go to bitcoin markets, search for ZEC (which is the symbol for Zcash) and click on the link.

This will take you to the page where the trading goes on. Scroll down until you see the trading section and the part you are interested in is the Buying Zcash side…
The first thing to do is enter the price that you are going to be buying Zcash for. You are going to want to set a price that is what Zcash is currently trading at. What you are doing here is buying from someone that is selling. All exchanges really do is match buyers with sellers.
What I suggest is to choose "Last" price and it will automatically enter in the latest price that its trading at. This way when you place your order it will be filled quick.
Next you are going to want to enter the amount of BTC you want to spend in the Total box at the bottom. Once you do this the amount of ZEC (Zcash) will be filled in automatically. Then all you have to do is click on the buy button and wait for your order to go through.
Storing Your Zcash
You can keep your Zcash in your wallet at Bittrex if you want to but if you have a lot and are looking to hold onto it for a long time this isn't something that is usually recommended. What you would want to do in this situation is store in your own cold wallet.
I'm not going to get into all of this because it would take a heck of a lot of time. But there is a good article on Zcash wallets here that you can read if you are going to be taking this route.
Summary of The Process
Ok so here is a summary of everything: First you need bitcoin which I suggest buying through Coinbase. And by the way.. if you use my referral link here www.coinbase.com/join to join you can get $10 worth of bitcoin free. Then transfer that bitcoin to Bittrex or another exchange and buy some god old Zcash.
And of course after that you can keep it there in your wallet at the exchange or send it off to another wallet.
If you have any questions about all of this be sure to let me know 🙂