There are a lot of ways you can make money online, writing reviews being one of them. This is something that I do and have been doing since 2015. I currently make a living doing this and in this post I'll explain how to make money with reviews.
Its really nothing overly complicated. The reason more people aren't doing it is probably because most people don't even know you can do this. Before I started back in the day I had no idea that any of this existed.. and now its my job.
What Kind of Reviews I Write
The first thing you should know is that there are multiple ways to earn money online writing reviews. There are websites that you can join that will pay you to write reviews for Amazon products and things like that, but these don't pay much at all and this is not what I do.
What I do is write short reviews of products/programs on my website (this one) and get paid to do so indirectly. This is my own website, I work for myself, and I write reviews of whatever I chose to.
How It Works
1) I write a review
The first step of course is to write a review. I write reviews about every and anything pretty much. This site that you are on now I mostly write about ways to make money. I review all sorts of online money making programs, most of them scams, some of them legit.
For example I wrote a review on EarnHoney just the other day. EarnHoney is a rewards program that pays you to take surveys, watch videos, and other easy things. And this is just an example. I also review cashback apps like iBotta and just any money making opportunity out there really.
2) I promote a product/program
When I review something, if I like the product/program I will promote it and say "hey this is a good program and its free to sign up for" or something like that. And if I don't like the product/program that I reviewed then I will give my readers an alternative that I feel is better. Either way I am promoting a product/program and making money.
Going along with my EarnHoney example: I don't think EarnHoney is the best choice for rewards sites so I don't promote it. Instead I promote Swagbucks, which is a better rewards site. They have a referral program where you get your own unique link and anyone that signs up through it gives you credit.
3) I get ranked in Google
When I write my reviews I get ranked in Google and then get free website visitors from people searching for reviews online. Google ranks everything that is online but there are some "tricks" to getting ranked at the top of Google and I'll give you my advice on this later.
Here is my example of my EarnHoney review in the Google search results…

4) I earn commissions
Ok, so I wrote my review, I got ranked in Google, I have referral links that credit me when someone clicks them and buys the product, becomes a member or whatever the case may be. This is how I make money.
You literally can make commissions off of anything. This EarnHoney site was just an example. I have another site called Solar Powered Pool Equipment where I write reviews on pool equipment and make money promoting a bunch of different products. Here is a screenshot of a review I wrote for a product that costs $259 which earns me nice commissions when someone clicks on my link and buys it.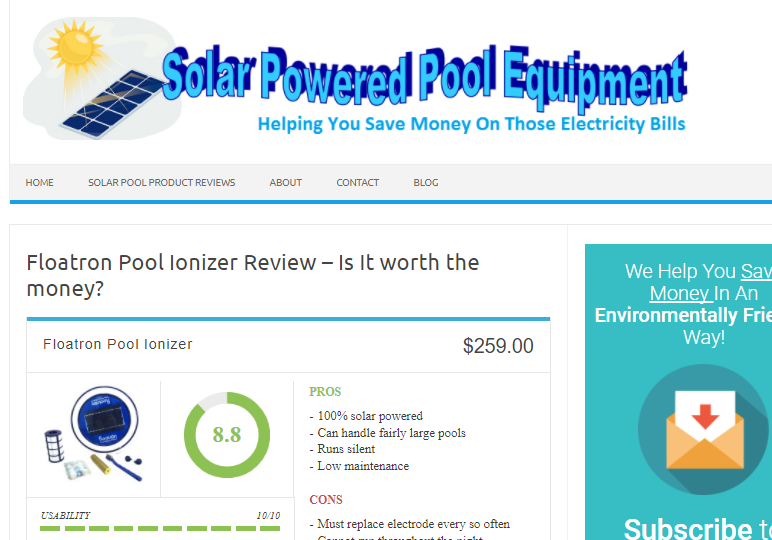 What You Need To Do This
This might seem all extremely difficult to do but the truth is that it really isn't. There is nothing that is overly complicated about what I do. But of course it is difficult getting started if you don't know where to start.
You are going to need a website that you can write these reviews on. You are going to need hosting for that website. You are going to need a keyword research tool which will help you rank higher in Google, and you are going to need some training because there are a lot of little tips/tricks that you could use if you have no experience with this.
What I Suggest
Back in 2015 I started this all with a program called Wealthy Affiliate and I am actually still a member to this day, which shows how good this place is.
Wealthy Affiliate is an online business training program that provides tools, training and other resources. It is particularly good for beginners because of the way the training is broken down into small steps and with all the walk-through video tutorials.
What is really nice about this place is that it provides all you need. You get the websites and tools you need and don't need to go out and get more. They actually even have a free membership where you get some training along with 2 websites + hosting all for free.
But anyways. I already wrote a full review on Wealthy Affiliate here that you can read… which I do suggest you do if interested. In this review I'll go over all you need to know about this place.
==> Wealthy Affiliate Review Here
Questions, comments, concerns? Leave them below in the comment section and I'll get back to you soon ?