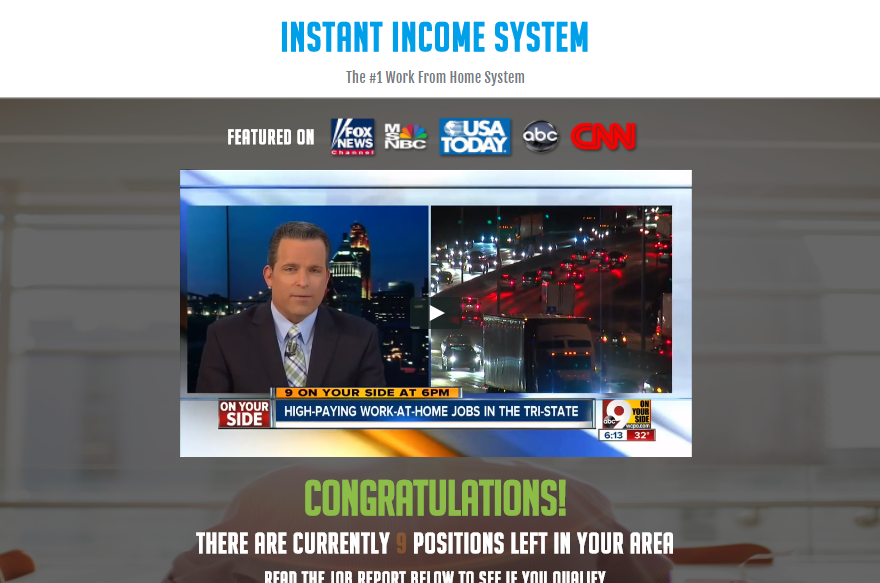 If you are looking to make money online and came across this program called "Instant Income System" do not buy it. This is a warning because I know anyone who buys into this will be thoroughly disappointed. This is nothing more than a re-hashed old program that has been given a new name.
In this Instant Income System review I'll be going over the truth of the matter here. What they tell you on the sales page is filled with lies and some extremely misleading information. I'm sure you picked up on that and is why you decided to do a bit of extra research on this program in the first place.
Instant Income System Overview
Instant Income System is a program that was created by "Karen Evans" (fake name by the way) that helps you make money online by what they call "Link Posting".
When you buy into this program you get some training, customer records for you to post links for, and a website. It may sound pretty good and enticing but it more than likely isn't going to make you a penny. I'll get into the reason why soon but first I want to bring to your attention some of the lies and fabrications that are used to promote this program.
Lies, Lies, and more Lies
The first thing that you should know is that there is no news station that is actually promoting this program or that has featured it. At the top of the sales page they tell you that it has but this isn't true and you can easily see this if you search for the program on any of the news sites.

Also, I came across a fake news article that is supposed to look like an article on CNN. This article is completely fake and talks about Bill O'Reilly's firing from Fox News and claims he is promoting Instant Income System. The whole story is ridiculous and fabricated. The website it is hosted on is not CNN and is just made to look like it.
Here is a screenshot of what I am talking about…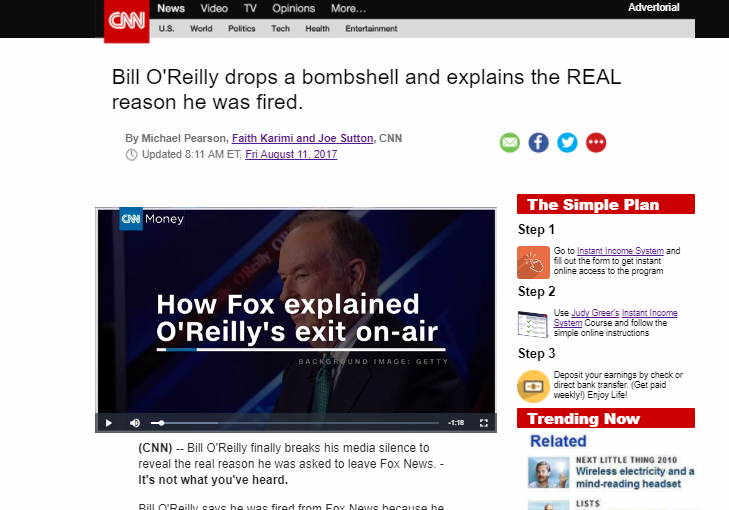 Another lie that they tell you is that there are limited positions. This is not true and you could leave this page and come back to it in a month from now and it would be telling you the same darn thing. This is just a trick to get you to sign up as fast as possible so that you don't read reviews like mine.
And the last lie that I want to cover is that Karen Evans is fake. This person does not exist and is just made up to try to relate to the people looking to make money online. This same name has been used in other identical scams in the past. One example of this was a program that I reviewed called Total Income Answer. It was the same darn thing with  a different name and was also created by "Karen Evans".
Below you can see a screenshot of Karen Evans from Instant Income System followed by a picture of her from Total Income Answer. Both have the same stories but different pictures…
From Instant Income System sales page:
From Total Income Answer sales page: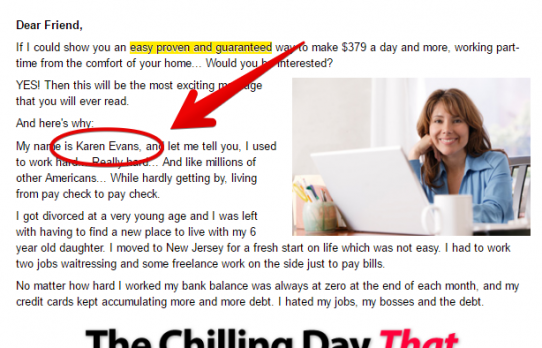 There was also another identical program I reviewed recently called Freedom Cash System.
What You Get With This System
As you can probably guess based on all the lies that they tell… this system is pretty darn crappy.
When you buy it for $97 you will get access to training, customer records, and a pre-made website.
The training will basically teach you how to spam links everywhere which is a horribly ineffective method of "link posting", which is actually called affiliate marketing.
The customer records will be provided to you so that you can spam links everywhere. And the website will be a cookie cutter website that is given to everyone else who signs up for this program. It is cheap and isn't worth $10.
Can You Make Money With This?
The funny thing is that you can actually make money doing this… you just won't if you follow this system.
Affiliate marketing, which is what they are calling link posting, is a legitimate business model and is actually how I make a living working online. This is when you promote products for companies online. Amazon, Walmart, Groupon, Macy's, and all the big stores have affiliate programs that are free to sign up for. When you sign up you get your own unique links that you can post and when someone clicks on them and buys the product you get paid a commission.
The problem with this program is that they are in the business of spamming links everywhere. Affiliate marketing is not that easy and if it were everyone would be doing it. You can't just go posting links all around and expect people to click on them and buy the product.
They also mislead you a bunch when they say that each link takes 1-2 minutes on average to post and that you will make $15 per link. That is far from the truth. It is impossible to predict how much a link will make you. It could make you $0 and one could make you $2,000. It all depends on how many people click that link and purchase the product that you are promoting. Saying that you will earn $15 per link on average is a stupid thing to say.
What I Recommend
If you are interested in learning affiliate marketing then I would suggest taking a look at Wealthy Affiliate. I wrote a pretty detailed review of this place. Basically Wealthy Affiliate is an affiliate marketing training program that provides tools, training, and other resources. This is where I started out years ago and where I learned everything.
Its a really good program that is easy to follow and you don't need any experience to begin with. I would definitely suggest reading my review to see if you would like it if you are interested in this business model.
==> You can click here to read my full review of Wealthy Affiliate
Questions, comments, concerns? Leave them below in the comment section and I'll get back to you soon 🙂