The Internet Income Explained program claims that it is the path to financial freedom. I came across this program the other day and was without a doubt suspicious of it all right off the bat. The sales pitch for it was a little too over the top for me and things just came off as too salesy.
Since you are reading my review here I'm guessing you are probably in the same boat as me. You are probably supsicious that this is just another scam and are looking for answers. So is Internet Income Explained a scam? Or is this the program that is going to change your life? In this review I'll be going over what it really is and what you should definitely know. Spoiler Alert: The sales pitch for this program is pretty misleading.
Internet Income Explained Review
First of all I'd like to say that there are several different websites that are promoting this "Internet Income Explained" program that I came across. The sales videos that they have might differ a bit but they probably are all the same basic thing and I do know they are all selling the same program.
Some of the sites that this has been promoted on include…
internet-incomeexplained.com
internetincomeexplained.com
internetincomeexplained.net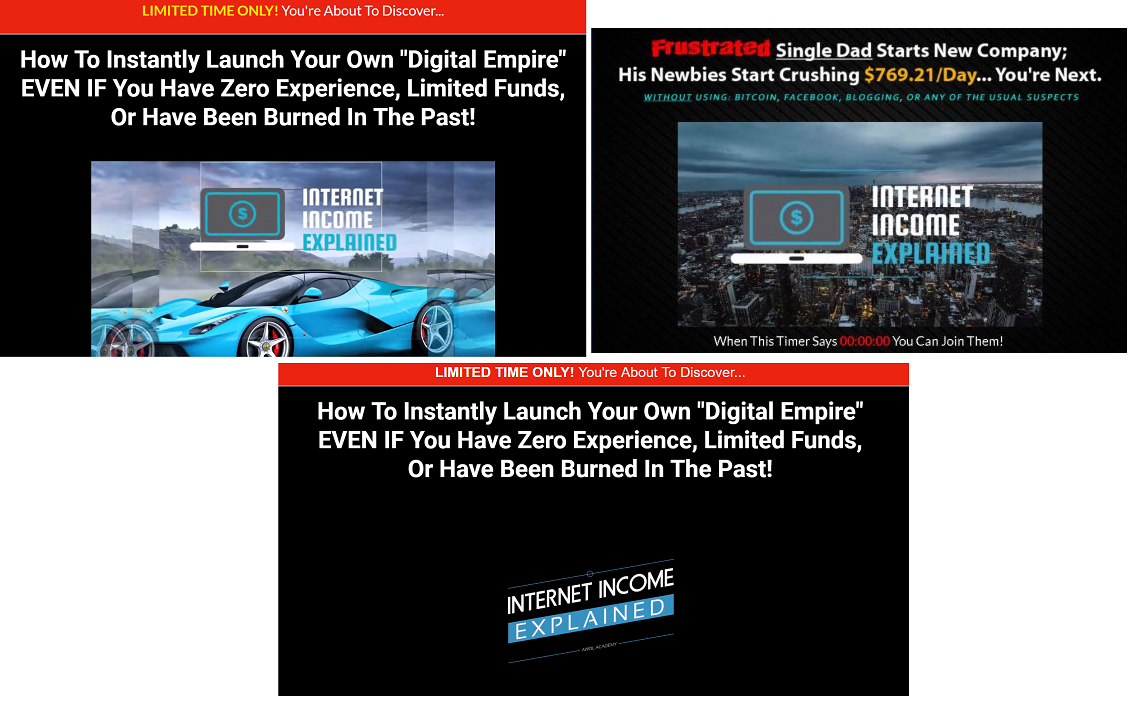 The sales video that I watched was very salesy. It didn't come off as entirely truthful to me because everything seemed too good to be true. It seemed that the spokesperson was saying everything that people wanted to hear and nothing bad. This is something that should make you suspicious.
The video started off showing people living the dreams, making tons of money on vacation with this system. And of course the people that were "invited" to watch this "secret" sales video are going to get the same exact system for free.
Sound too good to be true? Well the truth is that there are people that are making good money with this system but its not exactly as they lead you to believe it is.
The Real System Here
This "Internet Income Explained" program really doesn't even exist. All these sites are doing is acting as sales funnels to get people to buy into the real product being pushed here, which is AWOL Academy.
AWOL Academy is an online business training program that was created by Cameron George and Keala Kanae. It provides training and tools for beginners to make money online by promoting products on a website and earning commissions.
The business model is legit and what it's called is affiliate marketing, which is actually how I make a living. However, there are a lot of complaints about AWOL Academy and for good reason.
Complaints
As you can probably already tell from the sales video, they give  you a fairy-tale explanation of the system. They tell you what you want to hear but don't give you the cold hard truth.
The truth is that this system is NOT 100% free. The only thing that is free is the very very beginning of the training which isn't going to really do anything for  you. After that you will have to buy in to the lowest product level called the Pro Academy which will cost you $99.
And after that you will be pushed to buy some of the more expensive products that AWOL Academy offers, which get up in to the thousands of dollars range. There are plenty of upsells in this program and you will see why when I go over how it all works.
How AWOL Academy Works
Why it is possible to apply the training and tools that AWOL gives you to online business in a variety of ways, what they push you to do is to make money online by selling AWOL Academy products. So pretty much you buy into this program to make money online and then you more than likely are going to go down the path of making money online by selling the same system to other people.
You can earn big commissions selling AWOL products because they get so expensive and everyone who joins is pushed to purchase the upsells but there is the downside of this all. And that is of course that you too are going to have to purchase the upsells.
This place is similar to MOBE and Aspire in the way that you first have to purchase the products to be able to resell them and earn commissions. It is also similar in the way that the products get extremely expensive, which are known as high-ticket products.
The Cost of Joining
Most people that join don't seem to know what they are really getting into and this is due to the misleading sales tactics used to sell AWOL Academy. People aren't aware of the cost involved.
In addition to paying for the AWOL products which can cost you a small fortune, you will also be getting trained on paid advertising. This is how you will learn to generate traffic and get sales. Now there is nothing wrong with paid advertising and you certainly can do very well with it, but its something that people don't know about when getting started.
Paid advertising is yet another expense that can become very costly. Of course the goal is to make more in sales than you are paying in advertising but this is easier said than done.
Is This "As Beginner Friendly As It Gets?"
In the sales video I saw they were saying that this program is as beginner friendly as it gets and this is something I would disagree with.
There are other affiliate marketing training programs out there and one that I would definitely say is more beginner friendly is Wealthy Affiliate. Wealthy Affiliate provides step-by-step training, all the tools needed, and access to a community of like-mined individuals that you can communicate with. On top of all of this their training puts more focus on free traffic generation techniques rather than paid advertising which is much more beginner friendly.
And when it comes to the cost the 2 are incomparable. But anyways… I actually wrote a review of Wealthy Affiliate that you can read here if you are interested in knowing more.
Conclusion on Internet Income Explained
Ok, so Internet Income Explained is just a sales funnel that was set up to get people to buy into AWOL Academy. You know how I said the focus of AWOL is to get members to promote AWOL? Well that is what is going on here. The person (or people) creating these sites are affiliates that are trying to get others to join so they can make money.
There isn't anything wrong with affiliate marketing and promoting products you believe in but the misleading way that they are going about this is something that I don't agree with.
But anyways… that's all I have for my review here. AWOL Academy does provide a lot of good training and tools but you just need to know what you are getting involved in if you do join, or else you will just be discouraged and feel ripped off. That said, I definitely recommend reading this review of Wealthy Affiliate. They are a more honest and way more affordable choice.
Comments and questions can be left below. I'll get back to you soon on the questions 🙂