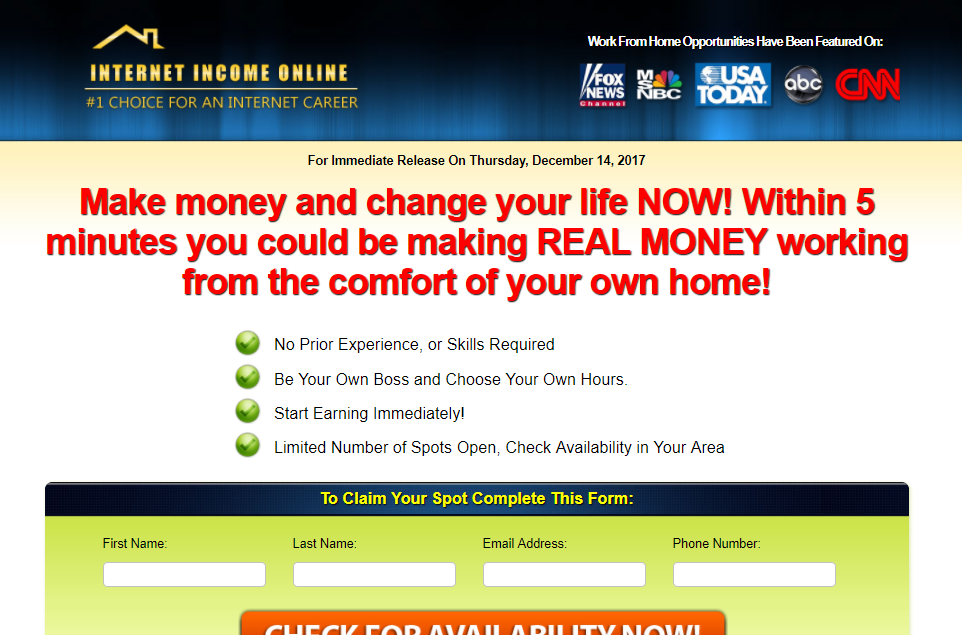 The Internet Income Online program claims that it the "#1 choice for an internet career" but this couldn't be much further from the truth. The truth is that this program is nothing more than a scam that preys upon those that are desperate to make money online.
While it is possible to make money with this program it isn't very likely. In this review you will see what I mean.
Internet Income Online Review
The Internet Income Online program was supposedly the creation of a woman named Kelly Simmons, who also is the creator of several other identical sites that are out there.
What these programs supposedly do is set you up with a website and customer records so that you can start posting links everywhere and making money. And while you can actually make money by "posting links", its nothing like they lead you to believe it is.
As a good rule of thumb… if something sounds too good to be true then it probably is. In this case this saying fits perfectly.
Some Things You Should Be Aware Of
Before I get into how this business model actually works, how you make money posting links, and why its nothing like they tell you…. I first want to go over a few lies that they tell you to show that this place cannot be trusted at all.
#1 This Has Never Been On The News
They have news logos pasted on the sales page, they have a news broadcast video that plays, and at one point after you enter your email address to check to see if there are any positions available they tell you that this very program has been advertised on the news sites…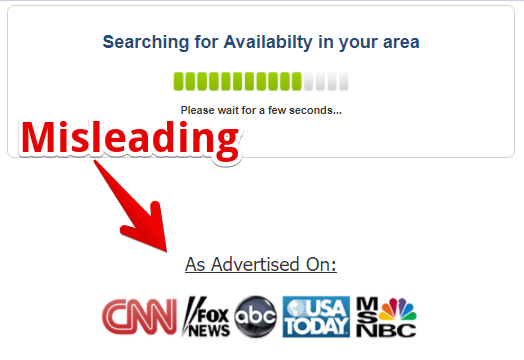 All of this is very misleading. While this program has probably been advertised on the news sites it does not mean it is credible at all, which it leads you to believe. The truth is that anyone can pay to advertise on these news sites. There are scams being advertised on them all the time. They do their best to filter out the scam ads and ban them, but there will always be scams that fly under the radar and get away with it.
So just know that none of this "news stuff" proves anything about this being credible.
#2 Kelly Simmons Is Fake
This "Kelly Simmons" character has been used to promote a number of identical scams over the years. She is just a made up fictional character that is used to relate to people looking to make money online and to sell these programs.
The image used is nothing more than a stock photo and the background story is made up.
Here is picture of "Kelly Simmons" from the Internet Income Online sales page…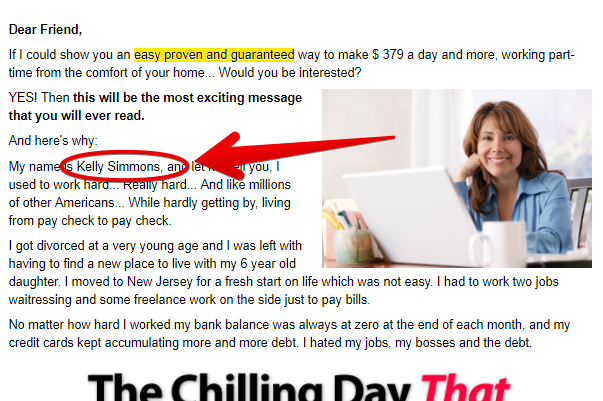 And here is a picture of the same lady with the same background story, just her name here is Mick Moore. This is a screenshot from one of the identical scams I'm talking about called Entrepreneur Jobs Club…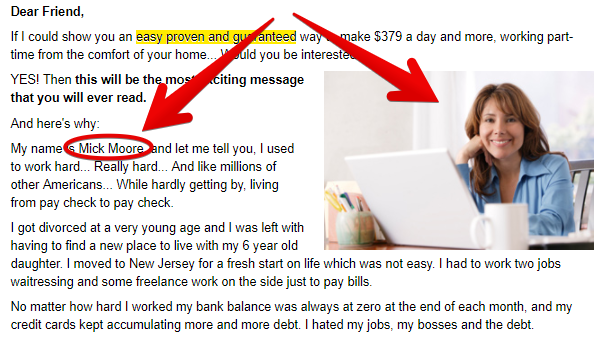 Lets Talk About "Link Posting"
The real name for "link posting" is actually Affiliate Marketing and I happen to know a lot about it because I make a living doing this stuff online.
How it works is like this: You promote products for big companies like Amazon, Walmart, etc, with affiliate links. When someone clicks on your link and buys the product you are promoting you get paid a commission. Its a pretty simple business model and is legitimate but it is nothing like they tell you it is in the sales pitch for this scam Internet Income Online program.
They act like you just go posting links everywhere and you will make all this money. They also tell you that you will average $15 per link that you post and that it will only take 1-2 minutes to post a link.
Well first off… there is no way possible to predict how much a link will make you. And second off, it doesn't take long to post the link but if you actually want to make money doing this then you can't just spam links everywhere like they promote and this means it will take way longer than 2 minutes.
The bottom line is that the entire approach to link posting that they are trying to sell you on is very "spammy" and simply does not work. If it did everyone would be doing this stuff, especially me because I make money online.
 Conclusion & What I Recommend
This Internet Income Online is a scam. It is very misleading and filled with a bunch of fake information just to try to sucker people into buying it. I definitely don't recommend it because I know it will not work out well. You will get a website and some training, all of which is poor quality.
If you are looking for a legitimate way to make money "link posting" as they call it then I suggest reading my review of this program called Wealthy Affiliate. I joined in 2015 and, like I said, I make a living doing affiliate marketing now so I know it works.
==> You can read my review here
Questions or comments? Just leave them below in the comment section and I'll get back to you soon 🙂