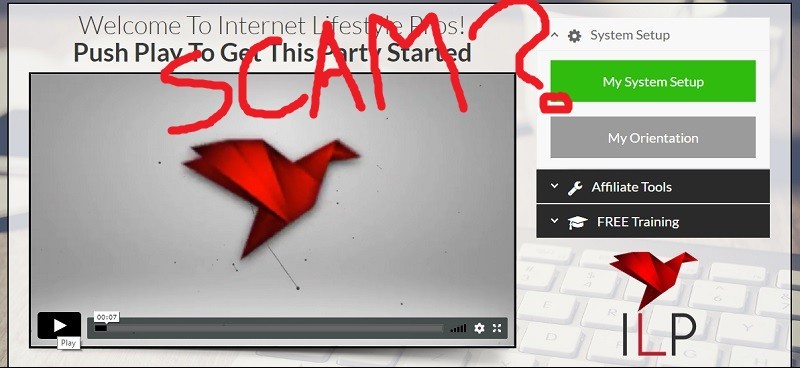 Internet Lifestyle Pros it is said to be a simple way for anyone to make money online. But is it really? Many times it seems that these "super easy" systems turn out to be the ones that don't work at all. Tim Chesonis, the creator of the system, claims to making over $20,000 per month with it, but it's not like I have never heard income claims like this before for programs/systems that have turned out to be scams.
So is Internet Lifestyle Pros some scam system that you should be avoiding? Or is this a good opportunity that you should not put off any longer?
In this review I'll be going over how the system works, the three parts of the system, the big problem that I see with it and whether or not I think it is worth buying into.
Internet Lifestyle Pros Review
Internet Lifestyle Pros is the creation of Tim Chesonis, who has been around in the online marketing world for a while. He claims to make over $20,000 per month with it and this could be true, but it doesn't really mean all that much. The people who create the system to want to profit the most so this in no way is something that you should believe is possible for you.
But anyways… Tim claims that this is a "simple little system" and he wants to give it to you. Why does he want to go with you? Well he never really tells you, and kind of lead you to believe that he is doing it out of generosity, but we all know that there is money involved… Of course he wants you to join because he will make money.
According to what he tells you, the majority of gurus out there are selling outdated methods that simply do not work anymore. And of course this system that Tim has created is not one of those outdated methods and it does work. However, this type of system that Tim has set up has been around for ages and is nothing new.
How Does Internet Lifestyle Pros Work?
In a nutshell, the Internet Lifestyle Pros is a sales funnel for Power Lead to System, a.k.a. PLS. You buy into PLS through the ILP sales funnel, then you go out and promote ILP to other people who are also funneled into buying into PLS.
What is PLS? It is a membership program that provides marketing tools such as a lead page creator and lead page templates, an autoresponder, etc. And of course it has an affiliate program so that you can promote PLS to others and earn commissions.
But you aren't going two have to actually promote PLS to make money with the system. You will simply promote the Internet Lifestyle Pros system and it will funnel people into buying a PLS membership, which you will receive commissions from. There are also a couple other things that you could receive commissions from within the Internet Lifestyle Pros sales funnel but PLS is the main product here.
So basically Internet Lifestyle Pros it is a sales funnel that promotes several different products/services. All you do is promote the Internet Lifestyle Pros system itself and the people that you send into the funnel will be pushed to buy these other products/services such as PLS.
As I said, this type of system is nothing new. I have reviewed many different sales funnel system like this, some that come to mind include Digital Genius Lab and Funnel X Project.
The Training
The training is divided into three separate parts, each of which I will discuss below.
1) System Setup
When setting up the system you will have to place your affiliate ID for PLS into the ILP sales funnel. This way when you promote the system and someone joins PLS, you get credit and earn a commission.
After that you will have to connect your ILP funnel to an autoresponder. An autoresponder is an automated email service that allows you to blast out mass amounts of automated emails to your leads. One comes with PLS but you can also use Aweber or GetResponse, which are also parts of the sales funnel.
The last part of this "system setup" part is buying traffic. You are referred to purchase traffic from The Clicks Agency or Internet Lifestyle Traffic. What you have to do is purchase a traffic package that will cost around $100 minimum and you will get approximately 100 clicks for this amount of money. The more expensive packages that you buy will give you more clicks for less money, but if you are new to all of this I probably would spend as little as possible. And don't think that the sales are just going to start rolling in. Super easy systems like this are never as easy as they seem.
2) Affiliate Tools
In the affiliate tools part, this is where you get your affiliate links, can choose which lead capture page you want to promote, can use pre-made banner ads, and you get 10 pre-written emails that you can send out to your leads via your autoresponder.
3) Free Training
The free training is broken down into six modules and covers the fundamentals of Internet marketing. The six modules include…
Internet Marketing 101
Traffic Basics
Capture Pages and Lead Magnets
List building and Autoresponders
Sales Pages
Online Automation
Overall the training is pretty basic and, I'm not sure if it is 100% true or not, but I have read in another review that this training was actually made for one of Tim's older systems and has simply been repurposed for this new ILP system.
In in addition to those six modules you will also get training that is specifically focused on promoting PLS along with training on getting free traffic via social media, YouTube, and with classified ads/Craigslist.
The Problem With This System
Easier Isn't Always Best
If you are always looking for the easiest way to make money online then you are going to be constantly getting scams and wasting a bunch of your time with system/products that simply do not work. The easy ways aren't always the best way is, in fact most of the times they are the worst ways to make money online.
It sounds great and all… I mean Tim gives you this premade system where pretty much all you have to do is copy and paste. You just use the sales funnel that Tim has set up and place your own affiliate links into the funnel.
This is nice and all but the problem is that you don't learn how to do much for yourself. Sure there is training, but it is very basic and wouldn't get you much of anywhere if it were your only source of training/information.
The fact of the matter is that you are completely reliant on the system. And if the system gets shut down then you are screwed.
Now you may think that this is out of the question but I see sales funnel systems like this vanish from the face of the Internet all the time. In fact, you should probably be concerned that this one will vanish. Two of Tim's other systems, which were the same type of deal, Automated Wealth Network and The Alchemy System, are now gone.
Really Not That Easy Anyhow
Something else you need to know is that these types of systems are never as easy as they seem. It seems incredibly easy… All you do is join PLS and then insert your own affiliate links into the ILP sales funnel. Then you buy some traffic which is sent into the funnel and ends up earning you commissions.
Simple right? Well if you think it is going to be that simple then you're in for a rude awakening. Sure, you will be able to get some sales by using what Tim has provided. But if you are a complete newbie to all of this and rely 100% on this premade system then you aren't going to fare very well. This is just the way it is. I have reviewed many systems like this and it is the same with all of them.
Final Thoughts – Scam?
Is this is scam? Well, you can make money with it so some people are going to say that it is not a scam, however I think there are a lot of people out there who will call it a scam. Just think about… You are buying into the system to make money online and are then funneled into buying a PLS membership. Then all you do is promote the same ILP funnel to other people who are also funneled into buying a PLS membership.
Doesn't sound very legitimate does it?
You can do what you want with your money but this is not something that I'm going to recommend. This is certainly not a sustainable business model and if you are serious about making money online then this is not for you.
My Recommendation
If you are looking for a new be friendly way to make money online then I would recommend taking a look at Wealthy Affiliate. This is the same program that I got started with back in 2015 when I first began looking for ways to make money online. To make a long story short… I am now making over $6000 per month online which goes to show that the program works.
What's nice about Wealthy Affiliate is that what they teach is sustainable. They don't make you 100% reliant on their system. Instead they provide the tools and training so that you can create your own sustainable online business. But anyways, I'm not going to get into it much here. If you want to learn more you can click the button below to read my review…
Please leave any comments, questions, or concerns below and I will get back to you as soon as I can 🙂