If you are looking to invest in Invia World but are hesitant to do so then you are in the right place.
Maybe you are wondering is Invia World a scam? Are they legit? Can you really make money? Whatever the case I'm going to go over a few things that you need to know about this place. Research is always important before investing and this time is no different.
Invia World Review
Invia World is a cryptocurrency investment company based in Austria. They say that their goals is to give a way for everyone to capitalize on the cryptocurrency industry. And what they provide are mining packages.
Basically what you do is invest money into their mining operation and depending what package you invest in there will be a set ROI.
They also have a referral program where you can make money by recruiting in other investors.
Investment Packages
There are 11 different packages you can invest in. They all have set commissions, team turnover, and hashpower. The minimum investment that you will have to make is 100€ for the cheapest package but you can invest as much as 128,000€ if you want to.
As I said, there are 11 packages total but I'm just going to show you the cheapest one followed by the most expensive one so that you can see the difference…
Aluminum

Min Investment: 100€
Hash Power: 1%
Team Turnover: 0
Commissions: 7%

Black Diamond

Min Investment: 128,000€
Team Turnover: 100,000€
Bonus Payment: 1,000€
Commission Levels: 1-8
It can be a bit confusing as to what all is going on here but basically what you need to know is this: the more you invest the more money you make, which is expected.
The Referral Program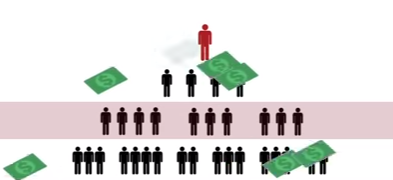 This place also has a referral program where you can make money by referring investors into the program beneath you.
The compensation structure here goes 8 levels deep. The people that you personally recruit (refer) in are level 1, the people that they recruit in are level 2, the people that level 2 recruits in are level 3, and this goes on all the way to level 8.
Its a unilevel plan so this means that there can be a unlimited number of people on each level.
Ponzi Scheme?
I'm touching upon this question right now because I know there are going to be a lot of people asking me it. Is Invia World a Ponzi scheme?
With so many Ponzi's popping up everywhere in the cryptocurrency industry this is a good question to ask. You can never be too careful. And honestly… this place does resemble many of the ponzi's I've seen. They offer investment packages, they promise fixed returns on your investments, they have a pyramid-like referral program….. it really fits the description.
I am suspicious that this place could be a ponzi and there are some other things that worry me about it all.
Some Concerns
One of the first things that I noticed about this place is that they give you very little information about who they are. They tell you that they are a group of technicians, investors, and other people that have been involved with cryptocurrency for years. And this is all they tell you. There are no names given or background information or anything really.
Basically all you know is that they are a group of people with no credibility whatsoever and no reason to trust them.
Legitimate investment opportunities usually give more than enough background information.
Another problem I have is that they give no proof of their operations. There is no proof that they are mining cryptocurrencies like they tell you.
The only thing you know about their mining operation is that  they say their GPU mining rigs are stationed in "the north of Europe", which pretty much tells you nothing.
Conclusion on Invia World – Scam?
I don't have enough information to say for sure that Invia World is a scam, but what I can tell you is that it sure looks like one. There is just no reason to trust this place. They have no credibility at all and give no proof of what they claim to do.
This resembles some other Ponzi's I've reviewed very much, such as 50 Cent Freedom & BTC Team Profits, and very well could be one. Basically what this means is that investors would be getting paid from new investors coming in and once they stop coming in the scheme collapses and most people are left with less money than when they started.
When it comes to making money online there are a lot more scams out there than legit opportunities that I can recommend. However…. gun to my head, what is the best program out there? This is it. I have been a member since 2015 and it took me from nothing at all to making a living online.
Questions or comments? Leave them below and I'll get back to you ?