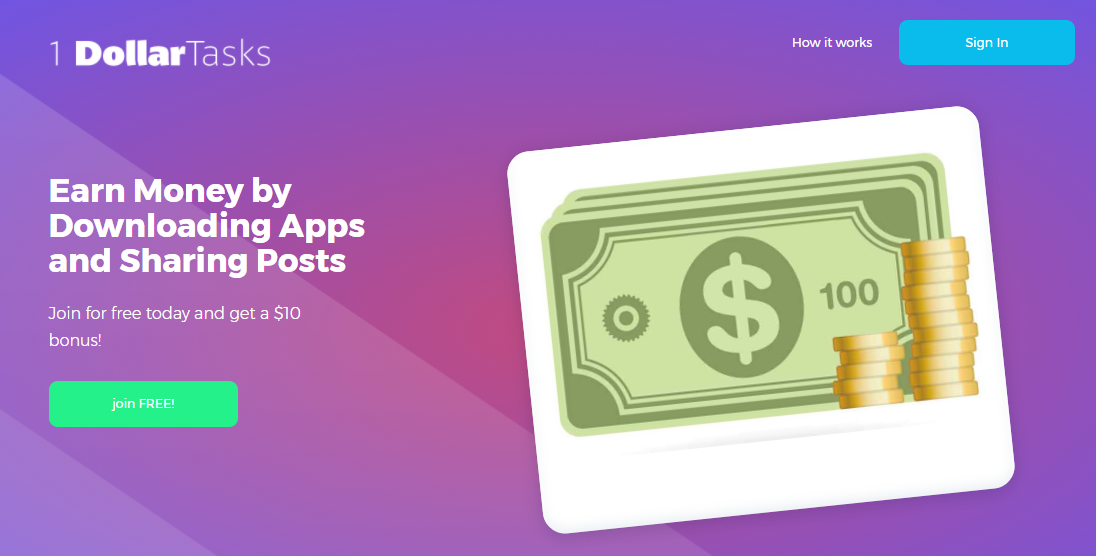 1 Dollar Tasks claims that you can make money by just downloading apps and sharing posts. But whats the catch here? Is 1 Dollar Tasks a scam or something because there is always a catch…. right?
There is a catch to this place and I'll go over it. I'm guessing you were suspicious of this in the first place and that is why you took the time to do a little extra research and came across my review. Here I will be going over all you need to know. I'll be going over how this site works, how much money you can actually make, and more.
1 Dollar Tasks Overview
With the name "1 Dollar Tasks" you would think that you get paid $1 to do simple tasks… right? I mean its only logical to think that. Yet they tell you that they are paying between $2 – $20 for people to download apps, $0.50 to make Facebook posts, and between $5 and $200 for each trial signup or online survey completion.
They also tell you that this is the easiest way to make money online and that you can make $100+ daily. That is quite a bold statement and is far from being true. As I said there is a catch and this isn't as good as it seems.
Inside Your Dashboard at 1 Dollar Tasks
Once you sign up there will be several options for you to make money. There are
Instant Tasks – $4
Download Apps/ Surveys/ Sign Up Tasks – $2 – $100
Referrals – $1 per referral
FB Posts – $0.50
And I know these earnings amounts are different from what I initially told you but this is what 1 Dollar Tasks told me before I signed up.
Can You Really Trust This Place?
I have reviewed dozens of rewards sites that are similar to this and this one really does not come across as very trustworthy to me. I'll show you why.
First off when I go to download apps things seem "scammy". For example here are some of the available offers for me to make money downloading apps…

I clicked on the "Get Your FREE Burger" one and then it just takes you to a page to download an app and you have no idea what you are downloading. I did not go through with it because it seemed very suspicious. I mean why would I get a free burger for downloading an app in the first place?
I wasn't about to find out and get malware on my phone so I passed on this.
I then went over to the Instant Tasks section to see what offers they had for me. When you go to this section you just click "launch task" and it automatically takes you to a task. Its not like you get to pick and choose. I tried this and then got directed to this…

I clicked on the $250 Fan Duel card promotion and was directed to this site to win a $500 Walmart gift card, which has nothing to do with what I thought I was clicking on.
To make a long story short… you aren't going to get this $500 gift card. They will lead you all over the place signing up for offers and all sorts of things to get this and I don't think it even exists.
Also the site that they sent me to is called Consumer Rewards Center (consumerrewardscenter.com) and this place does not have a good reputation.
Conclusion on 1 Dollar Tasks –  Scam?
1 Dollar Tasks pretty much is a scam. They mislead you with the amount that you can make. I see no proof of being able to make even close to $100 a day on this site. And from what I have seen from other rewards sites there is absolutely no way you are going to come close to making this much taking surveys, downloading apps, and posting on social media.
On top of that 1 Dollar Tasks refers you to a bunch of scam offers which I don't even think exist. If you are looking to make money online with a rewards site like this there are much better more reputable ones out there like SwagBucks & Inbox Dollars.
But honestly I don't see the point of spending time on rewards sites. They don't pay much at all.
If you are looking for a way to make money online in your spare time then I would suggest checking out this program. This is the same program I got started with back in 2015 and I am still a member today…. which is a testament to how good I think it is.
I make a living online right now and I owe pretty much everything to what I learned here.
==> My No. 1 Recommended Program Here
Questions, comments, concerns? Leave them below in the comment section and I'll get back to you soon ?