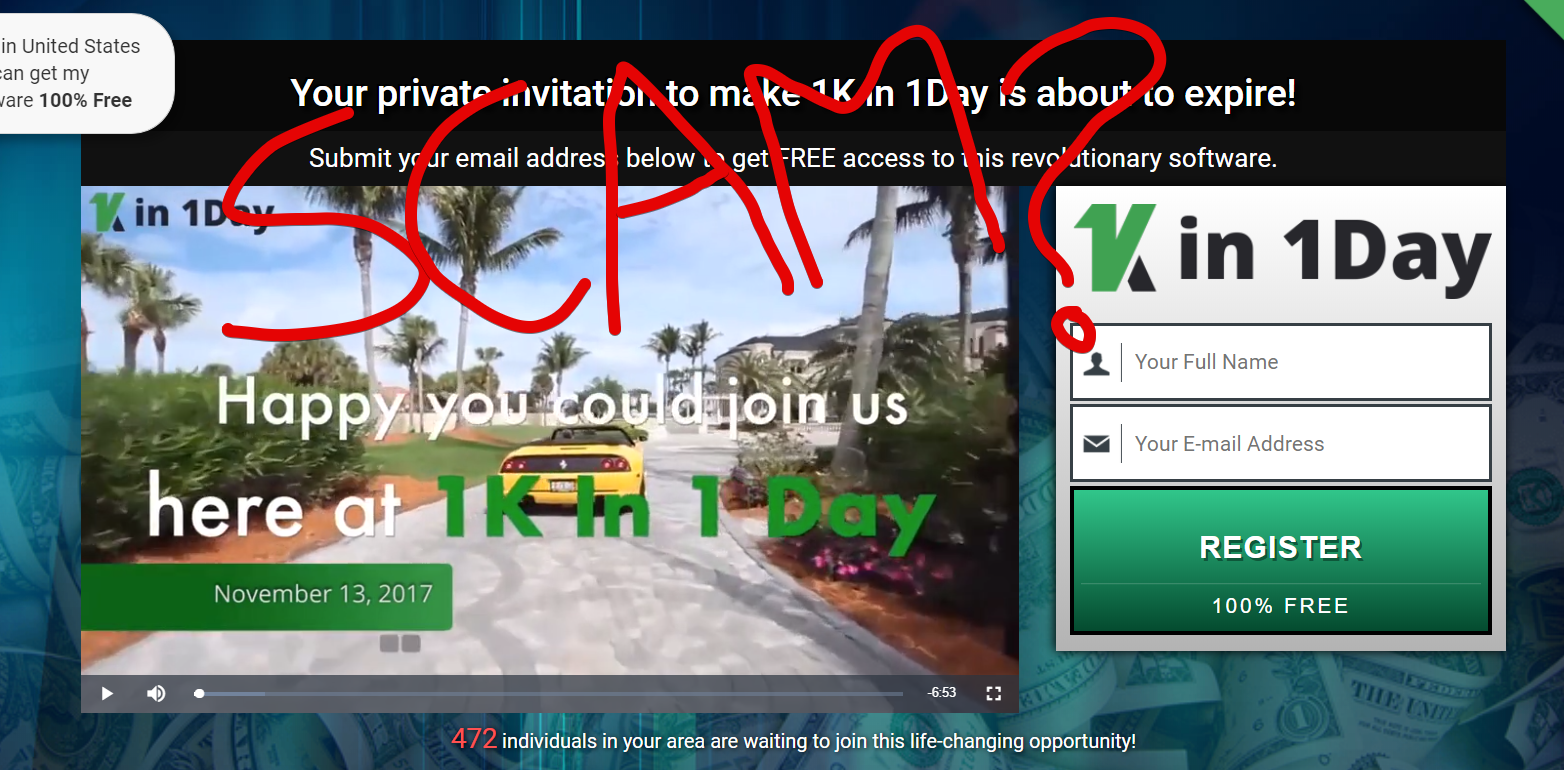 1K in 1Day was created by a man named John Becker and supposedly can make ordinary people and extra $1,000 every single day with no work on their part…. but is this really true. After all… it kind-0f sounds like a typical get rich quick kind of scam doesn't it? Is 1K In 1 Day legit? Or is this all a big scam?
In this review I will be going over some important things that you should know. I have been reviewing scams for quite a while online now and I want to point out a few red flags that lead me to believe that this is nothing more than your typical scam. I'm guessing that you were already suspicious of this since you are reading my review… and luckily your suspicions paid off because you are about to avoid this nasty blood sucking parasite of a system.
1K In 1 Day Review
John Becker supposedly created this secret algorithm along with a friend that worked at Goldman Sachs. Supposedly this algorithm brings about a different type of trading method than is normally used, one where you can profit big when the market is going down.
He claims that this opportunity to use the free software that uses this algorithm has only been given to a handful of people, and if you saw the presentation video you are one of these lucky people.
And of course the best part of all of this is that he claims you can easily make $1,000 every single day you run this software. All you do is run the software, sit back, and watch your money pile grow. It sounds like the greatest thing I have ever heard but unfortunately I don't trust a word of what he tells you and I'll be going over why you shouldn't either.
There are a lot of red-flags that point to this whole thing being a scam that you need to be aware of.
Red-Flags Galore……Scam???
#1 – The No Name "John Becker"
John Becker claims to be one of the masterminds behind this amazing software but who is he really? Unfortunately he is a fake. The guy is not who they tell you he is. How do I know? Well because I ran a reverse Google image search on the picture of him that was below the presentation video and this is what I found…
The image is a stock photo that anyone can buy on ShutterStock and use online..
#2 – How Does It Work Again??
He tells you that the software makes you money when the market is going down… and gives some examples about how Warren Buffet and other investors have made tons of money in bad market times. But of course this doesn't really tell you anything at all.
If you go down below the presentation video they tell you that the software analyzes market variables every 1 millionth of a second and that it places a trade in either direction based on the risk involved… so that you are always guaranteed profit.
How does it do all of this??? Well magic I guess… because they don't tell you any more about it. You are just supposed to take their word for it even though you don't know who is behind it anymore because John Becker is a fake.
#3 – 99.8% Accuracy… Are You Serious?
The fake John Becker claims that this secret algorithm that his friend and he created can predict and win trades with 99.8% accuracy. This is one heck of a ridiculously high accuracy for a bot and any experienced trader would tell you that this is a scam just from hearing this number alone.
If this were true then John would be a rockstar. This would be one heck of an incredible achievement. But seriously… there is no way this is true.
#4 – You Received a Special Invitation
He tries to make you feel special by telling you that you have been handpicked for this amazing opportunity to use the software.  He says the only way you can land on the presentation page is by being invited. But this is all a bunch of bologna. You can go to 1kin1day.net any time of the day and land on the page.
#5 – It has nothing to do with Forex, mlm, affiliate marketing, bots, or any other questionable money making method…. HUH?
He tells you that it has nothing to do with bots but then of course the whole system is based around this trading bot using some secret algorithm that he created…. this guy is a moron.
How You Will Get Scammed
You might be wondering…. well how is this going to scam you if it is 100% free to use. Well I haven't actually tried the system out but I have looked into enough of these scams to know how they work.
What is going to happen is after you join you are going to be directed to a broker to deposit funds, because of course you are going to need to fund your account before you can have the bot trade for you right? The broker that they refer you to is going to be completely unregulated and they are then going to take your money for good.
The software might make you think that you are making money. Maybe it will show your balance growing, but when it comes time to withdrawal your money you will not be able to do so.
Conclusion on 1K In 1 Day – Scam
1K In 1 Day is pretty much your typical get rich quick scheme when it comes to automated trading software, similar to Semantic Investment App or Ripple Code. Its common for these scams to tell you that they run on some secret new algorithm that can predict trades with insanely high levels of accuracy. And of course nothing they tell you is backed up by any proof whatsoever.
Although it is your choice, I definitely do not recommend investing in this. And if you did and are trying to get your money back you are probably going to need to use a service like MyChargeBack to help you do this.
If interested you can also check out how I make a living online. I figure since you are looking to make money with this trading software online you also might be interested in this. You can learn more here.
Also, leave any comments or questions below and I'll get back to you soon ?