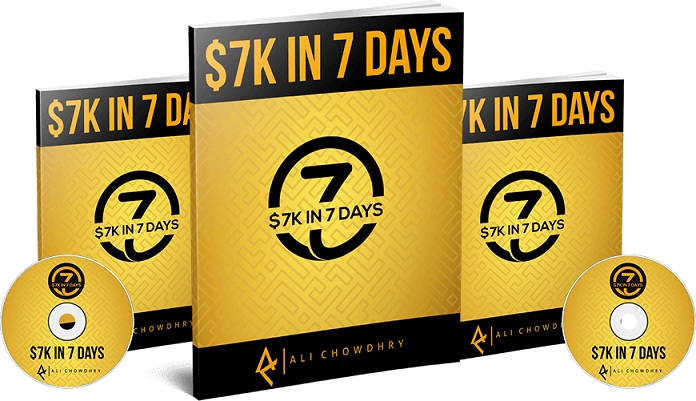 If you are looking to the 7k In 7 Days product I suggest reading this first. This is one of the few reviews you will find out there that isn't promoting the product so its going to be unbiased. If you are wondering is 7k In 7 Days a scam then here you go. I'll give you my honest opinion…
7k In 7 Days Review
7k In 7 Days is a 37 page ebook that explains how Ali Chowdhry make $7,000 in 7 days of course. Ali has been in the online marketing space for a while and I don't doubt that he has done this. But this product isn't going to be some tell all and show all course or anything like this. So if you are expecting to be taken by the hand and walked through everything then this probably isn't for you.
Just like most internet marketing products that you find online, this product is overly hyped and the promotional information is somewhat misleading. They tell you that it is "easy to do" and there will be "fast results" but I sure wouldn't count on either of these.
Its definitely not going to be easy to do especially if you have no experience at all. This ebook basically just gives you an overview of the process with not much more. Its far from being a complete training or anything even close. It will give you ideas of what you can do and it will explain what Ali did to make money but its not going to take you through each step of this method.
This ebook is just an overview of the process but it is not training.
The 7k In 7 Days Process of Making Money
One of the things you might have heard in the sales pitch is that there is "no lists, no products, no paid ads". So what does this mean? If there are not products then what the heck are you going to be doing to make money?
Well this ebook goes over a bit  about how you can make money promoting other people's products. Its called affiliate marketing and its when you promote products online and get paid commissions, or a bonus when you make sales. I actually do this for about 90% of the money that I make online.
The ebook then goes on to talk more about selling your own product and why its important to create your own digital product such as an ebook.
Generating Traffic
There are lots of ways that you can generate traffic when doing online marketing but 7k In 7 Days claims to not use email lists or paid ads… so how does it teach to generate traffic then?
The key to traffic generation that this ebook teaches is Facebook. Basically what it goes over is how you can promote your product in Facebook groups that are filled with people in your particular niche. This is all free and can be effective because I know people who use this method, but honestly I don't and really don't know all that much about it.
So if you wrote an ebook that was about losing weight called 7 Pounds in 7 Days, you could promote it on Facebook groups that are focused on weight-loss, healthy living and things like this, which there are plenty of.
Another traffic generation method that this book goes over is the whole affiliate marketing thing. Basically it will go over launching your product on affiliate sites like JVZoo and getting other people to promote your product for you. When you do this you offer a certain bonus to affiliates when they make sales as incentive to promote.
Upsells
When you are logged into the backend after you purchase the ebook you will see three tabs in the upper menu for Mastery Bootcamp, Live Coaching, and Profit Templates. These are the upsells of the course.
These upsells provide the training. The ebook just gives you part of the equation. It tells you how you can make money online but doesn't really explain how to go through each step of the process. It leaves you wanting and needing more, which is where the upsells come in.
Conclusion – Good Opportunity or Scam?
7k In 7 Days is definitely not a scam but its probably not the best opportunity for many people out there either. The fact is that it provides very little. If you think you are going to read a 37 page ebook and start making $7,000 per week you are crazy. And besides that this ebook doesn't really provide any special or great information. The stuff talked about are things you could easily find on Youtube or just reading on Google.
This ebook provides very little and basically just gives you a path that you can take to make money online. It gives an overview but you are going to be left having to figure out what to do next. I mean its not all that bad of a product considering the price but I'm just saying there isn't much too it.
If you are wanting to make money online affiliate marketing then I would suggest Wealthy Affiliate. They are a training platform that provides everything you need from start to finish. They provide complete training and are actually where I got started online back in 2015. The focus is different, because Wealthy Affiliate focuses on making money promoting existing products instead of creating your own, but I think this is good because it is much more newbie friendly.
Anyways… you can read my review of Wealthy Affiliate here for more information. I would definitely recommend it over 7k In 7 Days.
Questions, comments, or concerns? Leave them below and I'll get back to you soon 🙂