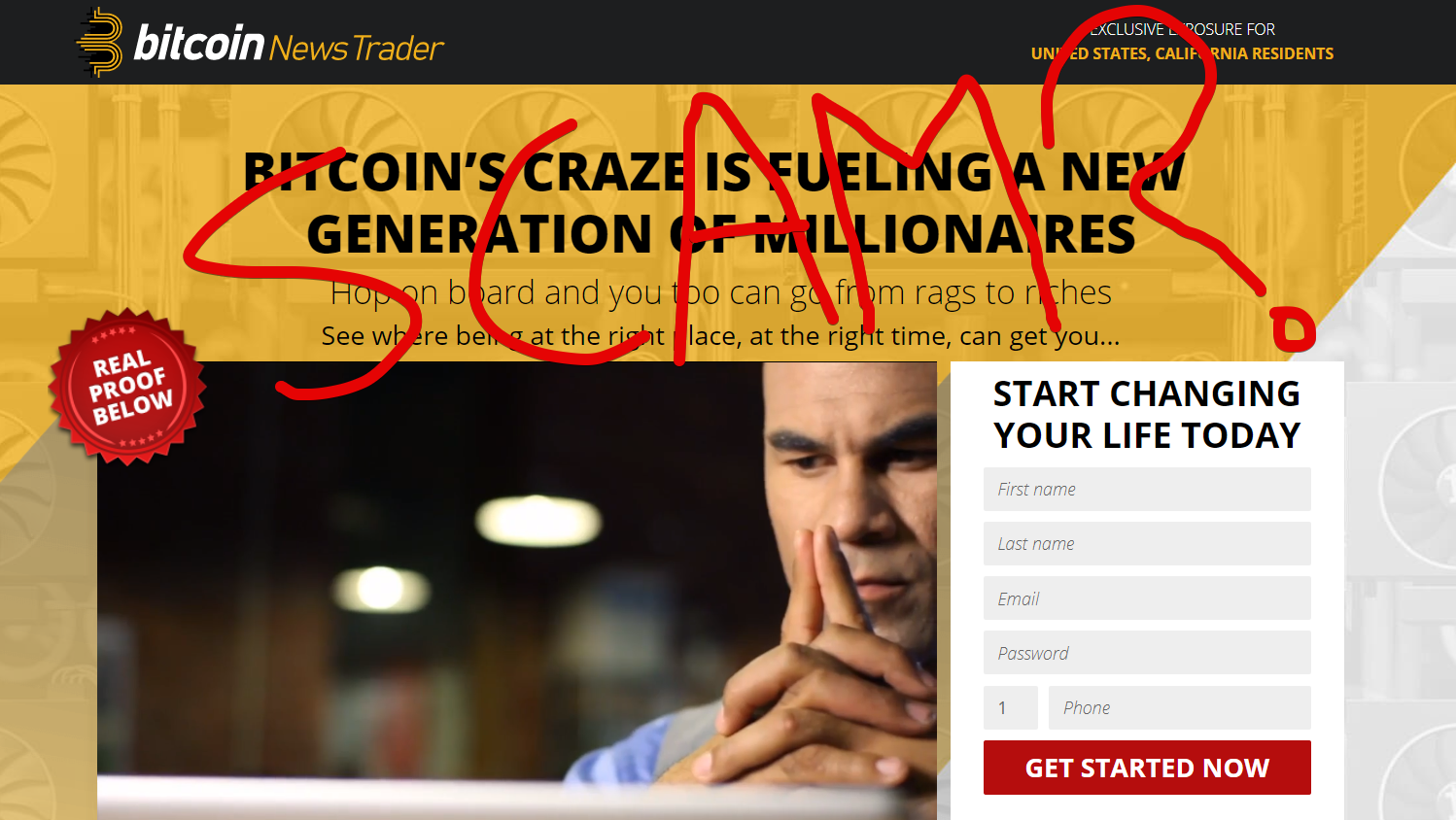 The Bitcoin News Trader claims to be an easy way to make money in the cryptocurrencies market with bitcoin and other various cryptocurrencies. But to be honest… It seems a little too good to be true, which is probably why you are doing a little extra research on reading my review now.
It is Bitcoin News Trader a scam? Will it make you rich? Is this worth the risk of getting into? I'll jump straight to the point here and tell you that I'm about 99% sure Bitcoin News Trader it is indeed a scam that you should avoid. I will be going over why I'm saying this throughout this review. There are many red flags are common signs of related cryptocurrency scams on their website and many reasons to avoid it overall.
Bitcoin News Trader Review
Bitcoin News Trader claims to be an easy way to get rich basically. You are led to believe that the system does all the work for you for the most part. What it does is gives you buy and sell signals and you simply click a mouse to act on them. Sounds amazing right? Unfortunately like I said it's probably a scam.
When I look into questionable opportunities like this one, I always look for reasons that could potentially validate its legitimacy. In other words, I pretty much assume it's a scam and look to be proven wrong. Unfortunately when reviewing this Bitcoin News Trader system my assumption that it is a scam seems to have been proven more and more.
Below I'm going to go over some of the many red flags that caught my attention when taking a deeper look into this.
Red Flags…. Signs of a Scam
#1 – Unbacked Claims on How It Works
Okay, so this system supposedly scans hundreds of different cryptocurrency news sources every hour. Then a team of professional analysts make sense of all the news and predict what effect it will have on the prices of different cryptocurrencies.
Now in theory this should work. I actually know cryptocurrency traders that trade pretty much solely based on the news. The crypto market is very volatile and speculative. News has a major impact on price and if you get good at it this can be a very effective trading strategy.
However, they tell you nothing about how everything works. You are just supposed to believe that the software collects all this news and that the team of analysts process it… Although there is no proof of any of it being true. Anyone could tell a story like this, but with no proof or evidence to back up claims it means nothing.
#2 – No Background Information
Another major red flag is that it is no background information on the people behind the system. Who is running the show? Who is this team of analysts made up of?
We don't know who anyone is. So once again, how are we supposed to validate the legitimacy of their claims. They claim to have a team of professional analysts working behind the scenes, but with no proof of this there is no way to know if it is true or not.
#3 – Its 100% Free
and of course this system is all supposedly being given to you 100% free. Never something's claims to be 100% free like this you should always be cautious.
This makes absolutely no sense. How are they paying their team of analysts are working behind the scenes? Are we supposed to believe that they are doing this out of the kindness of their hearts?
How They Will Scam You
Okay, so how can this possibly be a scam… After all it is 100% free. Well I'm going to explain how they will scam you. I review systems like this all the time and they all work in a similar fashion. In fact I just reviewed 2 scams called Litecoin Trader and Bitcoin Millionaire Pro recently that do the same thing.
After you sign up, you are going to have to deposit a minimum of $250 to a broker that they refer you to. Now first of all there is absolutely no reason to use a broker when trading cryptocurrency. I day trade cryptocurrency as a hobby and I can tell you this for sure. It doesn't matter where you live in the world or what your situation is… You do not need a broker for this and the fact that they try to refer you to want is a major red flag.
What is more than likely going to happen is you will deposit your minimum of $250 with the broker and you will never see that money again. This trading system might make you believe that you are actually making money. They might move numbers around in your account to make it look like your balance is increasing, but when you go to try to withdraw your money you will find that you cannot do this.
This major red flag is something I talked about in my post 10 Ways to Spot a Cryptocurrency Scam.
Conclusion on Bitcoin News Trader – Scam
I will be honest, I have not tried and tested out the system so I cannot tell you with 100% certainty that it is a scam. However, I have reviewed dozens and dozens of nearly identical scams out there so I can tell you with 99% certainty that it is one. All in all this seems to be your pretty typical cryptocurrency trading software scam. The system sounds great, I mean who wouldn't want to make easy money online? It does all the work for you and the method of trading is one that I know works, but of course they offer absolutely no proof of anything being true or legitimate.
If you do want to test out this system and see if it works I'm not going to hold you back. The decision is what you wanted to be. It's your money and you can do with it what you want. But I can tell you this… I sure as heck am not signing up for this.
If you did buy in and are going to try to get your money back then a service like MyChargeBack will help you do this. They provide help for people looking to get their money back from scams like this.
Also, before you leave be sure to check out this program for making money online. I use it and its something I actually recommend.
Leave any comments or questions below and I'll get back to you soon ?