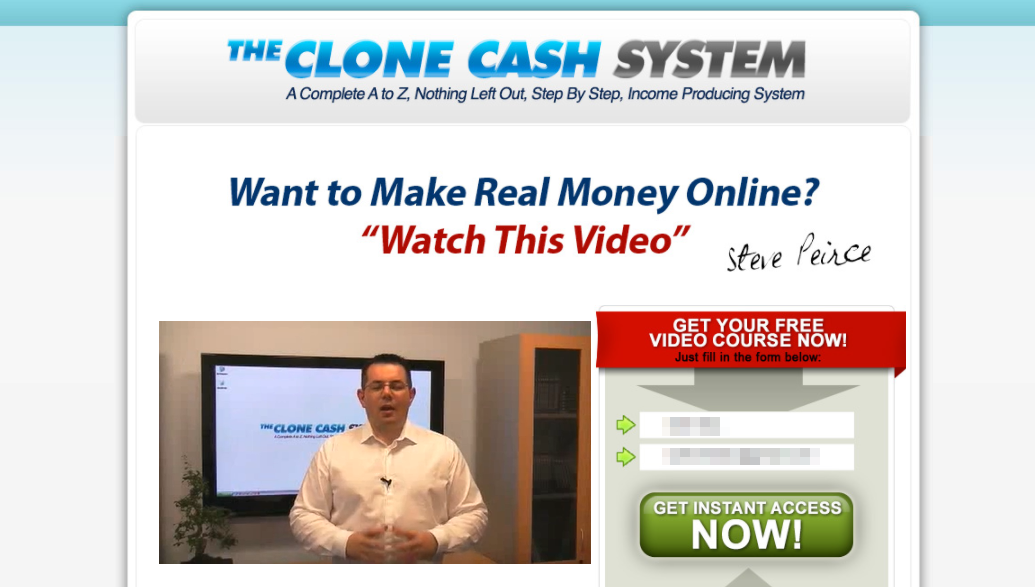 Clone Cash System claims is an online money making program that supposedly teaches you an easy way to make money online. But is this too good to be true? Is Clone Cash System a scam like the many other similar scams out there? Or is this the real deal?
The fact that Steve Peirce (the creator) calls this an "easy" way to make money online sets off all sorts of scam alarms for me. I have been making money online since 2015 and I have found that there is no "easy" method really. But anyways… in this short review I'll be going over what its all about and whether or not its legit.
Clone Cash System Overview
The Clone Cash System is a free video training guide created by Steve Peirce that shows you how to make money online with affiliate marketing. Affiliate marketing is when you promote products for companies online and earn commissions just for referring buyers to their websites. This is actually how I make a living online so I can assure you that it is legitimate.
The video tutorials are free to watch and all but you will have to pay money to follow along. Steve promotes services that are necessary for having a website online and this is where the money comes in.
What You Get
There are 20 videos total. They will walk you through the process as Steve tells you are pretty informative, especially when it comes to free information.
The video tutorials go over everything from an overview of how it all works, keyword research, earning money from the same visitors each month, website hosting, finding good products to promote, getting good Google rankings, to writing posts and more.
Throughout the videos there will be things that you need to buy in order to continue with the process. For example in video 5 he promotes a hosting service called High Profits Hosting. Website hosting is one of several things you will need to pay for with this business model. A keyword research tool and a domain name are 2 others that are definitely needed.
What I Like
I like the business model that Steve is promoting here. Affiliate marketing is a great way to make money online and is particularly good for beginners due to how simple it is and other reasons.
This is how I got started making money online and it is still how I make money. The good thing about it all is that affiliate marketing is a legit way to make money online and its not going to go away. Every big company (Amazon, Walmart, etc.) has affiliate programs and as long as there is commerce there will be affiliate marketing.
Complaints
Outdated Info
The main problem I have here is that this program is still up and running yet the information in it is fairly outdated. For example one of the techniques that is discussed for traffic generation is called backlinking. This used to be a very effective method back in the day but since some of Googles algorithm changes this has become less and less effective and is no longer used much.
Shady Products
Another big problem I have here is that some of the products that Steve promotes to you throughout the training are not reputable at all. For example the High Profits Hosting service that he tells you to get is not any good. There is almost no information on this and the cost of it is too expensive. It makes a lot more sense to just go with a reputable company like GoDaddy or HostGator rather than this one. Steve is more than likely promoting this because he gets good commissions from you signing up.
Conclusion On Clone Cash System – Scam?
Clone Cash System is not a scam but it is also not a program I would recommend. It is great that Steve provides free information for people looking to make money online but this program is old and outdated. And the services promoted are not any good at all and never were.
Affiliate marketing is a great way to make money online but this program is going to steer you in the wrong direction. You would be better off just Googling and researching information for free on your own honestly.
If you want to learn affiliate marketing the right way then I would suggest taking a look at Wealthy Affiliate (my review here). Wealthy Affiliate is the training program I used and still use today. They are all around better than the Clone Cash System and if you are interested in learning more about this place you can click the link below to read my full review.
–> My Full Review of Wealthy Affiliate Here
Questions, comments, concerns? Leave them below in the comment section and I'll get back to you soon 🙂