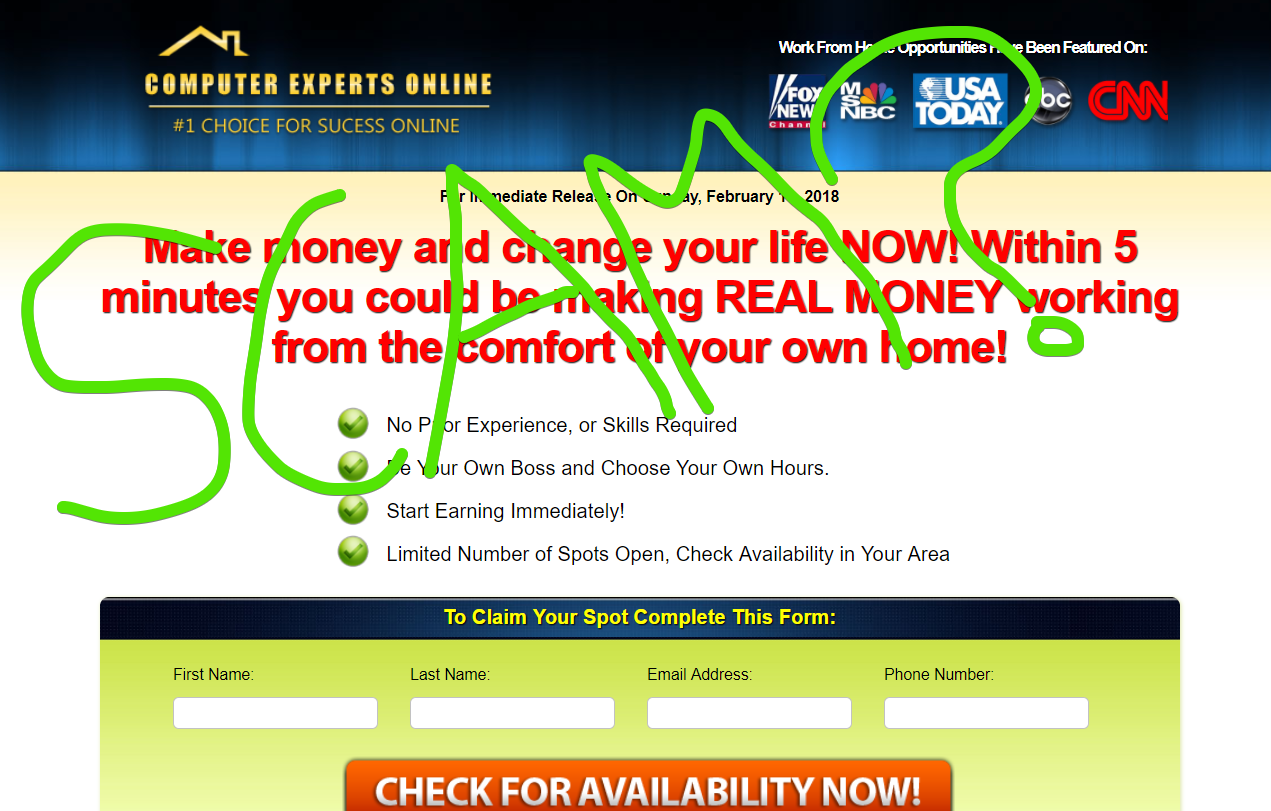 Computer Experts Online by Karen Johnson is said to be the "#1 choice for sucess online" but this isn't even close to being true. And yes that is a typo. The people behind this program couldn't even spell "success" right. But anyways… this isn't the point of this review and there is a good chance they might have fixed that by the time you are reading this.
The point of this review is to inform people of the truth behind this program. They lure people in looking to make money from home with claims of being able to easily make $379 or more per day by "posting links". While it is possible to make money as they tell you, it is highly unlikely and I'm going to be explaining why. Overall this program is what most people would call a scam.
Computer Experts Online Review
Computer Experts Online is a program that was created by a woman named Karen Johnson (more on her). What it does is provides training and tools to be able to make money doing what they call "link posting". However, the sales pitch for this program is extremely misleading and anyone who joins expecting what they tell you will be very disappointed.
Overall this program is what you can call a scam. Its a waste of time and this comes from someone who has been making money in the in the online world since 2015, now making a living.
The first thing I want to go over is some of the lies that are on the sales page and the fact that this program is one of many that is constantly being re-hashed under different names.
The Lies
Fake News
On the sales page one of the first things you see is that they have news outlets' logos plastered at the top. They do this to somewhat mislead people into thinking that this is a legitimate program that has been featured on the news. However, it hasn't and it never will be.

You can easily disprove this by going to any of the news outlets' websites and searching for "Computer Experts Online". You won't find a thing relevant to all of this.
Fake Limited Availability
There are several different areas where they tell you that the openings for this are limited. Below I took a screenshot of what was shown on the sales page after I entered my email address and name…

This is another lie. You can exit the page and come back to it in a week, a month, etc. and its still going to be telling you the same thing. This is just to scare people into buying into this program faster without doing the proper research, such as reading this review here.
Fake Person
The person behind this program, "Karen Johnson", doesn't even exist. She is a fictitious character created by the real makers of this program to try to relate to people.
Of course she has the typical background of struggling, living paycheck to paycheck, and then one day discovering this incredible way to make easy money online that barely takes any work.
Below is a screenshot I took from the sales page of this "Karen Johnson" character…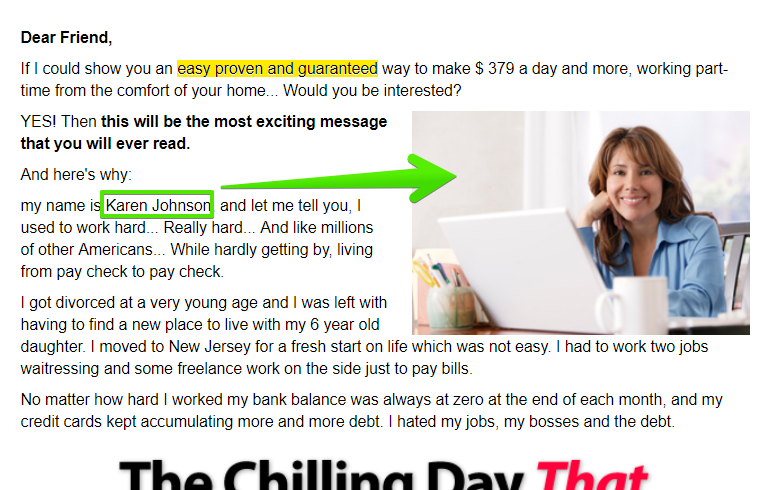 And here you can see that this photo is a stock photo that anyone can purchase from iStock. This woman's name is not what they tell you. 
This same photo has been used in numerous other identical scams which brings me to my next point…. its a re-hashed program that changes up its name.
Old Program With Many Names
This "link posting" scam has went by a ton of different names over the years. Some examples that I have reviewed include Home Internet Income, Instant Income From Home, Home Jobs Now, Accelerated Income, Xtreme Home Paycheck and Entrepreneur Jobs Club…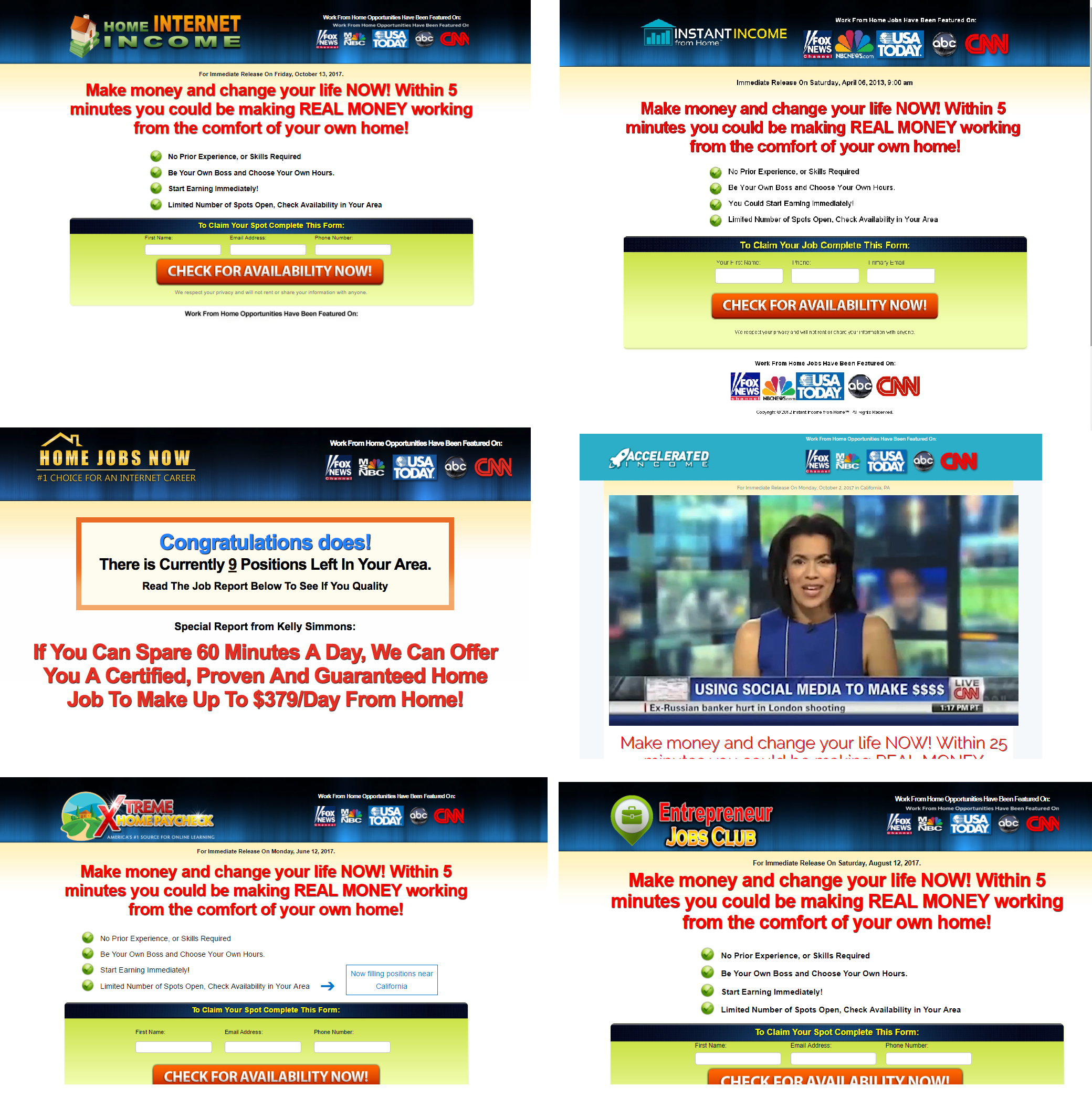 Its all the same thing just with a name change. The reason that this is changing names so much is due to the negativity that becomes associated with the old names.
The simple fact is that these programs are horrible (as I will explain next) and that people complain about them. They get a bad reputation so they come out under different names.
Can You Really Make Money With "Link Posting"?
The answer is yes you can but with the approach that these crap programs take you won't make much of anything and surely no where near $379/day.
They make it seem so simple, like you just post some links all over the internet and are all of a sudden making a ton of money. If it were this easy I would have all of my friends and family doing it… but its not.
What they refer to as "link posting" is really called affiliate marketing and it is a legitimate business model. Amazon, Apple, Best Buy, Walmart…. pretty much every online store out there will pay people to promote their products. These programs are free to join and you get paid to help make sales.
I've been doing this since 2015 and currently make a living doing so. However… its not like they tell you. They show you this fake "income calculator" and have you calculate some massively misleading inflated value for how much you will make…
The reality is that you only get paid when you help make sales, not for just promoting something. You only get paid when someone clicks on your affiliate link and purchases the product you are promoting. And there is absolutely no way you can predict what you will make with a link by using a calculator like this.
Things are more complicated then they seem and this program tries to make everything so simple. Believe me when I tell you that if things were this simple then I would be doing it this way. But they aren't.
Affiliate marketing is a great business model but unfortunately there is more to it then just spamming some links everywhere.
If you are looking for a legitimate program to learn how to make money doing this I recommend Wealthy Affiliate. They provide the training and tools necessary to do this. This is is where I started out at in 2015 and I'm still a member, which goes to show how good I think they are.
Conclusion on Computer Experts Online – Scam
Computer Experts Online is nothing more than a re-hashed old scam that lures people in by telling them that its easy to make money online if you buy into it. Unfortunately most of what they tell you is bogus.
If you do buy into this you will be given a cookie cutter website, customer records, and some outdated training. They will basically train you on how to spam links to your "customers" to get them to go to your crappy website…. none of which will work out good.
So in closing here.. stay away from this program. Its a waste of time and money (in my opinion of course). If you are interested in making money with affiliate marketing then I suggest reading my review on Wealthy Affiliate as I mentioned above.
Comments, questions, concerns? Leave them below and I'll get back to you soon 🙂