Crypto Dukes claims to be a cryptocurrency trading system that makes it easier than ever to trade bitcoin and other altcoins. There are many different promotional materials circulating the internet for this system and some of them claim that you can easily make thousands of dollars per day with it. But of course you cannot always trust what you hear online right away, which I'm guessing is why you are doing research right now in the first place.
So is Crypto Dukes the real deal? Can you make big money with this trading system? Or is Crypto Dukes a scam that is just going to end up leaving you with less money than when you started? In this review I will go over the truth of the matter and give my honest opinion of it all. You are going to want to read this if you were thinking about buying in.
Crypto Dukes Review
There are several different websites for the Crypto Dukes system which is a bit confusing.
You can see a screenshot below of the one site. On this site, which is cryptoodukes.com, there was a video presentation made by the supposed created of the system, Jaden Monahan. He claims that he developed this system for beginner and experienced  traders and that anyone can benefit greatly from it…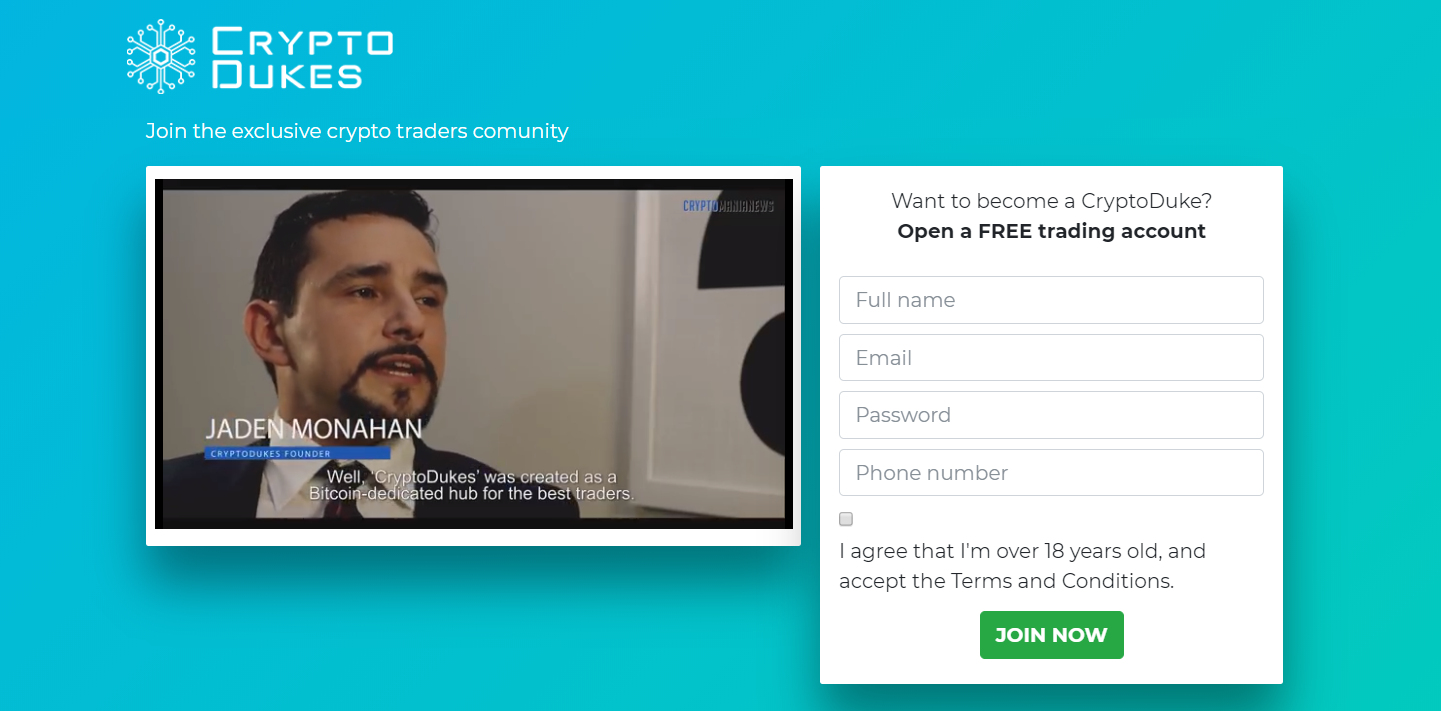 The strange part is that, like I said, there are other sites out there promoting this system. Another one I came across was cryptodukesco.de, which you can see a screenshot of below. This site was very different. It was more of your typical get rich quick scheme. On the site they state that you can earn $1,432 per day with this system and go on and on about how simple it is to use, which is a major red flag.
In addition to this, they tell you that the creator of the system is a guy named Derrick Simmons, which you can see below.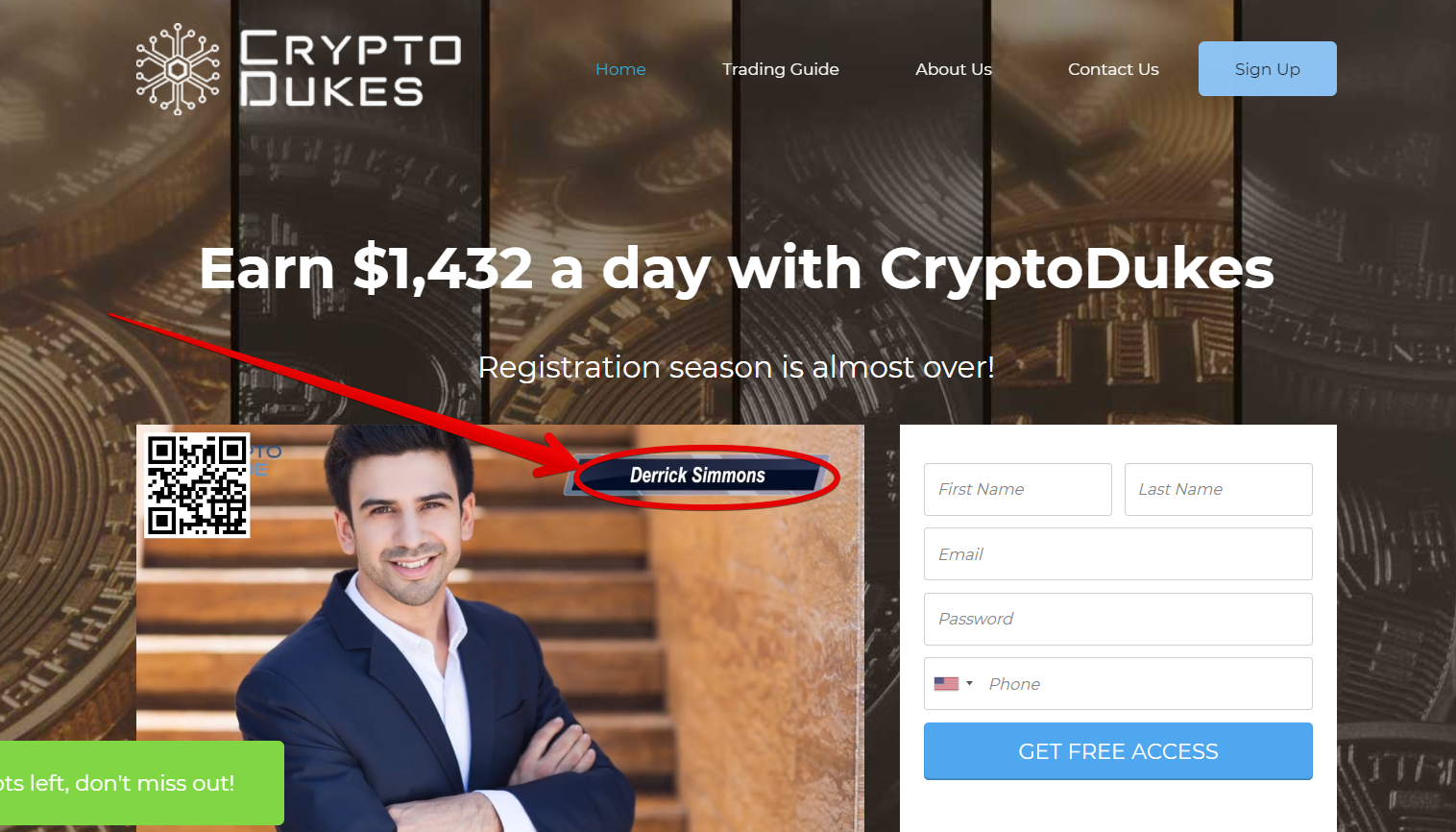 Both of these websites are promoting the same system. They both have the same Crypto Dukes logo and everything yet they have different creators. This is a major red flag. Who is the real creator here? Why do the video presentations provide different information that does not match up?…. so many questions and no answers to them.
Definitely NOT Free
They lead you to believe that you will be able to test out a demo account or get to use this system for free in one way or another but this happens to be something that just isn't true.
What they do is push you to deposit $250 minimum with an unregulated broker, which is a risky game. There are lots of unregulated brokers out there and what unregulated means is that there are no authorities looking over them making sure they are doing the right thing, meaning that they can easily scam people basically.
I mean it makes sense and all that you would have to deposit money into your account first. Of course if you are going to trade cryptocurrencies you are first going to have to buy some. Trading is all about buying and selling.
No Need For a Broker
The fact that they refer you to a broker is a major red flag by itself. If you are new to all of this then you probably wouldn't know but what you should know is that to trade cryptocurrencies there is no need for a broker at all. If you are looking into a cryptocurrency trading opportunity that refers you to a broker then it is more than likely a scam, as I mentioned in my 10 Ways to Spot a Cryptocurrency Scam post.
Anyone can create trading accounts on the many cryptocurrency exchanges out there and they provide API which means that you should be able to hook up a trading software like this directly to the exchange. There is no need for a broker of any sorts.
I have been trading cryptos for a while now and use several different trading programs that are hooked up to my exchange accounts. This is how it should be if it were legitimate. But they refer you to some untrusted broker that you are just supposed to deposit a bunch of money with…. very shady.
When I signed up to use the Crypto Dukes system I was directed to a broker named eMarketsTrade. I will say that the site was very professionally set up and looked great, but I just don't trust them at all. There is no information about them really and after being directed to them from a pretty obvious scam, it makes sense to not trust their operations.
What Is Going On Behind The Scenes
I review automated trading systems that refer people to unregulated brokers like this all the time and it usually is the same type of thing that is going on.
These scam trading systems that are being advertised, like Crypto Dukes here, are making money by referring people to these brokers. From what I understand the brokers they are referring people to are completely different entities, but they way they make money is by earning commissions on the deposits users make.
So the Crypto Dukes system refers you to some broker (eMarketsTrade for example) and you deposit money… the creators of this Crypto Dukes system then earn a commission from referring you.
Bitcoin Bonanza, One Bitcoin A Day, Bitcoin Focus Group… these are some other recent scams that do the same sort of thing.
Your Typical Automated Trading System Scam
This seems to be your pretty typical scam of this type. They tell you everything that you want to hear…. that it is super easy to use, that you can make tons of money, and that you can use it for free of course.
Supposedly it is the fastest, safest, and most reliable crypto trading system on the market and it uses an algorithm that is "miles ahead of the current competitors' trading algorithms", but it seems that every system out there tells you a bunch of BS like this. The bottom line is that there is absolutely no proof that any of what they are telling you is true.
Anyone can say a bunch of things but without evidence that it is true or not then you simply cannot trust it.
Just Can't Trust This Place
Ok so lets think about it all for a second…from the start everything looked phony. There are multiple sites promoting this system and they are providing different information. Second, it all sounds too good to be true. If it were so great they wouldn't just be giving away free demo accounts to the public like this. Third, they refer you to some broker which cannot be trusted and which is a completely unnecessary step in the cryptocurrency trading process. And lastly, they just don't give any proof that any of this is actually real.
You can buy into this and test it out if you want to but I would absolutely recommend against it. I have reviewed so many of these scams and this seems to just be another one of many.
Something you may be interested in (or not) is how I make a living working online. It has nothing to do with cryptocurrency trading by the way, but its something you might want to take a look at. You can click the button below to see what I do, how it all works, and what the best way for beginners to get started is.
Please leave any comments, questions, or concerns below and I'll get back to you soon 🙂