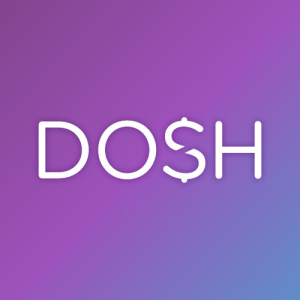 Welcome to my review of the Dosh App. If you are thinking about downloading this app and earning some cashback on normal purchases then you are going to want to read this first.
In this review I'll be going over a few important things that you should know beforehand… things like how it works, how much cashback you will get, complaints and more. If you know me then you know I'm into getting cashback and have reviewed multiple other cashback apps/programs. So I'll also be comparing it to others so that you know if its your best choice or not.
Dosh App Review
---
Dosh is a cashback app that pays you a little cashback on ordinary purchases. Dosh is partnered with a bunch of stores, restaurants, services, etc and gives you cashback for spending money with them. They offer cashback for both online purchases and in-store purchases which is really nice.
One of the best parts about this app is that it is extremely simple to use. There is no need to upload receipts of anything like that. They make it easy and hassle-free for people to get the cashback they deserve.
How It Works
After downloading the app for free you will have access to all their cashback deals. As I said, they offer both online and in-store deals.
Online
The online cashback deals are pretty straightforward. You shop through them. You are directed to the actual online store. Your purchase is tracked and you get your cashback.
The online cashback offers are great and all but its the in-store offers that Dosh is really great for. You don't see many good cashback programs/apps that offer many in-store cashback deals but Dosh does.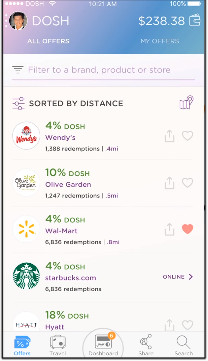 In-Store
The in-store deals are location-based obviously. In the app you will be able to view all the local cashback deals. You can sort them by distance which is nice and convenient. The amount of deals you will have available is of course dependent on how many stores are in your area, but generally speaking I would say Dosh brings a fairly large amount of local deals to people using the app. They are definitely one of the better in-store cashback apps out there for this reason.
What is really nice about their in-store cashback program is that you do not have to scan or upload receipts. You will just have to scan your credit/debit card and the purchases made with it at participating stores will be tracked automatically.
Another thing that is nice that you don't see all that much with cashback programs is how Dosh offers cashback at fast food restaurants. For people who buy fastfood a lot this could be a big deal.
Referrals
Like most of these apps, Dosh will pay you to refer other people to join. You can earn up to $15 (this changes at times) to refer other people to join at no cost to them. If you would like to help me out you can join through this link here: Dosh.cash/join
You will also get a $5 bonus if you use my referral link to join which is nice.
And thank you if you do!
How Much Cashback Will You Get?
There is no set amount of cashback that you will get. This depends on the place you are spending money at. You will find some places that offer 10% cashback and other places that only offer 2%.
I would say that you can generally expect to earn anywhere from 2-6% cashback, which is actually pretty darn good. As I said, I've reviewed many cashback programs before… TopCashBack, ExtraBux, ShopAtHome.com, Complete Savings, Less For Me, Drop Rewards App, etc… Usually you can expect to earn 1-4% cashback on most of these sites. So the amount that Dosh pays back is on the higher side for sure.
Once you get $15 in your account you will be allowed to withdrawal the money via Paypal or direct deposit. They are quick about getting you your money.
Complaints
Lack of Stores
For in-store purchases as I've said it is very dependent on where you live. If you live in a very rural area this might not be that great for you. But if you live in a city there is a good chance there will be plenty of offers.
And of course when it comes to the online offers there are plenty for everyone.
Doesn't Work With Every Credit Card
Dosh does not work with every credit card brand out there. As I am writing this they work with Visa, Mastercard, American Express. People have complained about it not working with Discover. This may change in the future however.
Glitches in the App
Then of course there are complaints you will find about glitches that there are in the app. These are inevitable when it comes to technology like this so I was expecting to see this. But overall I would say they do a good job at keeping their app running smoothly.
Conclusion on the Dosh App – Worth Your Time?
Overall I really like what the Dosh App brings to the table. It provides both in-store and online purchases and makes it very easy to receive cashback from in-store ones, which usually isn't the case. It also offers a good amount of cashback has a lot of offers available for in-store purchases which you don't see all that much….. So, ya… its a good app.
[thrive_link color='teal' link='https://link.dosh.cash/YCLI/tiX9hpt9lJ' target='_self' size='medium' align='aligncenter']Download Dosh App Here[/thrive_link]
Another app that you should take a look at is Ibotta. It is one of my favorite cashback apps out there and is particularly good for in-store grocery shopping.
If a little cashback isn't for you and you are looking for more, you might be interested in this program. I've been a member since 2015 and make a full-time income online with it now.
==> Program I'm talking about here
Questions or comments? Leave them below in the comment section and I'll get back to you 🙂