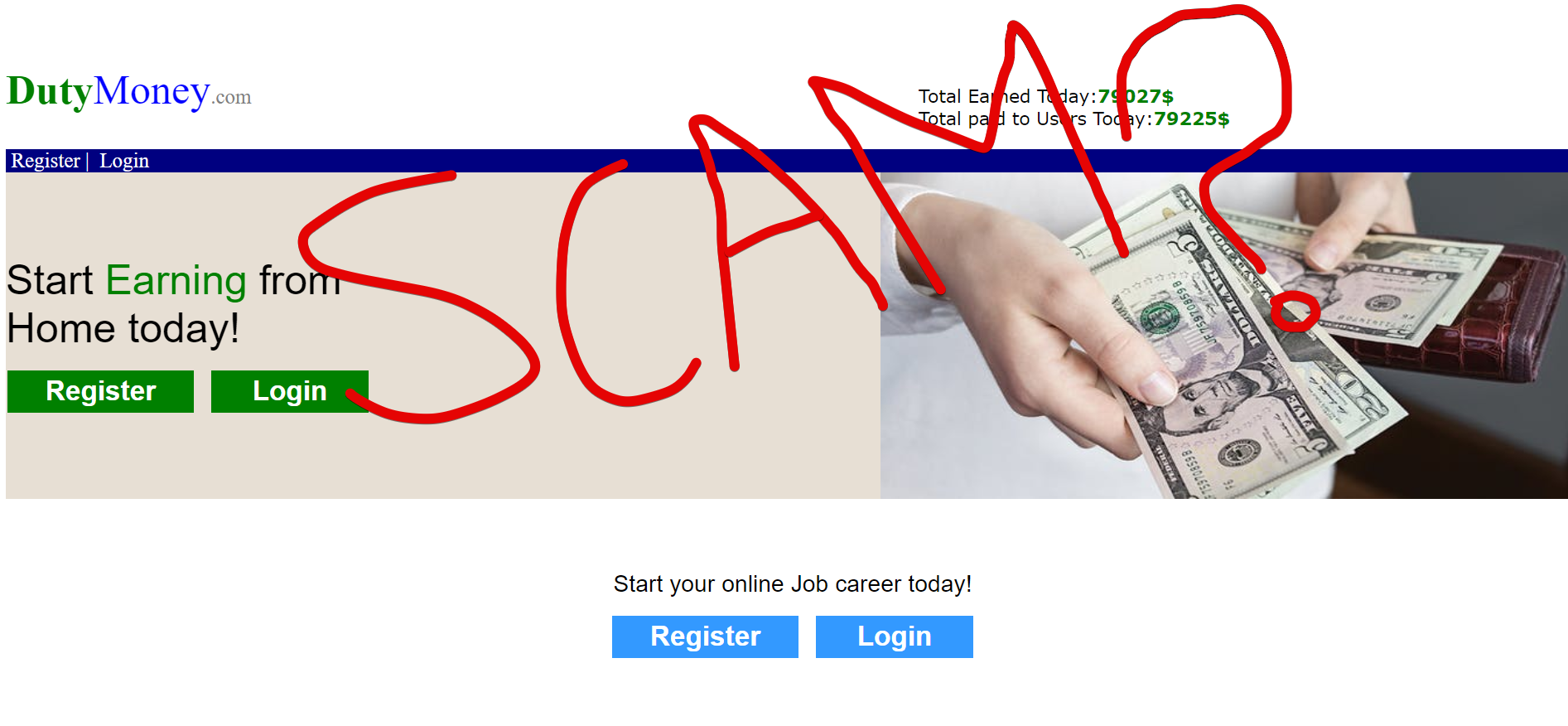 Duty Money claims that they will pay you good amounts of money for performing very simple tasks. But is this really true and can you trust this old rundown site that looks like it was made back during the start of the internet? Seriously… this site looks horrible.
The point of my review here is to tell you and prove to you that you cannot trust this site. They lie and are not going to pay you as they say they will. This is a good old fashion scam and although it is free to join, you will be wasting your time with it.
Duty Money Review
Duty Money (dutymoney.com) is free to join and claims you can start making money from home today with their site. On the homepage there isn't much information at all. All they do is show you is the total amount of money paid to users today and give you the option to login or register.
There is nothing telling you what you will be doing to make money online or anything like that.
However, before joining to see what its all about I already knew. How? Well because I review other programs in the past that are identical to this such as Dollar Tell and Regular Dollars. You can see from the screenshot below that the Regular Dollars program's homepage is the exact same…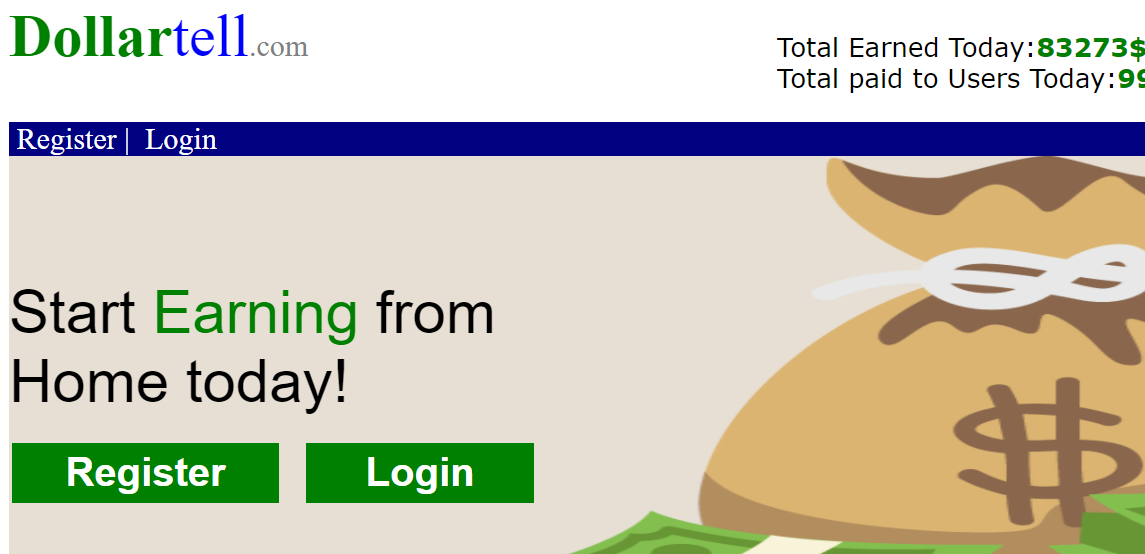 How You Make Money
Once inside you will see that the only way to make money is by getting other people to join the site. They provide you with an affiliate link that you can share and when you get people to sign up through it you will get credit and supposedly get paid $10.
They tell you that you should share your link on social media, forums etc to get people to sign up through it. Then they can do the same thing… get others to sign up and get paid $10.
This sounds a bit strange though right? I mean where is the money coming from in the first place? They need to be making money somehow in order to be able to pay you money like this so where is it coming from?
Here is what they tell you
They tell you that you are getting paid to help generate traffic to their advertisers websites. So this means that there should be ads on the site. It would make sense if there were ads. You would be getting paid for driving traffic to the site that would then go on to click ads.
The problem is that there are no ads on the entire darn site. This is the same for the other identical programs I reviewed that I mentioned.
I even made sure to turn off my adblocker and still no ads. This makes absolutely no sense and is an obvious lie.
$300 Minimum Payout???? Seriously?
This is a sign of a scam. They have an extremely high payout amount. Why do you have to wait to get to $300 before you can cash out?
I'll tell you why…. so that you waste your time referring others to join the site and waste even more time trying to reach that $300 level… only later to find out that you can't get your money and that it was all a scam.
Just think about it. If they had a $20 cash out amount then people would find out its a scam right away. They want to leave you hanging.
What They Are Really Doing
What they are really doing here is capturing your personal information… your email in particular. When you register you enter your email. People sell emails for online marketing purposes and that is what I'm guessing these scammers are doing.
They are capturing a bunch of people's emails and selling them. So if you did sign up then don't be surprised if you start getting a lot of spam emails in your inbox. There will be people trying to sell you things if my theory is true.
Conclusion on Duty Money – Scam
Duty Money is one of the most busted up, run down, low class scams that I've ever seen. The entire net worth of the website is probably about 5 cents. The poor look of the website itself should have been enough to turn you off about this opportunity. I'm guessing it probably was judging by how you are reading my scam review and all.
If you want a way to make real money legitimately online then I'd suggest taking a look at how I do so. I make a living working online and have been doing so since 2015. You can read my guide to making money online here where I go over what I do, how it all works, and how others can get started.
If you have any comments or questions be sure to leave them below and I'll get back to you soon 🙂