Easy Income System claims to be an easy way to make money online. But is this too good to be true? Is Easy Income System a scam like the many other programs online that make similar claims? Or could this be your one way ticket to financial freedom?
I came across this program recently and decided to review it because I know a lot of people are going to be getting involved in this without knowing what they are getting themselves into. The promotional material that I have come across flashes big dollar signs and is somewhat misleading. While you can make money this isn't what should be called an "Easy" Income System.
Easy Income System Overview
Easy Income System (EIS) is an online marketing system that was put together to promote MCA, or Motor Club of America. MCA is a mlm company that you can earn money with when you recruit people into it, as well as from the people that they recruit, and that they recruit, and so on.
Easy Income System consists of a pre-made website, sales funnels, pre-made email & SMS marketing campaign, and training. It is all set up for you to promote it. You won't actually be promoting MCA, you will be promoting EIS, which will do the MCA promoting for you.
This is not a completely done for you system however. There is training for a reason. You will have to put the training into action and do the marketing.
How You Make Money
Ok, so there are 2 ways that you can make money with Easy Income System: By getting people to become members of MCA and by getting people to become members of Easy Income System.
You are going to be promoting this Easy Income System (EIS) program to other people just like how it was promoted to you. You will be sending people to your EIS website in which they will be shown the sales video and asked to buy a membership. Then of course after buying the EIS membership they will have to buy a MCA membership to follow along with the system.
You will earn money from both of these memberships.
There have been nearly identical programs like this that I have reviewed in the past that promote MCA, Daily Income Method being one of them.
The Cost
There are 2 memberships for Easy Income System that you can buy. There is the Basic for $39/mo and the VIP for $297/mo. As you are able to see below, the VIP is better because you will make money off of people that you bring in at the VIP level, whereas you will not with the Basic…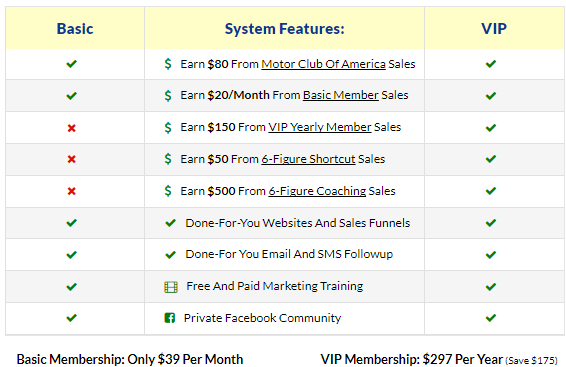 You will also have to pay for the MCA membership separately. There are 2 MCA memberships available but the one that you need to buy in order to make money promoting this is the Total Security membership which costs $39.90 for the first month and then $19.95/mo after that.
Is This Really "Easy"?
The short answer = NOPE. Most people will fail without a doubt.
Promoting MCA and making money from it is at the core of this system. Unfortunately MCA is a mlm company which almost always means that not many people make money.
You see when you recruit new people into MCA you can earn money from their sales, and from the people that they recruit in, and from the people that they recruit in, and so on. You will be able to earn down to 4 generations below you.
1st Gen – $80 – $90/sale
2nd Gen – $6/sale
3rd Gen – $1.32/sale + $0.66/mo that they are a member
4th Gen – $1.32/sale + $0.66/mo that they are a member
This pyramid-like mlm structure makes it necessary to recruit and have a big downline in order to make good money. Because of this not many people will make good money, since it relies on those being beneath you and there will always be more people at the bottom of the pyramid structure than at the top.
I review mlm's like this all the time. For example I reviewed Nature's Sunshine and Mannatech the other day and its the same sad story…. most people fail miserably.
I will however say that MCA's mlm compensation structure is fairly conservative and not as bad as many of the mlm's I have looked into.
Another reason this is not easy is because you will have to put the training it gives you into action. The marketing training is there for a reason. It will teach you free and paid ways of traffic generation which is not an easy task. I have been working online since 2015 and I could go on and on for an hour on why this is not easy. If it were easy then everyone and their mothers would be making money online.
Conclusion on Easy Income System – Scam?
Easy Income System is somewhat "scammy" because they make it sound way easier than it really is to make money like this. However, you can make money doing this and some people will go on to make good money… so its not a complete scam in that sense.
But I still cannot recommend this program because I have not personally tested it out and I there are better options out there. If interested, I would suggest taking a look at how I make a living online. I enjoy what I do and it is more realistic to make money online this way.
==> Learn more about how I make money online here
Questions, comments, concerns? Leave them below in the comment section and I'll get back to you soon ?