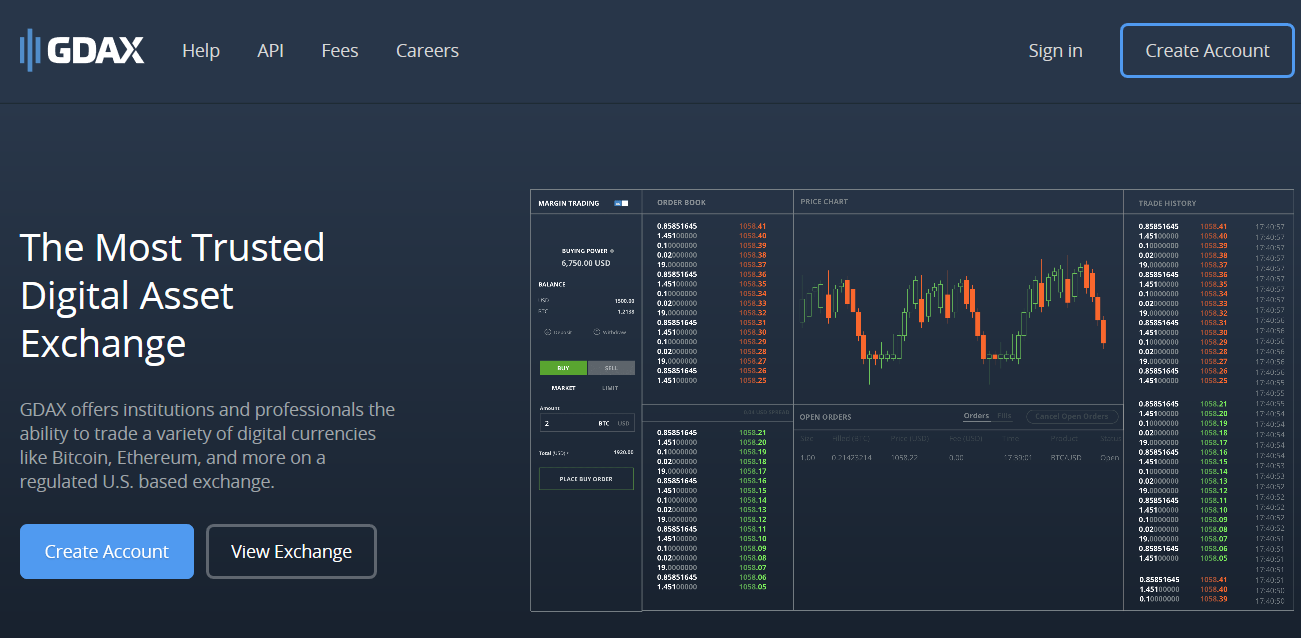 If you are looking to buy or sell bitcoin, bitcoin cash, ethereum or litecoin online then GDAX is one of the options that you have. But I'm sure you have heard horror stories of investing in cryptocurrencies and using sites like this. Maybe you have heard about the notorious Mt Gox exchange that lost billions of dollars worth of bitcoins (at today's value), or maybe you have heard of more recent exchanges getting hacked.
So is this a place you can trust? Or is GDAX a scam that you should avoid like the plague? I'll give you a spoiler alert right now and tell you that GDAX is legit and I have been using them for quite some time. In this review I'll be going over why they are one of the better and more trusted exchanges out there, their insurance policy, fees and more.
GDAX Review
The fact that GDAX is a regulated US based exchange says a lot. I'm not saying that this necessarily means you can trust them right away but the fact of the matter is that in the US they are subject to much more laws and regulation than many of the other exchanges operating across the globe. This means there is more customer protection.
GDAX is actually run by Coinbase, which comes out of San Francisco. They have been around since 2012 and have grown to probably (in my opinion) be the most trusted exchange there is. Many people use Coinbase as a way to first get started in cryptocurrency. They go through them to buy their first bitcoin…. ethereum or litecoin.
Anyways.. you can read my Coinbase review here if you would like. And just to be clear… Coinbase.com & GDAX.com are 2 different places run by the same company. The major difference is that GDAX isn't quite as user friendly and is designed more for professionals or institutional investors making large purchases. GDAX might be a bit more complicated but on the plus side they charge less fees, which is why I use them.
What is GDAX Exactly?
I'll make it more clear what they are and what they offer here…
GDAX is a dollar (or EUR) to cryptocurrency exchange. What they do is match people that are looking to buy cryptocurrency up with people looking to sell it. So if you are wanting to buy crypto, which I assume you probably are, you will set a buy order for a certain price. If you buy at what is the current market price then your order will be filled instantly because there will be plenty of sellers selling at that price at the same time.
What makes GDAX so great is that you can easily buy with real USD (or EUR). This is actually not all that common in the cryptocurrency space. Most exchanges only exchange for USDT (tether), which is kind of like the cryptocurrency version of USD. But anyways.. .I won't get into that. All you need to know is that GDAX makes it easy to buy or or sell cryptocurrency straight from your bank account.
GDAX vs Coinbase
As I said, GDAX is more for professional traders/investors. It is a little more complex but charges lesser fees. At GDAX you have access to the order book so that you can see the stream of bids/asks going through and you have access to a much more informative price charge with a couple technical analysis tools available.
Ex:
On the downside (other than being not quite as user friendly as Coinbase) GDAX doesn't allow you to purchase cryptocurrencies with a credit/debit card like Coinbase does, which makes things extremely fast and simple.
Insurance Policy
I think its worth mentioning that GDAX does insure USD balances through the FDC up to $250,000, just like any normal bank does. This is a pretty big deal in my opinion and gives you some piece of mind.
The Fees
GDAX's fees are pretty much nothing. They have what is called a Maker or Taker fee. And basically this is how it works: If you place an order (lets say below market price because you want a good deal) then your order will likely not be filled immediately, which means you made the order and are a Maker. But if you place an order and it gets filled immediately then you are a taker, because you got matched with an existing order (on the opposite side: buy vs sell) and took the order.
If you are a taker there is a 0% fee, which is awesome. And if you are a maker you will pay a fee of anywhere from 0.1 – 0.3% depending on the amount of volume that you trade, which I'm not going to get into.
The point here is that the fees are extremely low. You will be paying 0.3% at most. This is much less than Coinbase's 1.49% fee for bank transfer buys and 3.99% fee for credit/debit card buys.
Buying/Selling On GDAX
Ok, so I'm going to use USD for buying/selling as an example.
When you are looking to buy bitcoin, ethereum, or whatever, with USD or you are looking to sell those cryptocurrencies back into USD, everything has to go through your GDAX USD wallet first.
So to buy, first you would have to deposit the money into your USD wallet within your GDAX account. This can be done through bank transfer, wire transfer, or your Coinbase account (if you have USD over there). And when you sell crypto's back into USD it will end up in your USD account at GDAX, which you can then transfer to your bank account.
Setting Up an Account
To create a GDAX account you will need to create a Coinbase account since GDAX is run by Coinbase. Even if you go to GDAX.com and create an account you will be redirected to Coinbase.
So what I suggest is just going to Coinbase.com/join. Also, if you use my referral link Here you will be able to get $10 worth of bitcoin free and so will I.
Once you create a Coinbase account you will be able to login to GDAX with that account.
Conclusion on Everything – Should You Use GDAX?
GDAX is my go to exchange when buying into cryptocurrency with USD or when selling back into USD. It doesn't get any better in my opinion because they are very trustworthy and have low fees. Of course in the world of cryptocurrency there is always some risk involve, such as potential hacking, etc… but GDAX seems to be very well managed and is a very professional trading environment.
I definitely do recommend GDAX. Coinbase I also recommend but mostly for newbies who aren't looking to purchase all that much.. just because of the fees they have. If you are buying or selling large quantities to or from USD (or EUR) then GDAX is a great choice.
If you have any questions or comments be sure to leave them in the comment section below and I'll get back to you soon 🙂