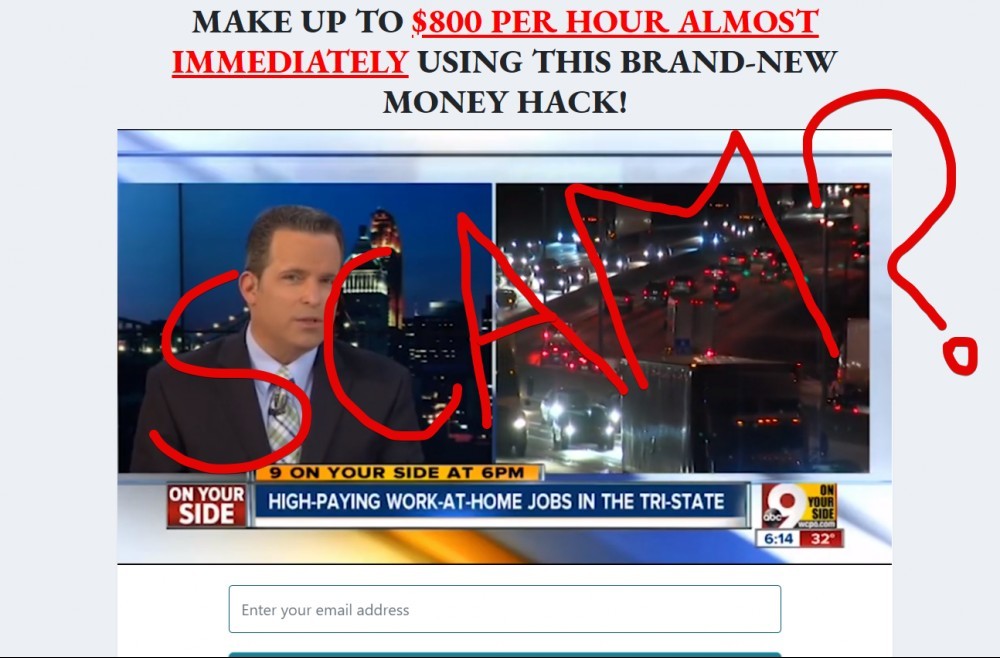 Instant Payday Tricks is supposedly some awesome new system that uses a "simple trick" to make you money on autopilot. The spokesperson in the video claims that it can make you $800 per hour or even $1000 per hour with minimal effort. But is this really true? Or is Instant Payday Tricks just another nasty scam that is going to be a waste of your time and money?
Unfortunately… This is just a scam… Nothing more, nothing less. And in this review I will be proving this to you. If you are considering buying in you are definitely going to want to think again. Not only will this system/program waste your money but it will also waste your time and lead you in the wrong direction.
Instant Payday Tricks Review
When you land on the website you are presented with a video presentation that starts off playing a few news clips from real news broadcasts. The broadcasts are about making money online and these were edited into the video presentation to try to make this opportunity seem more legitimate. However… These news clips have nothing to do with Instant Payday Tricks.
Right after the news broadcasts are done playing the spokesperson goes on to say that can get paid up to $800 per hour or even $1000 per hour with minimal effort. He proceeds to show a few people that have supposedly been making thousands of dollars with the system.
The sad thing is that all the people he shows are completely fake and made out. They were fabricated for nothing more than the purpose of promoting this nasty scam.
Below is a picture of "Tracy Lund", who he claims is an 80-year-old retiree who just got paid over $3000. But of course none of this is true. I ran a reverse Google image search on the picture displayed in the video presentation and found that this is actually a stock photo that can be purchased on Shutterstock… Meaning that it is not some woman named "Tracy Lund" who supposedly tested out the system.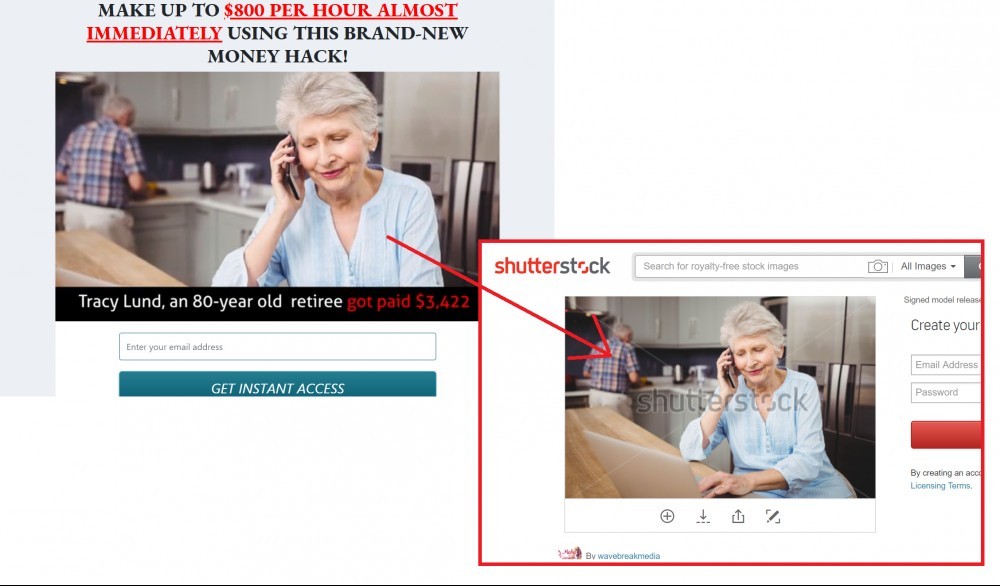 All of the other people he shows are also fake. He claims that this guy, Craig Jensen, is a high school dropout that just got paid over $4000, but of course this is just a fake picture as well…
Throughout the video presentation you are told that this system makes you tons of money by using some "simple trick" and that it will make you money on complete autopilot. He claims that you don't need any knowledge, experience, or even any work ethic to make money with this. You can be lazy and still do it.
He then goes on to say that the simple trick he is talking about is artificial intelligence, or AI. He talks about how Google, Facebook, and all these big companies use AI to make tons of money, but never explains anything about how this Instant Payday Tricks system uses AI.
But hey… He claims it can make anyone up to $70,000 per month!
Typical Get-Rich-Quick Scam
Overall Instant Payday Tricks has all the makings of your typical get-rich-quick scam. The spokesperson lures you in by talking about making super easy money online, and tons of it, but then of course does not back up the claims.
I'll be going over what you are actually getting when you buy into this "system" for $37 below, but first I want to go over a few red flags from the video presentation that point this being a scam.
Red Flags
Ridiculous income claims – Making up to $1000 per hour… Are you kidding me? This might be one of the most ridiculous income claims I've ever heard from any get-rich-quick scam. In that is saying something because I review these scams all the time, including some recent ones such as Smart Money Methods and 3D Wealth Machine.
Complete autopilot – Always proceed with caution when you come across some opportunity that claims to run on complete autopilot. This guy claims that it only requires you do click a few buttons to make money with this system. This is a complete lie.
Fake images – Of course a major red flag is all the fake images that he displays during the video presentation. None of these people have actually made any money with the system and they are completely fabricated. Why would you trust someone that lies to you like this? I sure wouldn't.
The "system" is just a bunch of crap – As you will see below, what you are actually buying into is nothing like you are led to believe. It is absolutely horrible.
What You Get
Throughout the entire video presentation you are led to believe that you will get some "system" that is going to do pretty much everything for you. All you have to do is click a few buttons, right? Well… That is not what you're getting at all.
When you buy into this crappy system for $37 you will get access to some e-books, a few articles, and some video training.
The video training is on subjects like article marketing, article sharing on Facebook, selling on ClickBank, and other things. There is not one focus to this program. It is basically just a bunch of information jumbled all together on many different "make money online" methods.
The video training is absolutely atrocious. As I said… It is just a bunch of information jumbled altogether. There's no clear outline or steps to take. Once inside the members area you will likely not know what the heck you're supposed to do, which makes it horrible for beginners and equally bad for anyone else trying to make money online.
The e-books are the same way. They might provide some valuable information, but definitely aren't worth paying for.
Overall the information here is horrible and can easily be found for free online. That said, I wouldn't even suggest trying to find information like this for free online. Why? Well… Because the information provided in this program is outdated and will just lead you down the wrong path… Wasting your time and teaching you to do things that don't work anymore.
Can You Really Make $800 Per Hour With This?
There is no way that anyone is going to make $800 per hour with this. This is one of the most ridiculous income claims I have ever heard.
In fact, there is a darn good chance that you won't make a penny with this. What is more than likely going to happen is you will pay the $37 and then you will be out $37… You will end up making any money back.
Maybe you will maybe you won't, but that's my prediction based on how bad this product really is and what I know about online marketing having been making money online since 2015.
A Definite Scam
There is no doubt that Instant Payday Tricks is a scam. Just your typical get-rich-quick scam here… Talks about being able to make tens of thousands of dollars per month, that are completely unrealistic.
Now there is some value provided with this product. I mean… You do get get access to e-books and video training, which I'm sure have some good takeaways of value, but overall it is just a bunch of crap.
With the amount of outdated information it provides it is just going to harm you more than help you. It will just end up taking you in the wrong direction where you will waste your time on outdated methods/techniques that simply do not work anymore.
Feel free to buy into this if you really want to, but this is obviously not something I will be recommending.
Recommendation for Newbies
If you are a beginner looking to make money online and don't really know where to get started, I would suggest the Wealthy Affiliate training program. This is where I got started back in 2015 when I first started looking for ways to make money online.
Wealthy Affiliate provides step-by-step training that is new be friendly. It starts out assuming that you know nothing, which is obviously really nice for beginners. What is also nice is that it provides the tools necessary to get started. You can become a member you and you don't have to go out to purchase other products/services.
But anyways… If interested you can click the button below to read my review of Wealthy Affiliate where I will go over everything in much more detail…
Please feel free to leave any comments, questions, or concerns below. I'll get back to you as soon as I can 🙂 Also let me know what you think of Instant Payday Tricks.