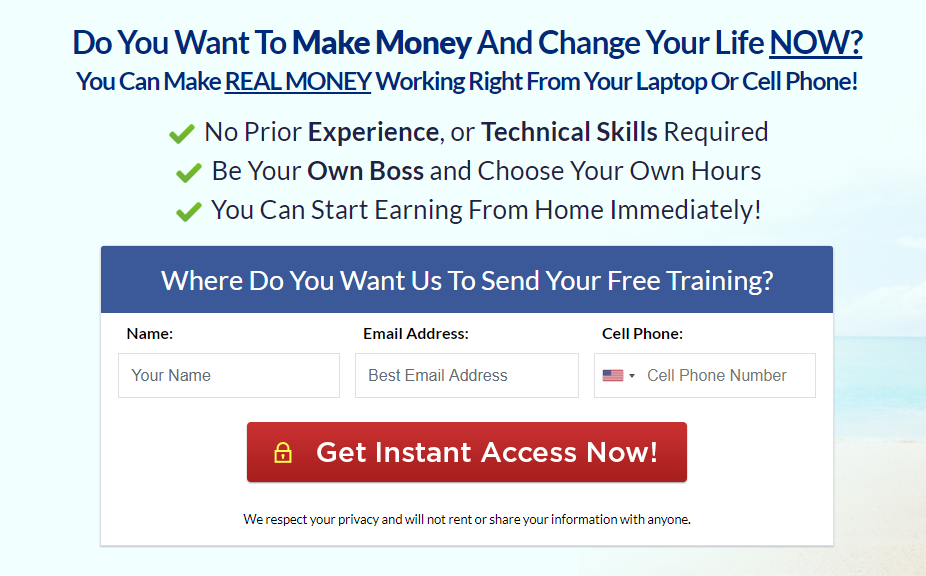 Laptop Lifestyle Secret claims to be an amazing work from home opportunity and even claims that you can start earning money right away with this "secret" system. But can you really believe claims like this these days??? Especially when it comes to making money online and the plague of scams that are out there?? Is Laptop Lifestyle Secret a scam like it seems to be or is this really an amazing opportunity?
I know there are a lot of questions surrounding this system and its legitimacy. That is why I decided to put together this review. I'll be going over what the truth really is… which isn't what they tell you. While I wouldn't consider this place a full-blown scam, they are somewhat "scammy", and you will see what I mean by this.
Laptop Lifestyle Secret Overview
The guy in the sales video for Laptop Lifestyle Secret is named Jeff Lerner. He tells you all about how he used to be broke and now is making $100,000's every single month. And of course he is going to share with you the exact system that he uses to make this money… and this is what Laptop Lifestyle Secret is.
He tells you that this system "can dump commissions into your bank account completely on autopilot". And these commissions range anywhere from $500 to $10,000.
Sounds crazy right? Well some of this is true but it is still probably not what you think.
The Real Program Here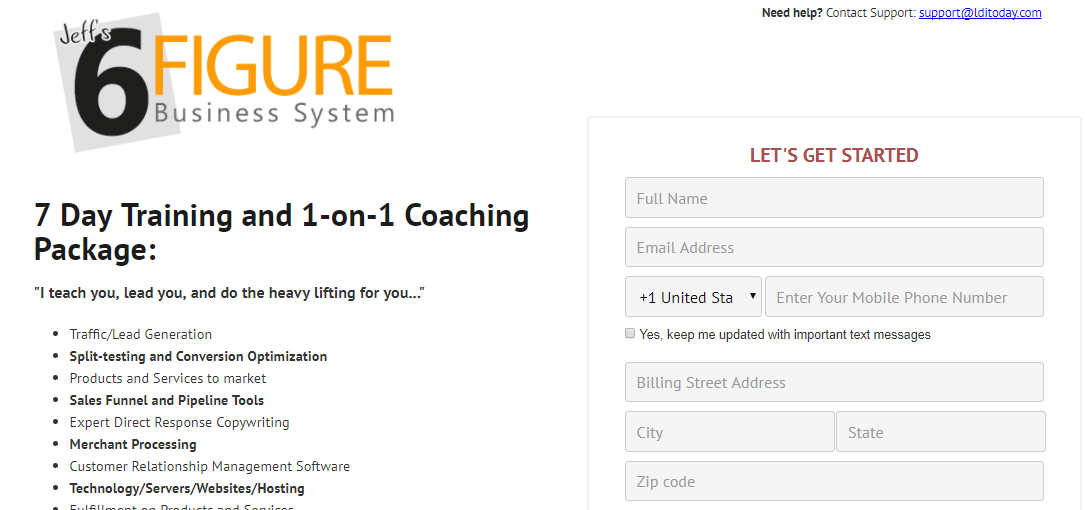 The first thing that I want to point out is that there isn't actually a program called Laptop Lifestyle Secret. The real program here is called Ultimate Laptop Lifestyle, or as they call it on the checkout page"Jeff's 6 Figure Business System"
The Laptop Lifestyle Secret website is just a funnel site that is set up to funnel people into buying Ultimate Laptop Lifestyle.
And this is basically what you will be doing if you buy into this program. Ultimate Laptop Lifestyle is what you call a "high ticket" program, meaning that it is very expensive and you can make big commissions selling it, which is what you will be doing.
This is basically one of those "buy this program and you can make a lot of money getting other people to buy this program type of deals". You will get a bunch of training, done for you sales funnels, etc.. which will be to get you to go out and promote Ultimate Laptop Lifestyle to other people. This is very much like the programs Aspire & MOBE.
The funnel website "Laptop Lifestyle Secret" that funnels you into Ultimate Laptop Lifestyle is an affiliate website and the person that made it is getting paid when they get people to sign up.
Now there is nothing wrong with promoting programs/products online, but I don't like how they mislead people.
Misleading Claims
"You can start earning immediately"
This just isn't going to happen… period. There is a lot of training and implementation you would have to get through in order to start making money.
Commissions from $500 up to $10,000
You can earn massive commissions like this because Ultimate Laptop Lifestyle has extremely expensive products that you will be able to sell. The catch is that you will first have to buy the products yourself in order to make money promoting them.
So while this is true it is somewhat misleading.
"can dump commissions into your bank account completely on autopilot"
Making money online does come with its perks. One of the big perks is that you can automate a lot of the processes. So this is true. But what they don't tell you is that you will still have to put in a lot of work to get things moving. This is not what I would call easy, as they make it seem like it is.
The Cost
A membership starts out at $49/ mo but this is just the beginning. As I mentioned above, you will have to buy the products at Ultimate Laptop Lifestyle before you can earn selling them.
You will be pushed into buying the upsells once you are a member. And you will pretty much have to if you want any chance of making good money. This will cost you thousands upon thousands of dollars.
Conclusion on Laptop Lifestyle Secret – Scam?
I guess I wouldn't call it a full-blown scam because you can actually make money with this, but… it is very scammy and misleading. They make this program sound much better than it really is. Because of this there are going to be a lot of people out there that feel they have been scammed once they find out that it is nowhere near the easy money making system that they were led to believe.
There are a lot of reasons why I would not recommend Ultimate Laptop Lifestyle, one of the main reasons being it is just too risky. You will have to spend a lot to make a lot and unfortunately many people out there don't have the budget to do this.
If you are looking for a more legitimate and affordable program that the average Joe can realistically make money with then I suggest taking a look at this program.
I started with this program back in 2015 and am still a member to this day. Its also notable that I make a living online now and pretty much all of my success can be attributed to what this program has taught me.
==> My No. 1 Recommended Program Here
Questions, comments, concerns? Leave them below in the comment section below and I'll get back to you soon ?