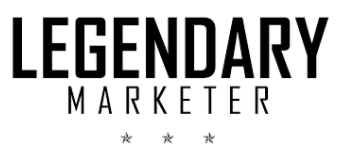 So I'm guessing you were just on some promotional sales page for Legendary Marketer or another program funneling people into buying the Legendary Marketer system and are a bit suspicious of whats going on here. The sales pitches that you usually see for this are over-the-top, way over-hyped spiels about how much money you can be making. They usually lure people in with the hopes and dreams of making it rich.
But can you really make it rich with this system? Or is Legendary Marketer System a scam that is going to leave you with nothing but less money in your bank account? The truth is that it isn't a scam and you can make money… HOWEVER, there is a lot of misleading information out there that is giving many people false hopes and dreams.
Legendary Marketer System Review
The Legendary Marketer System is a membership training program that also provides tools for digital marketing. It was created by David Sharpe who has made a heck of a lot of money selling digital marketing products online for a while now.
David Sharpe is well known for his high role in the Empower Network, which was basically a massive pyramid scheme that imploded.
This Legendary Marketer System is often promoted under different names. One of the most popular being "Duplicate Dave", which is a program that you can buy into to copy Davids marketing system.
What Is Legendary Marketer System Really?
The truth is that its basically one of those systems that people buy into to make money online and then end up making money online by getting others to buy into it…. and then the cycle repeats.
The training/ tools that members are provided with can be used for any online business but members are pushed to promote the system. This is also the easiest choice because there are many "done for you" features if you do this such as sales funnels, capture pages, etc.
The Licensing Rights Business Model
This uses the same business model that MOBE and Jeff's 6 Figure Business System does in this sense. It requires members to first purchase the products they want to sell to others. These products are what you call "high ticket" products, meaning they are really expensive and along with this you can make big commissions.
This model keeps the money flowing. Pretty much if members want to make money promoting the system, which they are pushed to do, then they will have to spend a heck of a lot. You will see this when you see the prices…
The Products
The introductory products are just to get people's feet in the door. They don't cost much, don't provide you with all that much, and you can't make much money selling them. The core products are extremely expensive and this is where you make big commissions.
Introductory Products
Legendary Marketer Club – $30/mo

Will be provided with beginner training in Youtube, Facebook, and Instagram advertising.
Will learn how to generate leads
Have access to online business tools

Traffic Rolodex – $47 one time

This is designed to help guide you with traffic generation
Core Products
Legendary Builder Masterclass – $2,500 one time

This is what they call the "foundational" product for online business. You will get access to more tools, training, and there is a lot more focus on strategy.

Legendary Leader Masterclass – $5,000 one time

Here you will get everything from the less expensive core product plus you will get more training on branding out your business and scaling. You will have access to exclusive interviews with people successful in the industry.

Legendary Marketer Mastermind – $8,000 one time

Here you get everything prior plus access to the in-person mastermind groups were top strategies of conversion, traffic generation, etc. You will have access to future mastermind events too.

Legendary Marketer Mastermind – $12,000 one time

I'm actually not too sure what this is. On the website it has the same description of the one above yet it costs more. Not really sure about this. If you have any insights about it you can leave a comment below.

Legendary Lifestyle Experience – $30,000 one time

This is the most expensive product there is. Here you will get more mastermind group access with VIP status, but the most notable part of this product is probably the ability to network with other top marketers as well as personal coaching from Dave Sharp himself.
The Compensation Plan
If you choose to promote the Legendary Marketer products, which you will be guided to do, then you will be able to earn 60% commissions on introductory level products and 40% commissions on core products.
Is This a MLM?
No its not a MLM. However, for the core products you only get 40% commissions because coaches get the other 20%. So I guess you could say it resembles a mlm (2 tier) opportunity to a slight degree although I definitely would not consider it one.
This is a good thing because this means that you can make money more easily selling the products yourself rather than being forced to recruit in other members below you endlessly.
I guess David Sharpe learned his lesson with the massive mlm (pyramid scheme) Empower Network that I mentioned earlier.
Beware Of Misleading Promotions
The online marketing world is plagued with scams and misleading promotions for products that are not as they seem.
Legendary Marketer isn't a scam but I have seen some very misleading sales funnels promoting it and other programs associated with it like Duplicate Dave, and if you were to buy in from one of these misleading promotions you would likely feel scammed. Take for example the End Financial Stress Now sales funnel that promoted Duplicate Dave in a very misleading way.
Many of the promotions I've seen for this have been what I would consider "get rich quick" type of deals that talk about all the money people can make, the fancy cars & mansions, but avoid talking about the work that goes into it all the reality behind it.
The Truth
The truth is that, like every other method of making money online, it is not easy. It is not some system you can just plug into and start raking in the cash as some people might try to make you believe.
If you look at the Income Disclaimer on the Legendary Marketer website they tell you that most affiliates earn between $500 and $2,000 annually. This obviously is not much at all and not even close to being enough to live off of.
I'm not saying that you can't make good money with this. Some people make a ton promoting this but it takes hard work and time. You cannot expect to join and all of a sudden be making a living. This goes for any method for making money online.
If you think that you can join and this will happen then you are without a doubt going to feel extremely discouraged.
Conclusion on The Legendary Marketer System
The Legendary Marketer System isn't really a complete scam itself although I don't care for systems like this. They push members to promote the product endlessly and this leads to lots of rogue affiliates going out there and promoting it with very misleading information, which then leads to people feeling scammed.
I also do not agree with the extreme high ticket products that they sell. I know it is difficult to determine the real value for products like this but in my opinion they are WAY overpriced and the reason for this is so that people can make massive commissions, which is very luring.
If you are going to buy into this just know what you are getting yourself into and know that it isn't the easy system that you probably saw it promoted as being.
If you are looking for a less "salesy" and much more affordable program for making money online I would suggest taking a look at Wealthy Affiliate. I joined in 2015 and make a living online now, which goes to prove that it works.
You can read my review of Wealthy Affiliate here for more info.
And like always, leave any comments or questions below and I'll get back to you soon 🙂