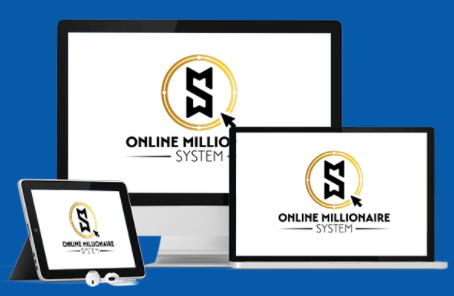 Online Millionaire System is said to be an insanely easy way for average people to make massive amounts of money online, but lets be real here… it sounds way too good to be true. And with all the scams out there who's to say this isn't one? Is Online Millionaire System a scam like it appears to be on the outside? Or could this possibly be the big break you have been waiting for?
Online Millionaire System is not what you are led to believe it is. In this review I'll be going over the truth of the matter and what you are really getting yourself into. You will want to hear this.
Online Millionaire System Overview
Online Millionaire System is nothing more than a funnel website that was created to funnel people into buying another program. I just reviewed 2 other funnel sites like this the other day: Rookie Profit System and Borderless Income System, so this isn't uncommon for me to see.  There actually isn't even a program called Online Millionaire System here… this is just the cover name.
You see the person that created this Online Millionaire System website is an affiliate of the real program here. He/she will get paid for getting people to sign up and buy into it all. And while you can make money like they tell you that you can…. its not nearly as easy as they say.
In the sales video I watched the spokesperson said that this requires only 30 minutes of work per day and that after that you can sit back and collect commissions of $1,250 to $10,000 per sale on autopilot. But this isn't the reality. If you are only working 30 minutes per day on this you will not succeed. And yes, you can make massive commissions like this but there is a major downside to it that I will go over.
The Real Program
The real program that you will be buying into here is called MOBE, or My Own Business Education, or My Online Business Empire, etc. It has went by a lot of names over the years. This program provides online business training and tools for making money online. It gives you the ability to make a lot of money but also will cost you a lot of money.
What You Get & What You Will Be Doing
When you buy in you will get a "coach", a website, sales funnels, etc. Much of what you get is pre-made so that you don't have to do much.
Everything you get will be to get you to go out and promote the same opportunity to other people. This is one of those programs where people make money selling the program to other people. The website, the pre-made sales funnels, the training…. its all designed to get you to sell the same program.
So you buy into the program looking to make money online and then you make money online by getting other people to buy into the program. Now if this were a great system I wouldn't have a problem with that, but I do have a problem with this all and you will see why.
The Hidden Cost
You don't know the real cost of getting into this business when you start out because they leave you in the dark on purpose. After you buy in you might as well keep your wallet by your side for the next couple days… because you will be needing it again.
This is what you call a "high ticket" program, meaning that it is extremely expensive and that by selling these expensive product you can make very big commissions, up to $10k per sale.
That is great and all when you make money but in order to make a lot of money you first must spend a lot of money. In order to earn commissions off of these products you first must buy them. So if you want to be able to earn $10,000 per sale then you are going to have to purchase a product that costs over $20,000…. no joke.
Conclusion on Online Millionaire System – Scam?
I would consider Online Millionaire System to be a scam just due to the fact that it is extremely misleading and people that are buying into it probably have no clue what they are actually getting themselves into.
MOBE on the other hand is also a fairly "scammy" program. You buy in at a low price, you are pushed to make money promoting the system, and in order to make good money you are forced into extremely expensive upsells. While you can make money with MOBE I definitely wouldn't recommend it, especially for beginners.
If you are looking for a more affordable and less risky way to make money online then I suggest taking a look at this program. Not only is it 100x more affordable, but it is also more realistic that the average Joe can make money with it. This is the same place I learned to make money online back in 2015, and now I do this for a living.
==> Here is the program I am talking about
Questions or comments? Leave them below in the comment section 🙂