Opinion City is a paid survey site that claims you can make a bunch of money through them. I was suspicious of some of the claims I saw they made so decided to take a deeper look into their operations and found something that I wasn't expecting.
This place isn't your typical paid survey site and I don't mean this in a good way. Is Opinion City a scam? In this review I'll be going over what I mean by this, how this place works, how much money you can make and more.
Opinion City Review
When I say that Opinion City isn't your typical paid survey site I am saying this because they don't even host any surveys on their site. There are 2 basic kinds of paid survey sites out there. There are the ones that actually allow you to take surveys on their site and pay you to do so, and then there are the ones that just refer you to other paid survey sites. Opinion City is the latter.
All this place does is refers you to what they call your "top paid survey matches". They refer you to these other paid survey sites and by doing this they make money off of you. If you are familiar with paid survey sites then you know that just about all of them have referral programs where you can make money by referring others to join, which is exactly what is going on here.
A Look at The Website
There isn't much to the website at all (opinioncity.com). On their homepage they just list some reviews for different market research companies, aka paid survey sites, that they are trying to get you to join. Then if you want to access the rest of the site you have to sign up by entering your email.
If you do sign up you will get to see their "highly recommended" survey sites as you can see here…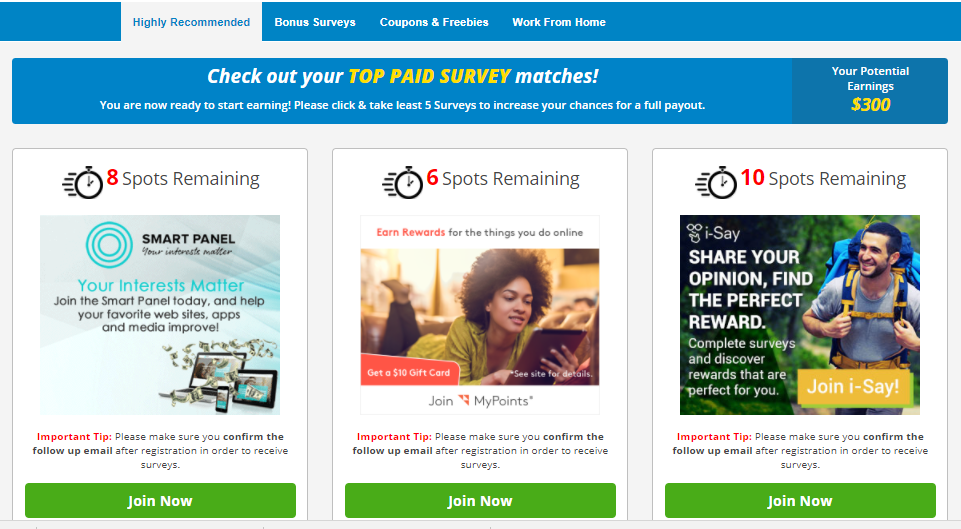 All of these sites they recommend are good but nothing special by any means. They are your typical paid survey sites where you will make about $0.25 – $2.00 per survey. Smart Panel, MyPoints, and i-Say are all survey sites I am very familiar with.
Can't Trust This Site
There are a few things about this site that make me totally loose faith in it and not be able to trust it.
First off, one thing I really don't like here is how they tell you there are are only "8 Spots Remaining" and things like this in order to try to get you to sign up as fast as possible. This is all a lie. These survey sites have open registration and anyone can sign up. There is no limit and they have been around for years. They will take anyone they can get.
Beware of the scams
If you go to the "Work From Home" section of the site prepare to be scammed. At the time of this review they are promoting 3 different work from home jobs which include Online Profits Breakthrough, Automated Daily Income, and Secret Millionaires…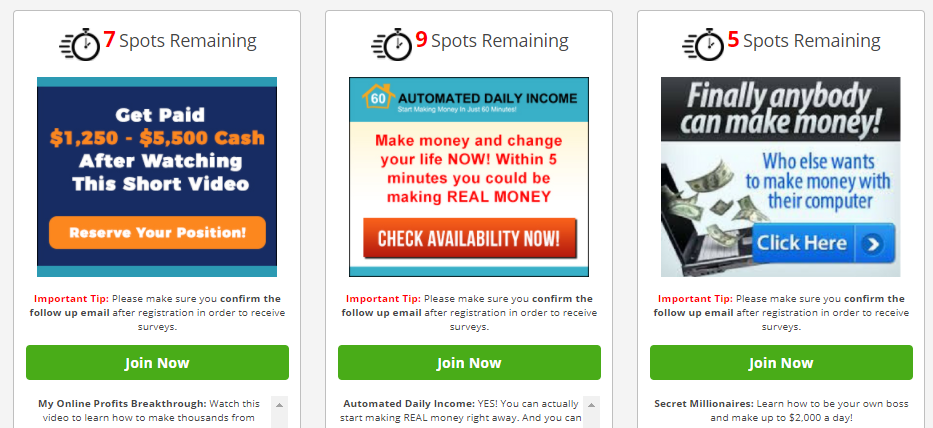 The problem here is that all 3 of these work from home opportunities are massive scams. If you search for any of these in Google you will find all sorts of complaints about them. They are your typical "get rich quick" schemes like Passive Paychecks, Desktop Commission System, Internet Income Online, etc., that claim they are super easy and will make you rich.
The Harsh Reality of Opinion City
The reality is that this place seems it will promote just about anything to make money. They are not a trustworthy survey site by any means.
The scams they promote are obvious scams and there is no way that they cannot know this. The only explanation is that they are aware of what they are doing but do not care, all they care about is money.
Conclusion & What I Recommend
Stay away from Opinion City. They do not provide any value whatsoever and are only in it to make money off of people that aren't familiar with how some of these things work.
If you are looking for some legitimate paid survey opportunities I would suggest Swagbucks & PaidViewPoint above all others. You could also go to some of the places that Opinion City recommends but I would go directly to the site rather than going through this scam site. However, there are no paid survey sites out there that will actually pay decent money. As I said, in the beginning, you only make $0.25 – $2 per survey on average.
If you are looking for a better legitimate way to make money online I would suggest taking a look at this program. I've been a member since 2015 and make a heck of lot more than I ever could at any paid survey site. You can read my review of it Here.
If you have any questions or concerns leave them in the comment section below and I'll get back to you soon 🙂