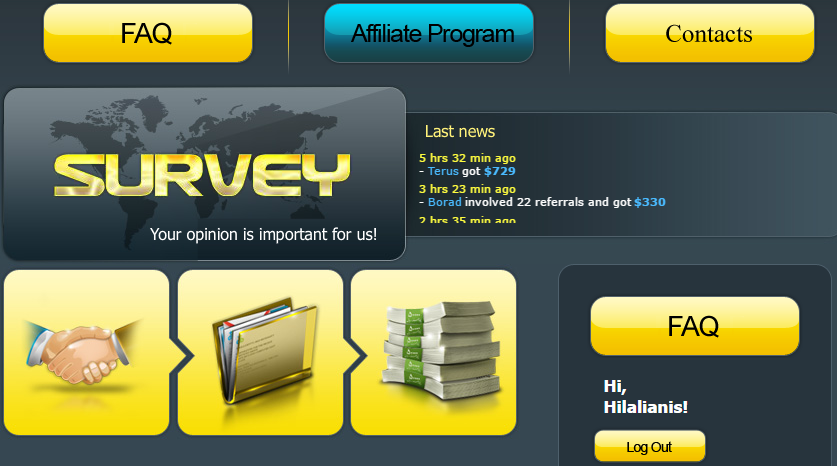 Part Survey is a strange paid survey site that makes some very gold claims. They claim to pay members massive amounts of money for completing surveys… but is this really true? Or is Part Survey a scam like it seems it very well could be?
I wrote this review on Part Survey because I had to take a look into this site after coming across it. They claim to pay almost 10X higher rates than most survey sites so I had to see if what they claim is too good to be true.
Part Survey Review
Part Survey is a paid survey site that offers surveys for the purpose of market research. Just like Swagbucks, Inbox Dollars, and the many other paid survey sites, they collect people's opinions via surveys and big companies pay them money for these opinions.
Part Survey claims to pay at extremely high rates. While with most sites like this you can expect to make anywhere from $0.50 to $2.00 per survey generally, at Part Survey they claim to pay $14 per survey, which is extremely high.
How It Works (Allegedly)
Ok, so they tell you that you will be able to earn $14 per survey. And what they also tell you is that you will be able to complete 3 surveys per day. This means that in theory if everything goes ok you will be able to earn $42 per day just by spending a half hour or so taking surveys.
Pretty good right?
The catch is that you will have to reach a minimum cash out threshold of $700 before you can actually attempt to receive your money. And yes you are reading that correctly. You will need $700 in your account before you can withdrawal your money.
After reaching that amount you should be able to withdrawal via Paypal.
Will You Really Get Your Money?
The answer is no. I have never heard of anyone getting their money from this site. This is what you call a scam, just as I had suspected from the beginning.
I'm sure you were also suspicious of this and that is the reason you came to read my review in the first place.
After reaching that $700 you will not get your money. And if anyone has actually been able to get their money at this point I would appreciate you leaving a comment below and explaining it all to me.
The Purpose of This Site
The reason this site exists is to advertise. If you notice there are ads displayed throughout the site. These ads are usually for various work from home scams, similar to Part Surveys.
They earn money by suckering people into these scams.
You will also likely start receiving all kinds of emails because they will also sell your email and personal info to make a profit. So if you do sign up for this site make sure to use an email that isn't important… .but of course I don't recommend signing up in the first place.
Real Survey Sites That Can Make You Money
There are plenty of legitimate survey sites out there that you can sign up for without spending a penny and earn real money online.
My favorite paid survey site would have to be PaidViewPoint. Not only do I recommend them most but they also have the highest rating on SurveyPolice, which is a pretty big deal.
Another good recommendation is Swagbucks. The reason I like them is because they offer many ways to earn money in addition to surveys, such as by playing games and watching videos. I wrote a full review you can read about them here.
One thing you should know about taking paid surveys online though is that you won't make much money. There are not amazing paid survey sites out there that pay lots of money. The norm is to pay very little and no matter where you go you won't make much at all.
You can only expect to make $0.50 to $2.00 per survey on sites like this. Its sad but its true.
Conclusion on PartSurvey.com – Scam
Part Survey is without a doubt a scam. Its not like you will lose any money by signing up with them but you will waste time and you will also will have scams being promoted to you.
This is not a legitimate survey site. And as a role of thumb, any survey site that claims to pay you $10+ per survey and has a cash out threshold of $700 is more than likely a scam.
There are good survey sites out there but none of them are going to pay good, which is why I avoid them.
If you are looking to make a steady online income then I suggest taking a look at how I make money online. I make a living working for myself online and enjoy what I do.  You can learn more about what I do and how you can do the same here.
Comments or questions? Leave them below in the comment section and I'll get back to you ?