Payzeno is a digital product marketplace that anyone can sign up for and make money promoting the products they have listed. They provide what they call "blueprints" and claims that even beginners can succeed at this. But how true is this statement actually? Is Payzeno really all that? Or is Payzeno a scam that you should avoid?
I've been in the affiliate marketing business since 2015 so I think its important for me to go over a few things here for the newcomers looking into this program. There are definitely some things you need to know and also I do have concerns with this site.
Payzeno Review
Like I said, Payzeno is a digital product marketplace. If you have ever heard of Clickbank then you probably know what they are like. Basically what they do is provide a platform for digital product creators to post their products on for people to promote them.
The business model here is called affiliate marketing and you can promote any product on the platform to earn commissions. How it works is like this: You promote the digital products that are offered and when you make sales you earn a portion of that sale.
The affiliate marketing business model in-of-itself is a good path for beginners because you don't need your own product, you just promote products that already exist. However this doesn't mean that Payzeno is a good choice.
On the Payzeno homepage they made these claims, each of which I'm going to go over…
Even beginners can succeed
Up to 90% commissions
Get paid via Paypal
"Robust" tracking for commissions
Can Beginners Really Succeed?
Well of course beginners "can" succeed but whether they will or not is the real question. At Payzeno you are provided with "blueprints" that will supposedly help you succeed. But what exactly are these blueprints and how good are they?
The blueprints are basically some ideas that the product creators give you for promoting the product. For example they will tell you where they think you should post ads, what type of keywords to use, ad styles, and other methods of promotion.
Below is an example of a blueprint for an app that supposedly makes you money online that was on the marketplace…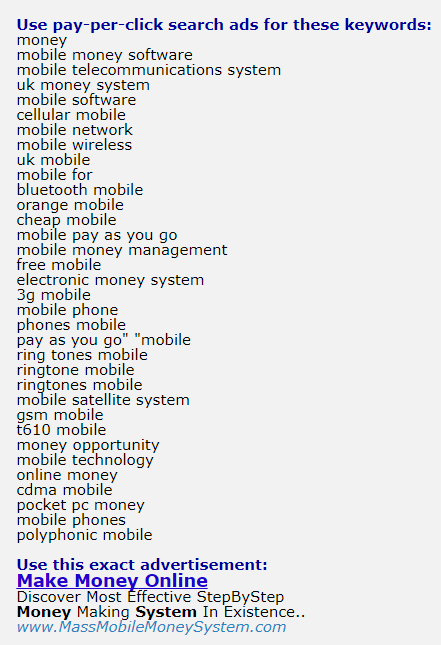 As you can see there isn't much to this. It just lists a bunch of keywords you can use and gives you sample advertisement. I could have come up with this stuff in about 5 minutes.
While these blueprints will help a little they are far from something that will get you to succeed. You will still have to put in the work and honestly its going to be difficult unless you have experience. There is no way you are just going to be able to use this blueprint and go out there and succeed. You are going to either need to do a lot of research on your own or pay for training in paid advertising.
I'll go over a training program I use that you might be interested in at the bottom.
Up to 90% Commissions?
Ok so what this means is that you can earn up to 90% of the sale price for promoting the product. So if you sell a product that costs $100 then you would earn $90 of it.
The problem here is that they literally tell you 3 different numbers. If you look at the homepage they tell you "up to 90% revenue share", which is another way of saying 90% commissions. However, on the signup page where you create your account they tell you 95% and then if you go over to the "how Payzeno works" page they tell you 100%….. SO WHICH IS IT?

The disorganization of this site and the confusion that they are creating is a definite red-flag and really makes me question how professional the people behind this actually are. If I found these contradicting numbers in just 5 minutes of looking into this then what the heck are the creators doing? How didn't they see this?
Getting Paid With PayPal
Paypal is probably my favorite way to get paid with affiliate commissions. However, its nothing special. Its good and all but nothing special. There are a lot of other programs out there that give you this option.
If you don't have a Paypal account and are looking to join this site then its all good, you can create an account for free and its very easy.
Robust Tracking System?
They do have a tracking system but I wouldn't call it robust. What you are going to be able to do is track sales and traffic that you have driven to certain products so you know how good certain promotion methods are working. Tracking is very important if you are going to be in this business and I'm glad they provide tracking.
Basically what you will get is a sales/commission summary like this that tells you how much you made the last 7, 30, and 90 days…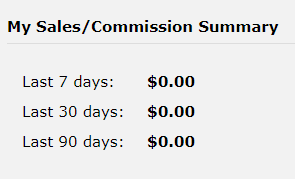 And you will be able to view the traffic to certain products, how much revenue you generated, etc.
Honestly tracking should be a given. If an affiliate program doesn't have tracking then avoid it.
What Type of Products Are Available to Promote?
Nearly all of the products are "make money online" types of products. The are usually low grade ones too, kind of like Internet Income Online and Passive Paychecks. Here is a screenshot for the first 3 products that are available as I'm writing this…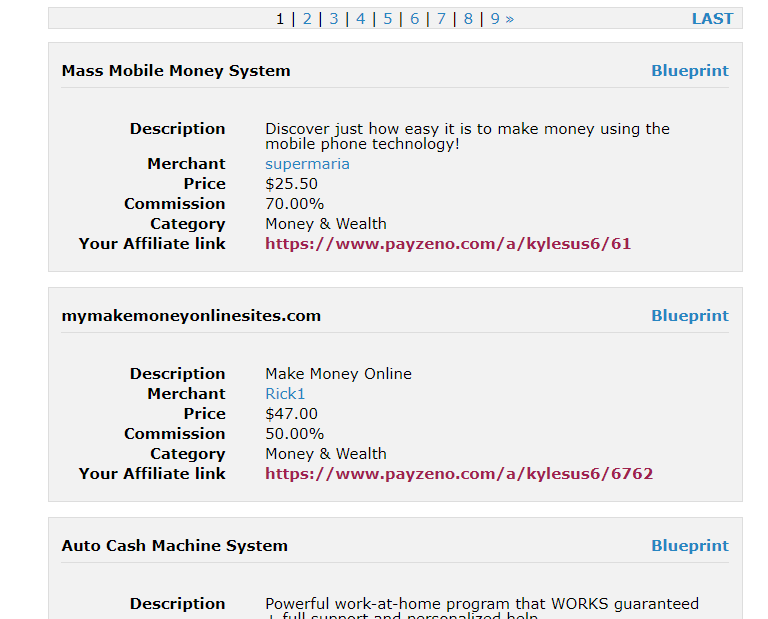 A lot of the offers you will find here are poorly put together programs/products that don't perform all that well. You aren't going to find any top-notch products to promote here.
Conclusion on Payzeno – Good Opportunity?
Payzeno seems to be a poorly run and rather unprofessional digital product marketplace. Yes you can make money with them and no they are not a scam, but I wouldn't give them a very high rating. Another problem that I have with it all is that there is no information given on the owners or team behind Payzeno. I would like to know a bit about the people running the show here but cannot find anything.
Clickbank is basically a much better version of Payzeno. They provide the same type of platform but have a great team, offer better products, better tracking, and so on. I would definitely recommend them over Payzeno.
Getting Started In Affiliate Marketing
You can't just join an affiliate program with no experience and expect to make good money promoting products. You are either going to need to do a lot of research on your own and put in a ton of work or you are going to have to get training in this area.
If you are looking for training then I would suggest Wealthy Affiliate. They are an affiliate marketing training program that provides not only training, but also the tools you need. I got started with them back in 2015 when I first started looking to make money online and have been a member ever since.
And now I make a living online doing this stuff.
You can read my Wealthy Affiliate review here.
If you have any comments or questions leave them below and I'll get back to you soon 🙂