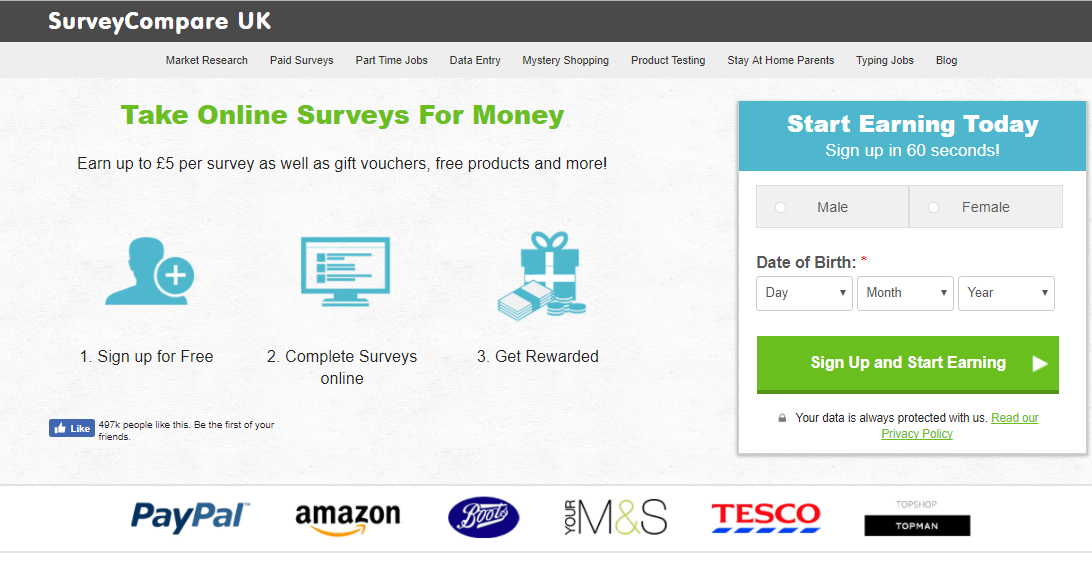 Survey Compare is one of many survey sites out there where you can earn easy money for sharing your opinion. They say you can earn up to £5 per survey, but is this to be expected? Is Survey Compare legit and can you really make decent money here? Or is this just another paid survey scam that will have your running around taking surveys for extremely low payouts?
I decided to sit down and write a review on Survey Compare because I know there are a lot of unanswered questions swirling around regarding this site. In this short post I'll be going over how this site works, how you make money, the downsides to it, and more.
Survey Compare Overview
Survey Compare is a UK based paid survey site. They offer short 10 – 25 minute surveys that you can participate in to earn small cash rewards. This site is free to sign up for and only takes about a minute to complete the signup.
They claim to have surveys that pay as much as £5 but this is not something you should expect. As stated, they pay "up to" £5. Most surveys pay much less.
Overall I do not recommend Survey Compare if you are looking to take paid surveys online and you will see why.
How It Works
All Survey Compare does is refers you to other survey sites. They don't actually host surveys for you to take on their site. As the name suggests, Survey "Compare" supposedly compares surveys from the dozens and dozens of other survey sites out there and picks ones that they deem are worthy.
So when you sign up for Survey Compare you will then be pushed to sign up for many other survey sites, which you will then be able to actually take surveys at.
This site is very similar to Survey Sheep which also just refers you to other sites.
The Good & Bad
So the good thing about signing up for a bunch of survey sites is obviously that you will have a lot more surveys available to you that you can complete and make money with.
The bad thing is that each of these survey sites will have its own cash out threshold that you have to reach before you are able to actually get your money. It is hard enough getting to the thresholds most of the time when you are just participating on one site so with many sites it is going to be a challenge.
The Nice Thing About This Place
If you do want to sign up for a ton of survey sites then there is one good thing that this site does. And that is that it makes it easy for you.
Instead of having to enter your name, address, email and all of that stuff in on every single site, Survey Compare will automatically do that for you. All you have to do is enter your information one time on the Survey Compare site and then select all the other survey sites that you want to sign up for.
How Much Can You Make?
The survey sites that Survey Compare refers you to are nothing out of the ordinary. I have literally reviewed probably close to 100 survey sites and these are nothing special.
Some of the sites that they promote are InboxPounds, i-Say, Global Test Market, MySurvey, and many others. These are all pretty much your run of the mill survey sites that you can expect to make $1 – $3 per survey with.
Conclusion on Survey Compare – Legit or Scam?
Survey Compare is a legitimate site that refers you to other legitimate paid survey sites. It does offer a legit service and I can see some value in it. It makes the process of signing up for multiple survey sites easy and quick. It also gives you the opportunity to sign up for sites that you may have not even been aware of.
By signing up for a bunch of different sites you eliminate the problem of lacking surveys to take but you create a new problem of having to reach the cash out threshold of multiple sites which could take ages.
Besides that, I don't much see the value in participating in online survey sites. Its true that your opinion can make a difference and that is good, but the compensation that you receive is usually extremely low and not worth the time.
If you are looking for a way to make money online in your spare time then check out this program. This is the same program I got started with back in 2015 and I am still a member today…. which is a testament to how good I think it is.
I'm making $5k + per month online right now and I owe pretty much everything to what I learned here.
==> My No. 1 Recommended Program Here
Questions, comments, concerns? Leave them below in the comment section and I'll get back to you soon ?