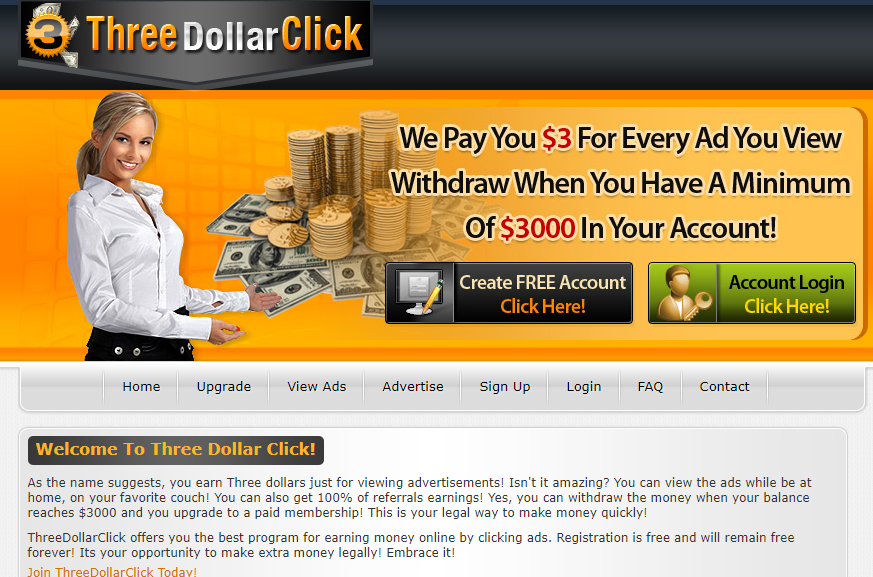 Three Dollar Click, as the name implies, claims to pay people $3 just for clicking on ads. Sounds crazy right? Well is it crazy? Is Three Dollar Click a scam like it very well seems to be? Or is this the easy money making opportunity that people look for high and low?
In this review I'll be going over what you should know about this place. And just to give you a spoiler alert: they are NOT what they claim to be.
What is Three Dollar Click?
Three Dollar Click (threedollarclick.com) claims to be a PTC (paid to click) site that will pay you $3 just for clicking on ads. While this may sound very strange and unusual, believe it or not there are legitimate PTC sites out there like NeoBux & GPT Planet. However, sites like this usually pay less than $0.01 per click, which is nowhere even close to $3.
So right off the bat this place definitely seems like a scam to me because it literally pay over 300X the amount that other legitimate sites pay you to click on ads. But anyways… can't always judge a book by its cover right? So I dug a little deeper and I'll go over how it all works…
How It Works
After you sign up you will find that in order to withdrawal money you will need to buy a membership. Your options range from a $59 monthly membership to a $999 lifetime membership…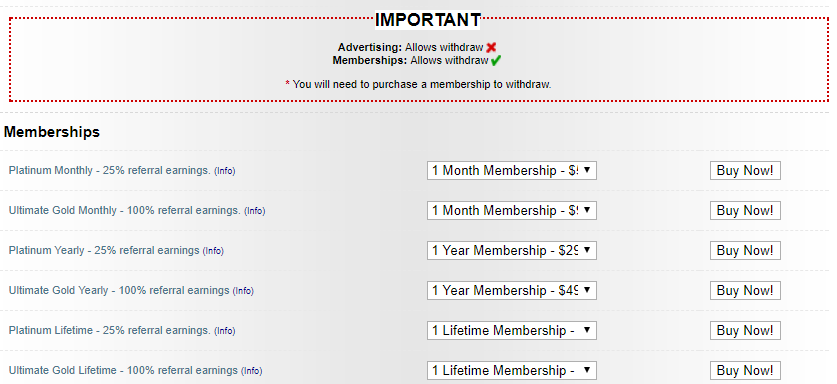 Its pretty strange that a PTC site like this makes you purchase a membership. And something else I found very strange is that it has a withdrawal minimum of $3000….. are you kidding me? You first have to get $3,000 in your account before you can try to withdrawal your money.
On top of all of this they tell you that it takes 75 days for you to get your money after you withdrawal it. What the heck is going on here? Why in the world would it take 75 days for you to get the money? Are they hand delivering it by foot or something?
How It Really Works
So like I said, normally PTC sites pay less than 1 cent per click but this place claims to pay $3. The reason they are able to do this is because they make money not only from advertisers paying them to place ads on their site, but also by forcing members to pay for memberships in order to withdrawal their money.
And who knows if you will ever actually be able to withdrawal your money from here. Everything about his place is very suspicious. The extremely high cash out minimum and the time it takes to get your money makes no sense to me.
Something Else That is Strange
Something else that is pretty strange that you should probably know is that there are multiple other sites that are pretty much the same exact thing as this. there is Two Dollar Click, Seven Dollar Click, Four Dollar Click…. and probably more that I don't know about.
I think its weird that there are so many similar sites to this and they all don't really seem to make much sense. There are also a fair number of complaints about them.
Conclusion on Three Dollar Click – Scam?
While I don't have enough proof that this place is a full-blown scam, I will say that it is definitely a place that I do not trust at all. They give you very little information about what is really going on here and there are many suspicious aspects to this business.
I would not recommend anyone sign up for this place. If you do, you will have to spend a lot of time just getting to that $3,000 minimum withdrawal amount just to find out if they will actually pay. Then you will have to wait 75 days for them to deliver your money via Turtle Express.
There are legit PTC sites out there, NeoBux is probably one of the better ones that I have come across. However, with any PTC site you aren't going to make much at all. They pay extremely little because they provide cheap advertising and don't make much themselves. I would say that PTC sites are more of a waste of time than paid survey sites like SwagBucks, and that's saying something because survey sites are pretty notorious for paying very little.
If you are looking to make good money online in your free time then I would suggest taking a look at this program. I have been a member since 2015 and make a heck of a lot more money with it then any PTC site could ever make me.
Questions or comments? Leave them below and I'll get back to you soon ?