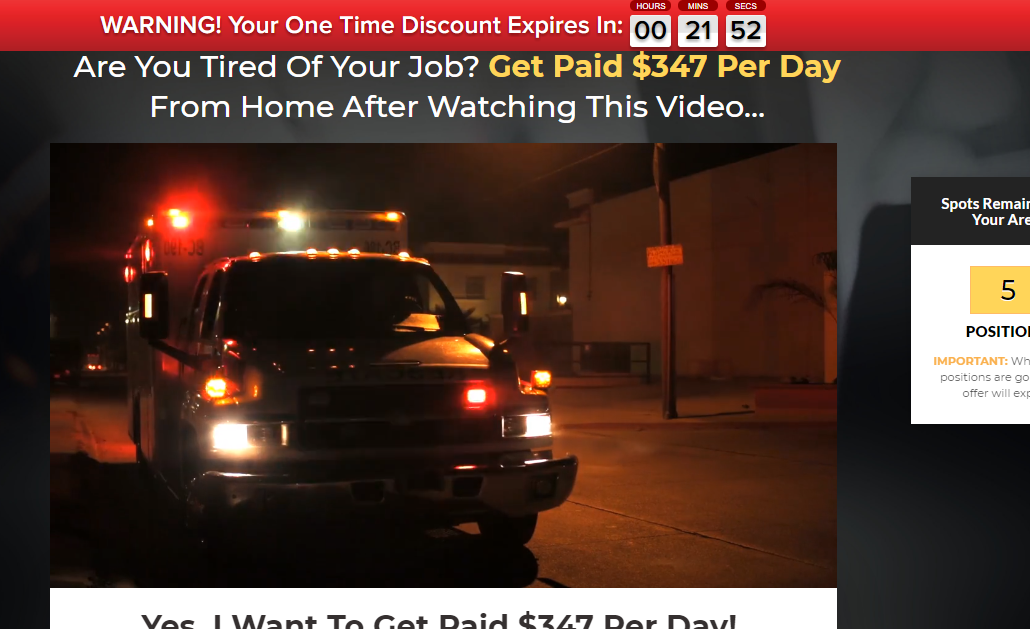 The Job Killer System by Jeff Lerner is said to be able to dump massive commissions into your bank account on autopilot…. but is this really true? It seems that a lot of money making programs are saying things like this these days and it usually isn't the truth? Is Job Killer System a scam like the many others out there? Or could this possibly be the real deal?
I know there are going to be a lot of people looking into this because of how suspicious it sounds so I decided to take the time to write this review. And I'll give you a spoiler alert right now: You can make money with this but its not as amazing as Jeff makes it seem.
Job Killer System Review
First off I'd like to say that you don't have to be in a rush. I know he tells you that there are only a few spots left and there is a timer that is counting down but this is all bogus. This program has been out for a while and anyone can join, there is no limit. So don't rush into this.
Next up… what is the Job Killer System?
Well, Job Killer System isn't the name of the program that he is trying to sell you. Job Killer System, just like Laptop Lifestyle Secret, is just part of a funnel that is set up to get you to buy into Jeff's 6 Figure Business System. If you watch the sales video on jobkillersystem.com and then go to the checkout page you will see this…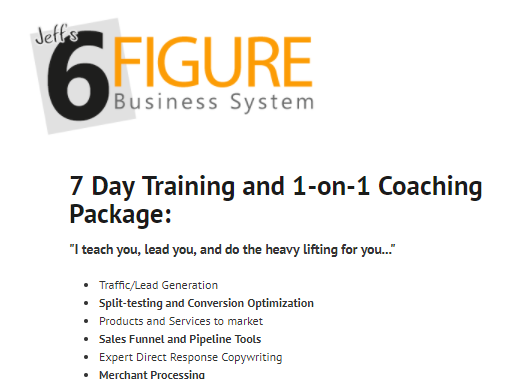 And this system that Jeff Lerner is selling he claims runs on "complete autopilot" and can make you $500 to $10,000 commissions. You are pretty skeptical about this sounding so easy and rightly so…. because the truth is that it isn't as easy as it sounds. I'll get into why its not "complete autopilot" in a second, but first I want to give you an overview of what this 6 Figure Business System really is.
Overview of Jeff's 6 Figure Business System
This 6 Figure Business System is also known as Ultimate Laptop Lifestyle System. They are one in the same.
Basically it is one of those systems that people join to make money online and then it teaches you to make money online by getting other people to join.
You will be provided with a bunch of done-for-you things like sales pages, email templates, landing pages, etc. that are for you to sell Jeff's 6 Figure Business System to other people.
And it is true that you can make $500 – $10,000 in commissions. This is because this system is what you call a "high ticket" system, meaning that you can earn big commissions and it costs a heck of a lot.
As you can imagine, since you are able to earn $10,000 commissions, then this system must cost more than that. The truth is that getting started at just $49 is the very beginning. If you want to make big commissions you are going to have to spend a heck of a lot more in order to do this. If you want to earn $10,000 commissions then you are going to have to purchase the product that costs over $10,000 yourself.
Is Everything Really Done For You?
The answer is NO. I know he tells you that it is "complete autopilot" but that is a bunch of BS. Its true that there are a lot of done-for-you features and much of this business is automated, as with most online businesses…. but you still have to put in the work.
What I think is funny is that he says "everything is done for you"  yet he goes on to tell you about the training that is provided to you. Well what the hell do you need the training for if everything is already done for you? It makes no sense.
The reason you need the training is because everything is NOT done for you. You will be making money selling Jeff's 6 Figure Business System to other people and you will have to do the marketing, which happens to be probably the most difficult part of it all.
Conclusion on Job Killer System – Good Opportunity?
Of course Jeff makes everything sound better than it is, but I still wouldn't call this a scam. The Job Killer System sales page is misleading but so is pretty much every sales pitch you hear nowadays.
But is this a good opportunity? Well I'll let you decide. You can make a lot of money with this but you first have to spend a lot of money. Right off the bat this disqualifies a lot of people because you need money to spend. On top of that most people probably don't think systems like this are very ethical, which I agree with. You buy into the system to make money online and then end up getting others to buy into the system to make money online…. Its pretty much the same thing as MOBE and Aspire.
If you are looking for a more legitimate and affordable program to make money with then I suggest taking a look at this program. I joined back in 2015 and am still a member to this day. Its also notable that I make a living online now and pretty much all of my success can be attributed to what this program has taught me.
==> My No. 1 Recommended Program Here
Questions, comments, concerns? Leave them below in the comment section below and I'll get back to you soon ?