Welcome to my review of Level Rewards.
If you are a little suspicious of this program then you are in the right place. I'm guessing someone is trying to get you to join in on the opportunity and you are hesitant to do so because maybe it seems too good to be true or something. Is this place a scam? Or is Level Rewards legit and a worthwhile opportunity? In these reviews I'll be going over what you need to know about it beforehand.
Level Rewards Review
Level Rewards is a kind of advertisement site. They promote trial offers for a bunch of companies like GameFly, Hulu, GoDaddy, etc. and get paid when they get people to sign up to these offers.
And they get people to sign up for these offers by giving people incentive (money) to go out and recruit others to join and sign up.
If you have ever heard of Express My Cash Freebies then you know what to expect.
How It Works
The way Level Rewards gets people to sign up for these trial offers is by offering them money for referring others to join and by making them sign up for offers before they can make money.
Pretty much everyone that joins this site is doing so to make money. But in order to be able to you will first have to sign up for trial offers yourself.
You will see a bunch of trial offers, as you can see here, that offer you a certain number of credits when you complete them. As you can see below the Experian trial offer will give you 1 credit if you sign up…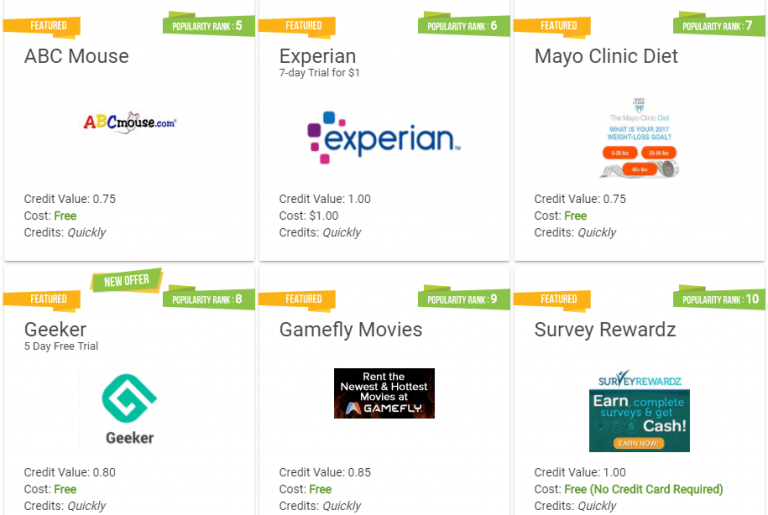 Once you get 1 credit  you reach level 1 and are able to make money by recruiting in other people to join. Some offers are less than a credit which means you will have to do another.
How Much Money Can You Make?
You will be able to make $25 per referral and this is how it works….
There are 5 levels total. You have to earn 1 credit to move up to each level so in order to make it to level 5 you have to earn 5 credits. You will also earn $5 when a referral moves up a level. So when they move up all 5 levels you will earn a max of $25.
How You Get Paid
This place pays through PayPal, which is the best and easiest way to get paid in my opinion. Its fast and simple. If you have a PayPal account you are good to go and if you do not, don't worry it is free to create one.
The Problem With This Place
The problem here is that most people who join will not make much money at all an this is because there is a key element missing…. There is no training on how to go out and refer others to join.
Most people who join will not have the means or the know-how to generate traffic and get people to sign up through their referral link. This is the hardest part of it all and unless you have online marketing experience you aren't going to know how to do this.
It would be nice if Level Rewards would provide some training to help members go out and get referrals but the don't. I'm not sure why, it would help them out in the long run too.
Most people are going to sign up for this and then post their referral link on social media thinking that they will refer a bunch of people when the reality is that this isn't how it works. Sure you might get a couple of referrals but in order to actually make good money here you are going to need to refer mass amounts of people.
Conclusion on Level Rewards – Legit or Scam?
This place definitely is not a scam. They do provide a legit service. They promote trial offers, get paid to do so, and pay you to go out and get others to sign up for trial offers. I actually like how this site works.
But the reality is that most people will not make much money. So if it is going to be worth it to you is something you need to ask yourself.
Personally I think programs like Wealthy Affiliate are much better for beginners to make money online. Wealthy Affiliate not only provides a way to make money but they also provide a bunch of training on how you can go out an do the marketing side of things. They are great for beginners looking to make money online and if this is you then I suggest checking them out.
==> You can read my review of Wealthy Affiliate here
Questions or comments? Leave them below and I'll get back to you soon 🙂